Data Privacy Day 2023: 8 Steps Towards Regulatory Compliance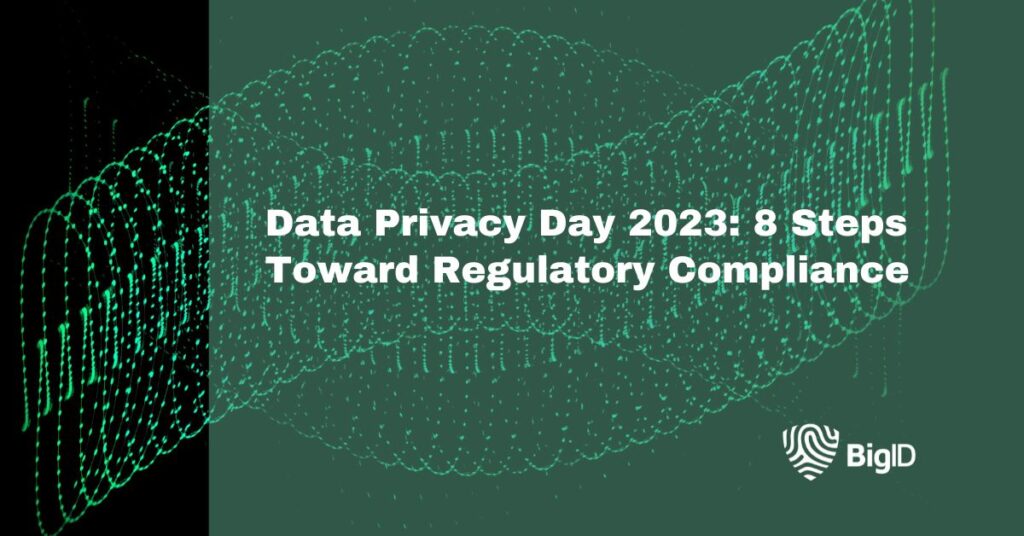 In 2022, we saw the proliferation of data privacy across the globe as new local and global regulations continued to expand worldwide. Gartner now predicts that by the end of 2024, 75% of the world will have its personal data covered under privacy regulatory protection. However, as Asia, Australia, Canada, Africa, and the US have introduced new laws, maintaining compliance has become even more challenging.
Download our 8-Step Guide this Data Privacy Day – or continue reading for further help addressing data privacy challenges, opportunities, trends, and best practices using the BigID Privacy Suite.
8 Steps for Continuous Privacy Compliance
Learn how to protect sensitive data, prevent breaches, mitigate risk, and achieve compliance using the BigID Privacy Suite. Below is a general path toward building a privacy program for this Data Privacy Day:
Step 1: Building a Plan Towards Accountability
Implement a Privacy Plan
Data privacy focuses on protecting the organization's data lifecycle, which is why creating an internal plan to fulfill global privacy requirements is essential. Organizations collect, store, process, and delete data but must do so in a way that safeguards the data. This requires compliance with regulations and implementing security policies and practices that protect consumers' data rights.
To establish a comprehensive privacy program, an organization must identify drivers, define goals, build a strategy, gain executive buy-in, meet with stakeholders, document the entire lifecycle of all personal data used within the organization, and more.
Collaborate with Data Owners
An essential part of implementing the privacy plan is identifying the key stakeholders to scope out the program. Most organizations' key stakeholders include personnel from departments that process data, such as the head of each business unit, the managers of branch offices, and the corporate unit heads (human resources, IT, marketing, legal, procurement, etc.)
The Privacy Office should explain its overall strategy, communicate organizational benefits ( legal requirements, fines, breaches, maintaining customer trust), then communicate how personal data is used, what personal data is processed, and define data sources.
Organizations with an accurate account of information can increase collaboration and help strengthen security postures and align with the overall data/business strategy.
Step 2: Understanding the Landscape of Privacy Policies
The growth in regulations worldwide highlights the importance of data privacy as it provides several rights to consumers. However, new rules come with unique requirements — and the pressing need for organizations to adapt to the constantly evolving data protection landscape.
Companies must navigate challenges like protecting customer and employee data throughout their lifecycle, building consumer trust, and consistently remaining compliant with changing regulations.
That is why BigID data privacy solution aligns with and supports unique global regulatory requirements, including policies, classifiers, and workflows for GDPR, CCPA, LGPD, PIPL (China), HIPAA, NY Shield, individual US State data protection, and privacy laws. This allows organizations to reduce policy-based risk to take the necessary actions on specific requirements towards compliance.
Step 3: Data Mapping for Deeper Compliance
Data mapping has become increasingly valuable in driving business processes and insights, but enterprises still need help to efficiently, accurately, and scalably generate data maps that are also easy to manage. The complexity and volume of data that's collected, processed, and maintained grows faster than the implementation of best practices for data discovery and compliance.
BigID automates data flow mapping to provide granular insights into locations of PI/PII to assist privacy-use cases such as automatic data rights fulfillment, capturing consent, documenting RoPA, mitigating risk with PIAs, driving retention policies, and facilitating data deletion requests.
Step 4: Assessing and Mitigating Privacy Risk
Once organizations can monitor how data flows internally and externally, businesses will better understand how they collect, use, and share information — and how those practices relate to privacy risk.
Managing data risk and privacy can be quite complex, as it can take time to determine what constitutes "risk" for a particular business. Companies need to implement privacy risk assessments to understand the current and future risks that could potentially impact customers, employees, and the organization. In addition, businesses must also monitor and assess the risk of third-party data sharing and cross-border data transfers.
Automating the standard processes of identifying, documenting, and minimizing privacy risks is necessary. BigID eliminates the manual process of Privacy Risk Assessments with customizable templates and collaborative remediation workflows for end-to-end fulfillment. As a result, organizations can manage, monitor, validate, and validate privacy risk assessments for GDPR, LGPD, CPRA, and the growing list of global privacy laws with BigID.
Step 5: Strengthening Customer Trust through Data Rights Management
Data subject rights and consent preferences have been a significant focus of privacy laws. However, responding to data rights requests and capturing consent is highly reactive, and it's also time-sensitive, as each regulation sets different time limits. Therefore, a streamlined process is needed to securely, quickly, and efficiently deliver data.
Fulfilling Privacy Rights
The most challenging part of responding to data subject rights requests is ensuring access to the information requested. For most organizations, fulfilling DSARs at scale by discovering, classifying, and connecting personal data to specific individuals can be highly complex.
BigID automates end-to-end data rights management and fulfillment with an intuitive privacy and preferences portal that manages data subject rights requests. This automation enables organizations to respond to and manage users' data privacy rights regarding access requests, update/correction, deletion, opt-in and opt-out preferences.
Managing Cookies, Consent & Preferences
Cookies
A growing number of privacy regulations require organizations to provide a mechanism to capture consent, giving consumers more control over their data and privacy preferences. And as data privacy regulations continue to flourish, awareness around "consent" and data rights continues to grow, which places cookies in the spotlight.
To comply with consent requirements, a cookie consent notice, also known as a cookie consent banner, is a pop-up requesting a user's opt-in consent before launching cookies. Essentially, gaining permission is the first step toward building trust and transparency with users.
Managing the individual rights of visitors without automation — and storing and managing all that consent data — can be highly complex. BigID's Cookie consent management makes it easy to capture cookie consent preferences, automate compliance with several regulations and build customer trust.
Consent & Preferences
Users can now exercise their data subject rights by "opting in" to consent preferences (email, SMS, forms, selling or sharing data, etc..) before any organization can process their personal and sensitive data. Now, the onus is on businesses to establish a privacy-first approach by putting their data subjects at the forefront and fulfilling user expectations regarding their data privacy.
BigID provides end-to-end consent and preference management within a customer preference center. As a result, businesses can easily capture consent while managing a public-facing portal for data subjects to control their consent/preferences to build trust and avoid hefty fines.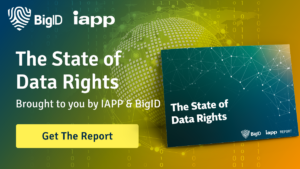 Step 6: Breach & Incident Management
Another significant aspect of data privacy is how organizations manage situations in which personal data is compromised. The struggle to protect data from breaches has become a recurring theme in the news. However, according to the Cloud Security Alliance (CSA) & BigID Research report, Understanding Cloud Data Security and Priorities in 2022, only 4% report sufficient security for 100% of their data in the cloud, meaning most organizations are ill-prepared to handle breaches
Proactively managing and responding to a data breach has many business benefits, such as minimizing an organization's reputation, financial, and legal ramifications. In addition, it helps to minimize costly liabilities and regulatory fines.
BigID's Breach Data Investigation App enables you to determine the impact of a data breach. Accurately identify affected individuals, meet breach notification reporting timeline requirements, and speed up investigation response to fully comply.
Step 7: Risk Remediation Actions
Data privacy and security teams are responsible for making accurate management, protection, and compliance decisions. But there is little room for error, as these errors can result in unnecessary costs, increased risk, and non-compliance.
That is why organizations need to implement data remediation processes and workflows to help determine and ensure the quality and protection of their data. The ultimate goal of remediating data is to help make informed decisions on the data that needs to be kept, deleted, migrated, or archived.
BigID's Data Remediation App helps streamline workflows, enabling the right people to take the right remediation actions on the correct data. Automatically understand which data needs to be masked, deleted, quarantined, encrypted, and more – then identify the right data owners to execute these actions with certainty. Finally, drill down into the data to see policies, violations, activity, access issues, and more.
Step 8: Demonstrate Compliance to Regulatory Authority with Reporting
As multi-cloud and hybrid environments take on more information, it's imperative to get control of your data to assess your data risk posture confidently. However, continually monitoring and evaluating risk to your data can be challenging. It's even more significant when you must demonstrate proof of compliance and build reporting to supply consumers, internal executives, investors, and regulators for privacy audits. However, developing the correct dashboards and reporting to address needs unique to your organization can be manual, nuanced, and complicated.
Insightful reporting can take various forms and provides immense value helping illustrate the direction and progress toward full compliance. Teams that have robust reporting capabilities are the ones that can take action and effectively reduce data risk proactively.
BigID's reporting and insights help you measure and assess risk reduction over time from your remediation actions— minimizing, deleting, encrypting, or masking data.
It's become increasingly more valuable for an organization to have a data privacy program in place due to rising occurrences of cybersecurity threats, data breaches, and the potential harm that can occur when personally identifiable information (PII) is not adequately protected. Privacy programs are essential because they help enterprises maintain responsible information practices, protect data, practice good data governance, and comply with regulations that ultimately protect the individual.
Set up a BigID demo to see how we can help you align with data privacy requirements, secure highly sensitive information, and build customer trust.