"C" Is for Cookies, but Also Compliance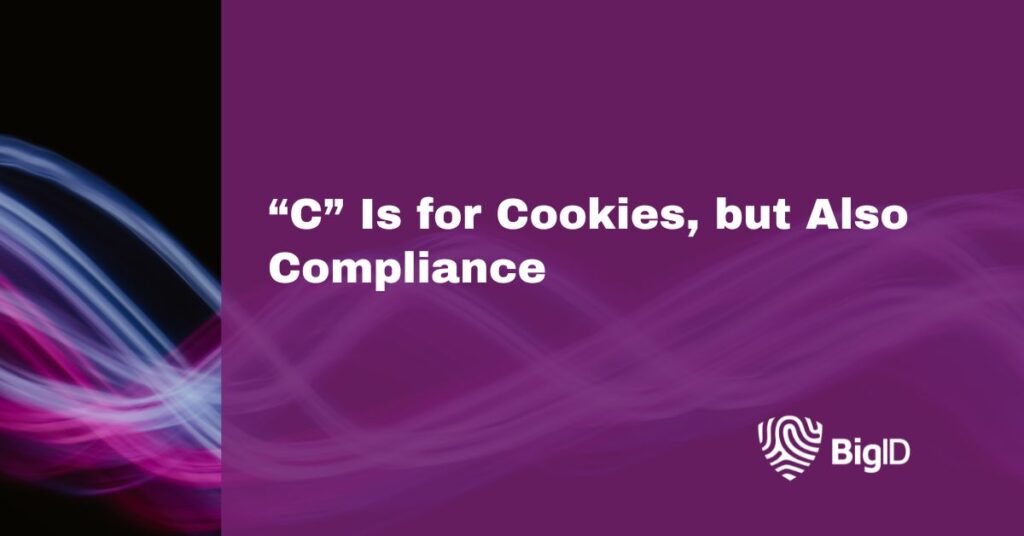 If you've watched Sesame Street, you know that the beloved Cookie Monster is known for saying, "C" is for cookie; that's good enough for me." In data privacy, "C" is for compliance, but whether cookies are good enough to build trust with consumers is another story.
The onset of the General Data Protection Regulation (GDPR) fueled more privacy-conscious consumers to become aware of their data rights and view trust as something to be earned. In a Salesforce research report, more than 70% of customers associate privacy and transparency with trust. However, 54% of customers say it's harder than ever for a company to earn their trust.
But as consumers become more aware of how they're tracked online, they naturally focus their suspicions on cookie tracking. And as data privacy regulations continue to flourish, awareness around "consent" and data rights has grown, putting cookies in the spotlight.
So what exactly are cookies?
Cookies are small files stored in web browsers that enable a site to collect users' online behavior for identification tracking purposes, personalized marketing campaigns, and other functions.
Essentially, cookies can personalize the web experience, which can be good for consumers who benefit from the convenience of targeted content and ads. However, some cookies are more invasive and collect data in ways that may conflict with the consumer's rights. So in this new data privacy landscape, cookie management is focused on communicating cookie usage and validating customer consent and preferences.
First-party vs. Third-party cookies
First-party cookies?
Websites set first-party cookies during the users' visit. It enables websites to collect activity, behavior, and analytics data and other settings related to preferences and other helpful U/X functions.
Third-party cookies?
Third-party cookies pose the most significant risk to privacy compliance, and these are set by third-party servers, such as ad servers, usually for tracking and advertising campaigns.
GDPR cookie consent in Privacy
The GDPR set the tone for cookie compliance, as it directly mentions cookies in the legislation (Recital 30):
Natural persons may be associated with online identifiers provided by their devices, applications, tools and protocols, such as internet protocol addresses, cookie identifiers or other identifiers such as radio frequency identification tags. This may leave traces which, in particular when combined with unique identifiers and other information received by the servers, may be used to create profiles of the natural persons and identify them.
These lines indicate that cookies are online identifiers for profiling and identification, which qualifies as personal data. Businesses have the right to process customer data only if an individual grants explicit consent or has a legitimate interest.
What is a cookie consent notice?
Under several new regulations (GDPR, CCPA, LGPD, and ePrivacy laws), cookie compliance requires websites to provide a mechanism to capture consent from visitors, giving consumers more control over their privacy preferences.
A cookie consent notice, also known as a cookie consent banner, is a pop-up requesting a user's opt-in consent before launching cookies. Additionally, it is not only about notifying the consumer about the deployment of cookies but directly asking for permission before it sets up on the browser.
A reasonable cookie consent notice allows visitors to opt-out, provide consent, or set up their cookie preferences. Cookies should always be displayed when an individual visits the website and adjusted according to visitors' cookie preferences.
Since websites must notify users of the types of cookies and trackers implemented — as well as cookies' purpose, duration, and third parties agreements, consumers have more clarity on potential privacy preferences.
BigID's approach to cookie consent compliance management
Gaining consent is the first step toward building trust and transparency with customers. However, poor communication on cookie consent generates mistrust, harms brand reputation, and can lead to regulatory fines.
Managing the individual rights of visitors without automation — and storing and managing all that consent data — can be highly complex. BigID's Cookie consent management makes it easy to capture cookie consent preferences, automate compliance with several regulations and build customer trust.
Customize your cookie consent management to align with brand
Achieve compliance with multi-regulation support to comply with GDPR, CCPA, LGPD, ePrivacy Directive, and more
Monitor user interactions and consent rates through detailed reporting and analytics
Optimize the opt-in rate with individualization, AB testing, and informed consent
Increase transparency with customers and reduce reputational risk
Schedule a BigID demo to learn how your organization can achieve cookie consent compliance today.