Since it went into effect in 1996, the Health Insurance Portability and Accountability Act (HIPAA) has aimed to provide privacy rights for patients, protect patients' sensitive and personal health data from threats and attacks, modernize the flow of healthcare data, simplify healthcare administration, and prevent healthcare fraud.
HIPAA provisions go through frequent updates to adapt to new technologies and changing conditions. Even companies that prioritize HIPAA compliance and the safeguarding of PHI — or "protected health information" — face multiple hurdles that require constant attention and the ability to take quick action on data procedures and practices.
In addition to frequent updates to the law, these challenges include constant attack threats on highly coveted data, interoperability issues, a gargantuan influx of patient data every day, and many more.
In this article we will discuss:
What Is HIPAA Compliance?
HIPAA is a federal regulation that pertains to organizations in healthcare and their affiliates and subcontractors. Regulated and enforced by the Department of Health and Human Services' (HHS) Office for Civil Rights (OCR) — as well as some state governing bodies — HIPAA refers to these organizations as "covered entities."
Covered entities may include:
Health plans: Includes health insurance companies, health maintenance organizations, government programs that subsidize programs like Medicare, and military and veteran health programs.
Healthcare providers: Includes hospitals, clinics, doctors, psychologists, dentists, chiropractors, nursing homes, pharmacies, home health agencies, and any provider that transmits health information electronically.
Healthcare clearinghouses: Organizations that process nonstandard health information and convert data.
What Does PHI Cover?
To effectively protect patient data, health organizations must first be able to identify what does and does not qualify as PHI under HIPAA.
PHI is any medical information — past, current, or future — that can identify an individual, or that is created, used, or disclosed in the process of providing healthcare services. PHI may reside in any physical or electronic records concerning individuals' medical, physical, or mental health-related conditions — and may even include verbal conversations that take place among patients and providers.
Data that is considered PHI under HIPAA may fall under a different category of personal information under other regulations. For example, while a social security number may qualify as PII (personally identifiable information) under the EU's General Data Protection Regulation (GDPR) and PI (personal information) under the California Consumer Privacy Act (CCPA), it would be considered a PHI identifier according to HIPAA.
To effectively handle sensitive data — particularly that which is covered by more than one regulation — organizations need to adopt technology that can automatically find, classify, map, and catalog all sensitive data and PHI across an entire data ecosystem, with comprehensive coverage of all data systems and sources.
BigID's platform solution takes a machine-learning-based approach to automatically classify and tag all PHI, ePHI, HIPAA, and sensitive data — by regulation, document type, policy, attributes, individual, and more.
What Are the Three Rules of HIPAA?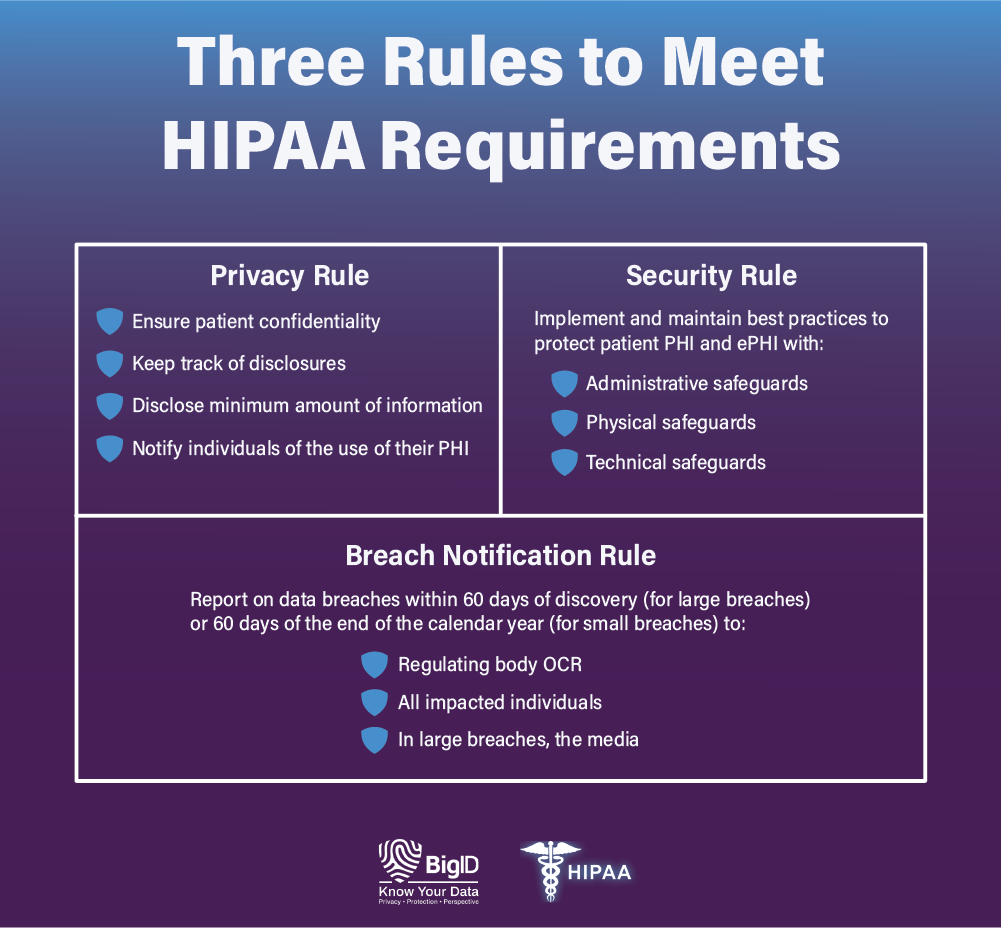 HIPAA Privacy Rule
The Privacy Rule under HIPAA gives individuals rights over their health information. Patients have the legal right to access and obtain copies of their health records — and request that inaccurate or outdated information be corrected.
The Privacy Rule also requires that covered health organizations take reasonable steps to ensure patient confidentiality, track disclosures, disclose only the minimum amount of information needed to perform a specific function, and notify individuals of the use of their PHI.
HIPAA requirements also state that covered entities must train staff on how to handle PHI — and appoint a privacy official to receive complaints about mishandled PHI.
While most disclosures require written authorization from the individual, HIPAA does allow for covered entities to disclose PHI without express consent in the cases of facilitating treatment, payment, or healthcare operations.
To properly disclose data to the right individuals at the right time while ensuring patient confidentiality, organizations need full coverage of all their data, everywhere.
BigID enables organizations to know their data — all of it, across all types, in any language, in the data center or the cloud, structured, or unstructured, at rest or in motion, at petabyte-scale — and enable workflows to delete redundant, obsolete, or trivial (ROT) data. This covers files and documents, images and mail, Big Data, and more — no matter how siloed, hidden, legacy, or hard-to-find the data is.
HIPAA Security Rule
The Security Rule under HIPAA covers three areas — and mandates that covered entities use best practices to safeguard PHI and ePHI (electronic protected health information) in the areas of:
Administrative security: Covered entities must have written policies and procedures in place that clearly show how they comply with HIPAA — and these policies must cover everything from oversight, employee training, access controls, and the safe handling and monitoring of data they outsource to third parties. It also regulates the specific documentation of routine and event-based audits, as well as the use of contingency plans.
Physical security: Covered entities must implement physical access controls and monitoring — including hardware and software removals and workstation security — to prevent unauthorized exposure of sensitive data. Physical safeguards extend to facility security plans, visitor and escort protocol, and contractor access — and include third-party training on physical access responsibilities and restrictions.
Technical security: Covered entities must have technical safeguards in place to prevent unauthorized access of PHI that is transmitted electronically. This includes the maintaining of data integrity, authentication controls, and proper documentation and reporting practices — as well as the use of encryption on data transmitted over open networks.
In essence, the Security Rule mandates that organizations secure records, encrypt data, protect against breaches and malicious attacks, prevent the loss or theft of devices, train employees on sound security practices, secure PHI with third parties, and dispose of records when appropriate — among other requirements.
With BigID's scalable and extensible data protection functionality, health organizations can reduce risk by effectively securing sensitive PHI across every Security Rule requirement — and leverage remediation workflows to take action on high-risk and overexposed data. Get high-level permission analysis around targeted datasets based on category and type, and monitor users with access to large, sensitive datasets.
HIPAA Breach Notification Rule
The HIPAA Breach Notification Rule requires that covered entities that experience a data breach report the incident. HIPAA requirements differ based on how many patients are affected.
Breaches affecting 500 or more patients must be reported to the OCR, the impacted patients, and the media within 60 days of the breach being detected. These breaches are also publicly published by the OCR.
Breaches affecting 499 or fewer patients must be reported to the OCR and the impacted patients within 60 days from the end of the calendar year in which the breach was detected.
BigID's Breach Data Investigation app empowers healthcare organizations to determine the full scope of a data breach, know whose data was impacted, enact an incident response plan, and uphold reporting standards for both regulators and impacted individuals — all within the timeframes necessary for HIPAA compliance.
What Is Considered a Violation of HIPAA?
When covered entities fail to comply with one or more of HIPAA's provisions, they can incur steep fines and penalties. HIPAA violations fall into four tiers that depend on:
the severity of the offense
the amount of harm caused by the violation
the degree of willful neglect
the company's prior history with compliance
other factors the OCR might deem relevant
Depending on the tier, financial penalties range from a minimum $100 penalty per violation to a $50,000 penalty per violation. There are hundreds of possible reasons for a violation, but some common ones include:


With BigID, health organizations can maintain detailed records of information systems and up-to-date info on audits — and be able to report on HIPAA compliance.
What Triggers a HIPAA Audit?
Internal audits and self-reporting uncover many HIPAA violations. Apart from that, the OCR — the main enforcing body of HIPAA — prioritizes the investigation of covered entities who report breaches of 500 or more records. The OCR also conducts periodic audits of HIPAA-covered entities and business associates.
State attorneys general may also investigate breaches. These investigations are often conducted due to complaints about potential HIPAA violations and in reaction to reports of breached of patient records.
Guidelines for HIPAA Compliance
Meeting HIPAA requirements starts with technology — and not just any technology, but the right one for comprehensive, ongoing compliance.
To tackle the HIPAA Privacy Rule, HIPAA Security Rule, and HIPAA Breach Notification Rule in one fell swoop, health organizations and their affiliates must implement and operationalize a single data intelligence technology with an automated, deep discovery foundation for full visibility into their data.
BigID's single platform solution — complete with scalable, extensible, and future-proof functionality — enables health organizations to begin meeting HIPAA requirements right now. With BigID, you can:
Know your data: Traditional discovery sees only one type of data. Targeted discovery only finds data you already know about. BigID is founded on deep data discovery that gives you visibility into all of your data, everywhere.
Get full data coverage: Identify, classify, map, catalog, and take action on all your data across the organization — no matter how dark, legacy, siloed, or hidden.
Clean up your data: Enable workflows to delete similar, duplicate, derivative, and ROT data to minimize risk.
Monitor data quality: Ensure that data is fit for purpose and HIPAA compliance by actively monitoring its consistency, accuracy, completeness, and validity in a unified view.
Reduce risk — everywhere: Reduce risk on PHI with risk scoring, flagging data flows and access patterns, and continuously monitoring file access.
Quickly identify compromised data: Accurately determine impacted users following a data breach and simplify incident response.
Get a single view: Automatically catalog sensitive patient data with deep data insight, incorporating active metadata and classification — all within a single pane of glass.
Scale and extend: With BigID's platform solution and extensible app framework, health organizations can act quickly on changes to regulations and essentially future-proof data privacy, protection, and HIPAA compliance efforts.
Next step: Check out a free demo to see how BigID, tailored to your specific needs and requirements, can empower your health organization to achieve ongoing HIPAA compliance — starting now.