RoPA Data Mapping App
Manage Records of Processing Activities for Compliance

Learn More
Data processing without the pain
Manage Record of Processing Activities (RoPA) in a central location to assess data assets, protection, breach status, locations, DPIA, 3rd-party sharing and transfers.
Generate visual data flows aligned with agreements and policies while reporting on data processing activities and third-party data transfers.
Map data processing and sharing consistently to assess the risk profile for a given business process. Build a Data Protection Impact Assessment (DPIA) process that will flag risk associated with PI/PII and third-party data sharing.
Curate RoPA templates or use existing templates to automatically discover, document and report on third-party data sharing, cross-border transfers, data purpose, legal basis of processing and more. Provide data protection regulators necessary proof of compliance – and report on who, what, and why behind the data that's processed.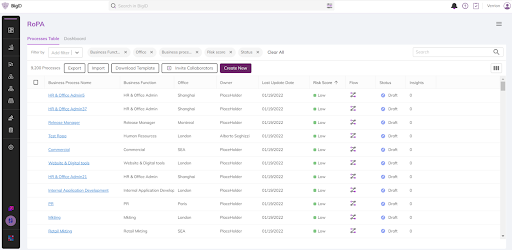 Data processing done differently
Find All, Data Everywhere
Unified Dashboard
Data Flow Mapping
Save Time
Maintain Continuous Compliance
Role Based Workflows
Reduce Privacy Risk
Report on Activity Explore the BigID Privacy Suite