Actionable Data Intelligence
Modern Data Visibility & Control
Why BigID?
A single platform to manage all your data, everywhere: data at rest and in motion; cloud and data center; structured and unstructured

Coverage

Get the big picture and add context to data to make better decisions across privacy, security, and governance

Context

Manage enterprise data volume (billions) and data sources (thousands) with low impact to your systems

Scale

Built for enterprise use with RBAC access granularity, password vault integration, best practices, and more

Enterprise Class

Take action across privacy, security & governance with apps - from file access intelligence to data retention to data remediation to data quality and more

Actionability

Enrich and enhance your existing tech stack with native integrations and advanced orchestration with countless other tools

Open Ecosystem

Leverage patented ML and NLP engine for more accurate classification and insight, predictive labels, automated data intelligence, and more

ML Augmented

Innovate with continuous metadata management: detect change, perform differential scans, trigger events dynamically, and more

Active Metadata

Build playbooks for bridging data, apps and actions

End-to-End Automation

Manage data by regulation and sensitivity & push privacy aware insight into your inventory

Privacy Compliance

Proactive risk management, risk scoring, and risk mitigation across your ecosystem

Risk Management

Customize views tailored to your audience - from IT to devs to data stewards to business users and beyond

Customized Views Data Discovery
Find, classify, catalog, profile and get context for all your data in the cloud or data-center, at-rest or in-motion, structured or unstructured at petabyte scale. BigID is the first data discovery solution to provide actionable data intelligence for data privacy, security and governance.
Identify sensitive data using hundreds of pre-built NLP, Deep Learning and pattern classifiers. Add your own from reference data or training data. Define risk and sensitivity levels from rules and compound classifications.
Use advanced Cluster Analysis ML to automatically identify duplicate or similar data across structured, unstructured, and data lakes to streamline data labeling, risk reduction, and minimization.
Capture, label, and manage metadata at scale across hundreds of structured, unstructured, and cloud platforms in the BigID catalog. Dynamically update data changes as they happen. Layer on business, operational, privacy and security metadata. Native metadata interchange with Collibra, Alation, Informatica EDC, MS Purview, SAP, ASG and more.
Find connectivity and lineage relationships across data stores and data context using graph based BigID Correlation ML.  Simplify building and maintaining MDM golden records, automate data rights, and identify related account and transaction data.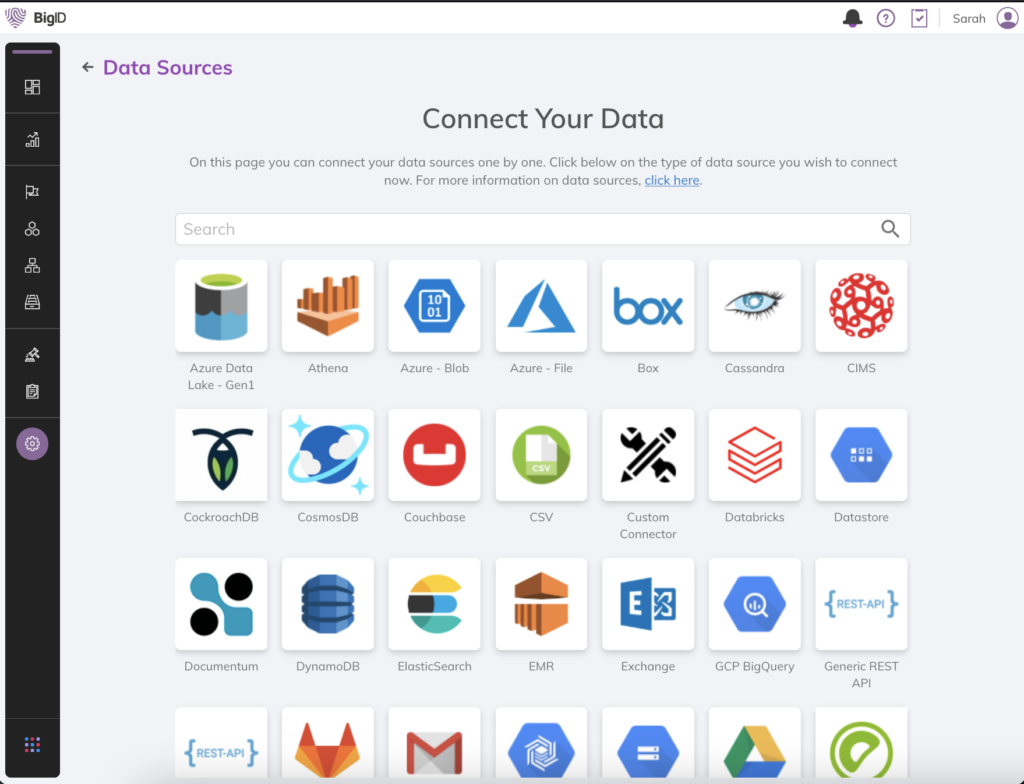 Coverage
Get unprecedented visibility and insight into personal, sensitive, and enterprise data – with broad data coverage at petabyte scale across almost any data source, cloud, or pipeline.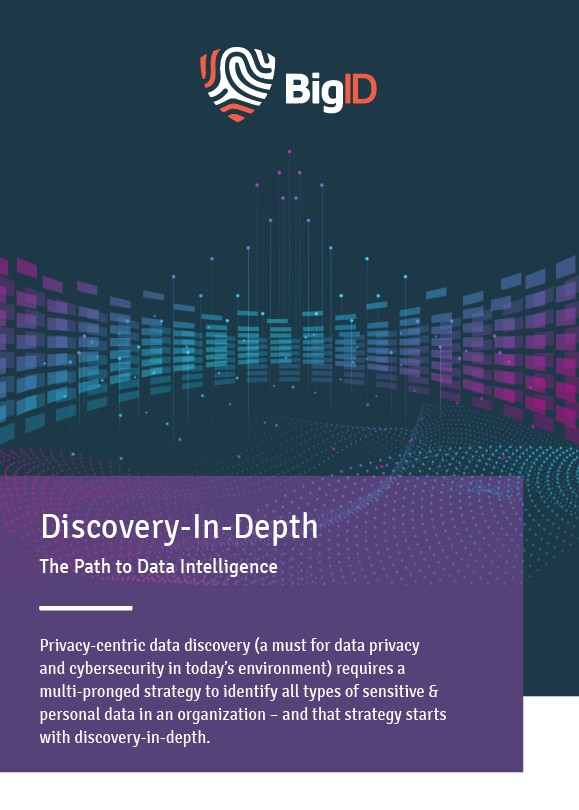 Data Intelligence
Discovery-In-Depth: The Path to Data Intelligence
Learn how discovery-in-depth gives organizations unmatched data intelligence for privacy, protection, and perspective.
Download