4 in 1 Data Compliance for Fast Growing Companies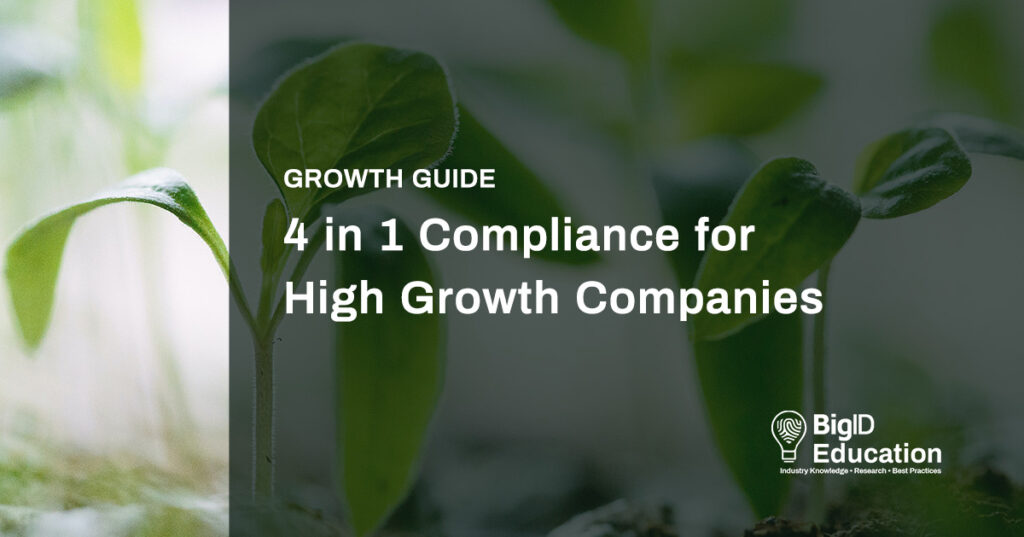 Companies grow up fast these days (trust us – we're right there with you).  One of the biggest challenges with high growth companies?  Balancing all the tech you need and compliance you require in a way that scales with you.
Growing pains are hard.  Growing up is harder. We feel you.
That's why we built a one-stop shop solution for high growth companies: an all-in-one compliance solution that's built for the modern tech stack, connects automatically to the data you need, and scales and evolves as fast as you do.  We're the #1 fastest growing security company on the 2021 Inc 5,000, and are helping drive industry best practices in collaboration with organizations like the Cloud Security Alliance, IAPP, EDM council, World Economic Forum, and NIST.
BigID is a cloud native solution with advanced, ML-based discovery, privacy, security, and governance solutions – so you can start small or go big, based on what you need.
Advanced data discovery for all your cloud, SaaS and dev tools 
The first step (and the biggest challenge)?  Know what data you have, what it means, where it lives, and how risky it is.  BigID pioneered the capability to find, classify, and validate all of your sensitive, personal, critical, and regulated data – across today's data landscape.  Dynamically build an accurate data inventory for a single source of truth across your data.
Our industry leading classification comes with hundreds of out of the box pattern and NLP data identifications for PII, credentials, financial data, health data, and more.
Policies are built from the ground up designed for today's types of sensitive data – no retooling required.
Leverage  customizable sensitivity classification (no two orgs data looks the same, after all)
Layer different methods of data classification and categorization for more accurate results and fewer false positives
Automatically find and clean up duplicate, redundant, and similar data
Tag and label your data to better enforce business policy
Prioritize high risk data based on confidence scoring and custom risk scoring
With BigID, you can automatically discover your most sensitive and regulated data – and move quickly with few resources.  From customer personal data to material financial data and everywhere in between, BigID is designed to help you accurately find the data that's most important to you – and understand your data: what's good, what's bad, and what's next.
(Want a preview?  Check out how Digital Ocean uses BigID for those very reasons.)
Holistic Privacy Management
Once you know your data, you've got an automated, self-updating inventory – which you can filter down to just show personal information, customer information, regulated data, and more.  From there, it's easy to take action with the BigID privacy suite: automate data rights fulfillment, build a customized privacy and preferences portal, and collaborate on Records of Processing Activity (RoPA) alongside comprehensive data mapping.
BigID's data privacy suite consists of a series of modular apps to operationalize end-to-end data privacy, making it easy to address and automate:
Data Mapping & Inventory
Privacy Preference Portal
Consent Management
Data Minimization
End-to-End Data Security
Comprehensive data security needs to start from the data, not the endpoint.  BigID's data security suite addresses the critical elements you need for data security: from building a dynamic data asset inventory to identifying high risk data and access to taking action across your environment.   With BigID, you can define risk based on data, type, sensitivity, location, where it's stored, and more.
Automate and enforce intelligent data security with apps designed for security teams and for the data you need – data in-motion, in the cloud, on-prem, and everywhere in between:
Identify, prioritize, and manage high risk data for comprehensive data lifecycle management
Define data security policies based on data context and enforce those policies across all data, everywhere
Identify overexposed data and over privileged users
Automate breach response and incident management
Reduce the attack surface with intelligent data minimization
Orchestrate data remediation and prioritize task management based on risk and urgency
Enrich your existing security stack
Next Generation Data Governance 
Traditional data governance is broken – it doesn't scale, it's not business friendly, and it's disconnected from the big picture and the business outcomes you need.  BigID's data governance suite changes all of that.  Starting with an ML-augmented data catalog and registry that makes it easy to understand all of your data (structured and unstructured), it's easier than ever to understand your data, improve data quality, and take action to make better business decisions.
BigID's data governance suite automates and infuses ML-based, risk-aware context with a series of modular apps designed to help you:
Improve data trust through quality and observability
Enable collaboration with context-aware data stewardship
Proactively manage data retention and data lifecycle management
Map and monitor data movement with data lineage, mapping, and more
Automate metadata exchanges and easily integrate across the ecosystem
A Single Pane of Glass for All Your Data
From Unstructured to Structured, Data at rest to data in motion, IaaS, SaaS, and everwhere in between – BigID has you covered.
Hundreds of native agentless connectors make it easy to connect to the data you want, and get the context you need – all in one place.
Make it Your Own: Build, Bring, or Buy Apps for the Fit You Need
BigID is API first, developer friendly, and built to scale – integrate with what you already use across your services, apps, and assets.
Need something custom?  Enrich and extend for custom use cases by easily building your own apps:
Native scan APIs and SDKs for CI/CD integration
Easy Jira and ServiceNow integrations
Build your own add on apps in Low code, Java, and Javascript
How do I get Started?
Sometimes big ideas come in small packages – which is why we made it easier than ever to get started.
Deploy the way you want – fully in the cloud or on-prem – and get started with finding the data you need, and taking action with the apps you love. BigID is available on your favorite cloud marketplace as well (AWS, Azure, GCP), or get a head start with a free trial of automated discovery and classification.
Prefer a pay per use model?  No problem – start small before you go big with SmallID: get started in minutes in the cloud, connect to the data you need, and achieve compliance with an all in one solution.