Why Industry-Leading Security by Design & Enterprise Class Security Practices Matter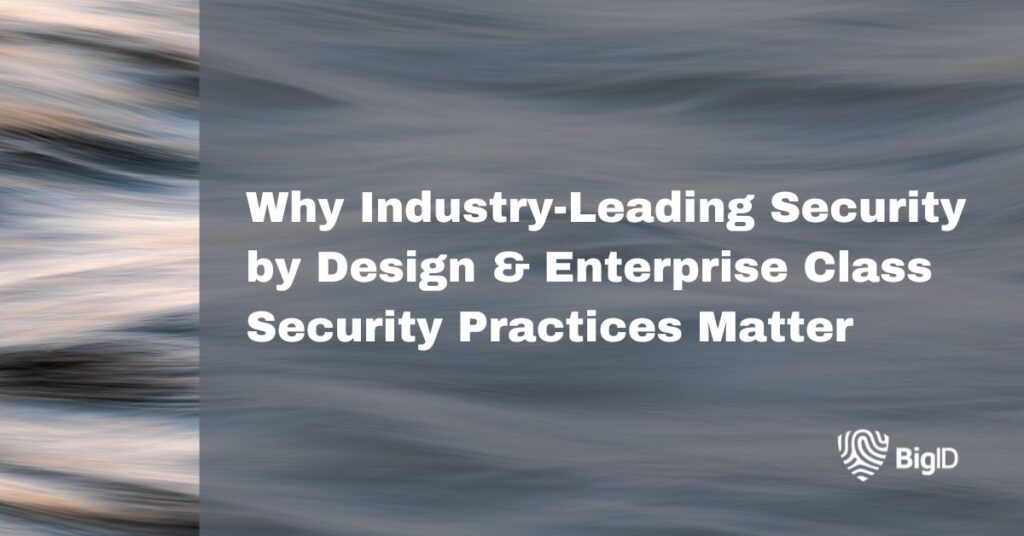 In today's world of startups, software options, and noise – it's more important than ever to choose a partner that not only will enable the business outcomes you want and the capabilities you need – but one that has security built in from the start.
Security certifications & compliance standards are table stakes these days when it comes to who you partner with to help manage, protect, and secure your data – what software you use, what standards you hold them to, and how well they'll integrate with your business policies.
That's why it's paramount to partner with a company that has security baked in from the start: including internal security programs, professionals, and certifications:
BigID's Dedicated Security Organization
BigID's security practices are transparent, foundational, and established – led by our internal CISO, with the security org including dedicated professionals in cloud security, application security, GRC, cyberops, compliance, security architects, and more.
Security Certifications: PCI, SOX, ISO, & More
BigID is the first in the DSPM space to achieve PCI Certification – a must have for most retail and financial customers. Our PCI compliance demonstrates that our security controls have been tested by an independent assessor: if a customer has credit card data in our cloud, they'll have no issues with PCI regulatory requirements. While we don't process card information, our customers can use BigID cloud to scan their PCI environments safely.
This PCI certification builds on other firsts including certifications for HIPAA, FIPS 140, ISO 27000, and SOC 2 & 3.
DSPM & Data Security Rely on Cloud Security
All the tools in the world won't keep data safe if your cloud isn't secure first and foremost. BigID is the first vendor to offer local processing of data to avoid copying, cloning or moving of customer data – so that you're effectively reducing risk, not amplifying it. We don't store data – all customer data stays in your own environment, with automated discovery & classification managed in-place alongside an API first architecture for platform extensibility.
Least Privilege Access
Enforcing least privilege is critical to avoid unnecessary access to rights to client data – and BigID has built access & RBAC capabilities in from the start: as the first vendor in the space to offer delegated authentication to customer password vaults like Cyberark, Hashicorp, AWS Secrets Vault, Thycotic, Beyond Trust, and more – so that customers avoid copying privileged credentials and improve their security posture by default.
In addition, BigID has the most granular Role Based Access Controls to scope down who can do (and see) what by role, defining what different users can do and what they can see in the product – all the way down to a field and configuration level
Deploy on your Own Terms
BigID is the first vendor to offer multi-tenant cloud, single tenant cloud and self-managed options for in your cloud deployment, with continuous vulnerability monitoring and full OAuth and SAML step-up authentication support for users and admins.
Go Further, Faster
With the most robust partner ecosystem in the industry, you'll get more from your existing investments: with native integrations with Wiz, Tanium, ServiceNow, Alation, Collibra, easy extensions into SOAR playbooks, SIEM integrations, and certified validation with Snowflake, Databricks, and more.
Product security isn't an add-on or nice to have in this day and age- when evaluating the right partner for DSPM, data security solutions, privacy, and compliance, get the checklist to see if it meets today's security standards. Dive into the difference with BigID – and get a 1:1 demo with our security experts here.