3 Key Security Threats Facing Retail Today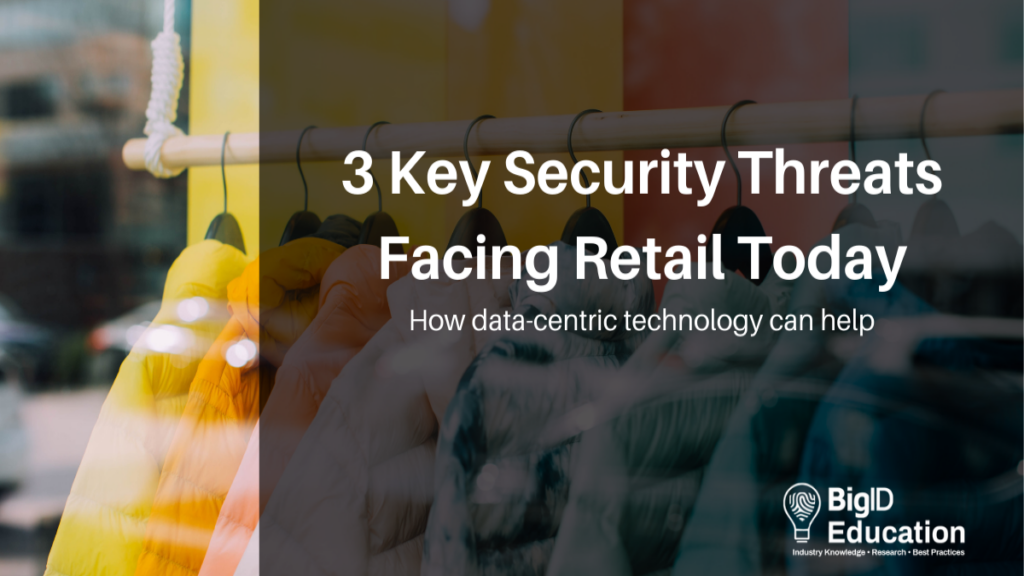 The retail space has always been on the front lines of security threats. Most shoppers need only consult their latest inbox notifications to find evidence of a recent breach that exposed their personal or sensitive information.
Why the threat? To begin with, retail companies collect and hold massive amounts of their customers' personal information. This info often contains sensitive financial data like credit card numbers or bank info, which malicious attackers love to target.
On top of that, security risk in retail recently intensified with the onset of the COVID-19 pandemic. Suddenly, the lack of an e-commerce presence was no longer a choice for businesses that wanted to stay afloat in the short term — and this abrupt shift presented a challenge for companies' risk mitigation efforts. Many retail organizations found themselves playing catch-up.
Here are key security threats retailers need to know in order to:
protect the personal, sensitive, and regulated data they collect and manage
achieve regulatory compliance and avoid costly fines
ensure brand integrity and prevent the loss of customer trust
mitigate risk across their entire data environment
1. Cyberattacks
Malicious attackers may target retail businesses — especially those retailers that are ill-equipped to handle online security — with malware, ransomware, and phishing attacks.
Retailers face malware attacks when they download software that exposes their protected or sensitive data to an attacker. Ransomware — particularly crypto-ransomware, which scrambles files and makes them unreadable without a decryption key — is a favorite malware tool that requires companies to pay big bucks to access their own information. Attackers may use phishing scams in email campaigns — enticing employees to (usually inadvertently) download malware.
Malicious attacks are not a matter of if, but when. To guard against them, retailers need to reduce the attack surface and proactively protect their customer, employee, and business data.  They need to establish and operationalize automated data security to extend and scale across the entire organization.
This ensures that businesses can know what data they collect in the first place, maintain audit trails of activity, monitor access issues, manage remediation workflows, and manage risk based on content and context of that data.
2. Third-party Attacks
While retailers can benefit from the speed, cost, and convenience of third-party payment services — especially in an environment where more and more small businesses need supply chain solutions — third-party relationships carry their own risk.
The threat of credit card fraud or a data breach incident increases with every third-party network a retailer connects to, compromising the retailer's ability to control and protect their sensitive information and opening them up to increased risk.
Organizations need to gain visibility into their data across networks, devices, apps, and users — as well as define those relationships and identify third-parties' access to personal and sensitive data.
3. Overprivileged Access
Overprivileged access is responsible for a great deal of data exposure across industries, and this is of particular concern in retail. Not only does the retail sector tend to hire unskilled labor but they may not always institute proper security training due to a high staff turnover rate.
Retailers need to be able to identify high-risk data, who has and should have access to it, and implement access intelligence across the enterprise. With visibility into vulnerable data and users, companies can remediate access issues, flag high-risk users, and customize access labels for the organization.
How BigID Can Help — Know Your Data to Protect Your Data
All data security efforts begin with knowing your data — everywhere across the organization, from all sources, at rest and in motion, on-prem and in the cloud, structured and unstructured.
BigID's deep discovery foundation and unmatched data coverage give retailers the visibility they need to efficiently identify, classify, catalog, and take action on all of their data — and then scale data protection efforts across their entire ecosystem.
. With a single data asset inventory of all the personal, sensitive, critical, and regulated data you collect and manage, and take action with a series of security apps to mitigate risk, achieve regulatory compliance, avoid fines, and ensure customer trust.
Ready to get full visibility into all your data — in a single pane of glass — and reduce risk across your entire data landscape? See BigID in action — book a demo today.