BigID and Tanium Have It Covered From End(Point) to End(Point)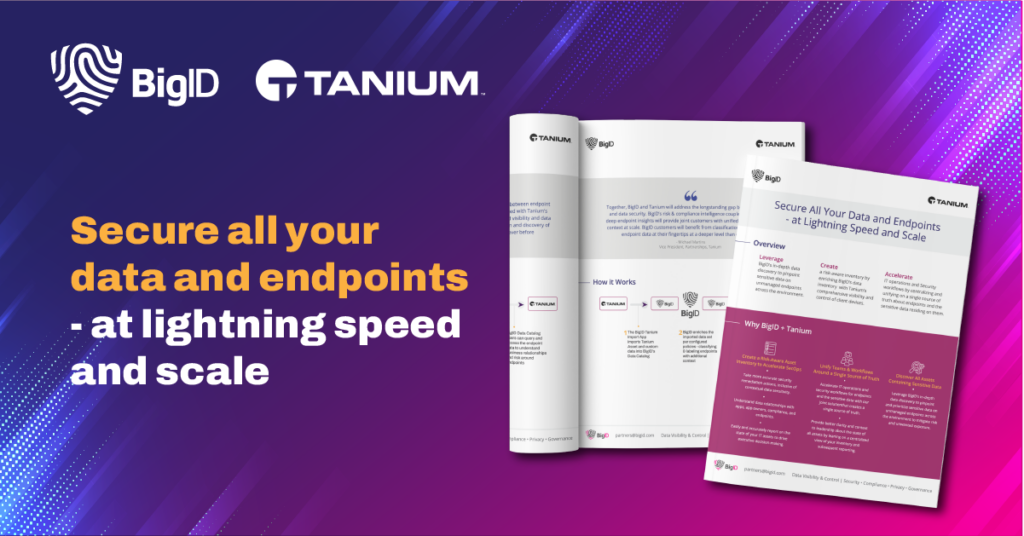 With the acceleration towards multi-cloud and hybrid models, IT environments are growing in size and complexity. Security teams are increasingly facing the challenge of getting a complete picture of all their IT assets – whether it's with their hardware, software, or data – at all times. Unfortunately, most organizations lack a complete and confident view of their assets, leading to poor decision-making and a higher risk of a breach and unwanted exposure.
Growing complexity and division between teams that manage endpoints and those that manage data has led to an adoption of disparate management and security tools. This patchwork approach is fragmented – creating gaps in visibility along with multiple, siloed perspectives of assets.
It's why BigID's Data Intelligence, together with Tanium's Converge Endpoint Management, now provides security teams complete and confident visibility and control of every IT asset – hardware, software, AND data.
Give security teams the ability to build an unparalleled risk-aware asset inventory that enables them to identify, prioritize, and remediate endpoints with sensitive or critical data – data which must be protected at all costs from exposure. Unify teams and workflows around a single source of truth about the state of IT assets to drive better, data-informed decisions and reduce risk across the environment.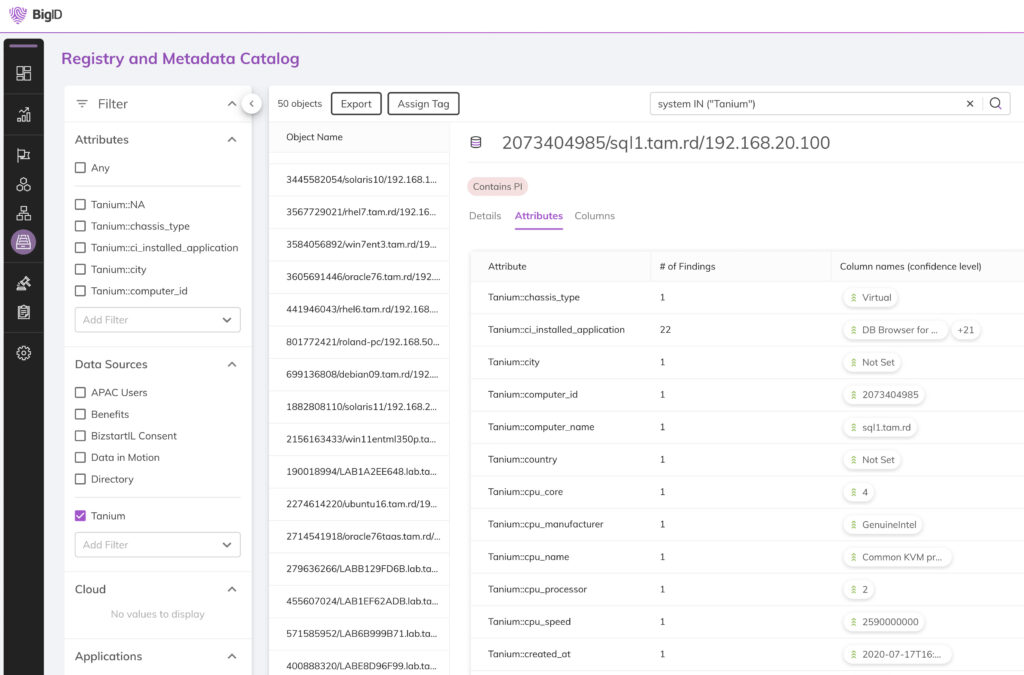 Discover All Assets Containing Sensitive Data
Leverage BigID's in-depth data discovery and classification to pinpoint and prioritize sensitive data on endpoints across the environment to mitigate risk and unwanted exposure.
Create a Risk-Aware Asset Inventory to Accelerate SecOps
Carry out more accurate security remediation actions, inclusive of contextual data sensitivity. Understand data relationships with apps, app owners, compliance, and endpoints. Easily and accurately report on the state of your IT assets to drive executive decision-making.
Unify Teams & Workflows Around a Single Source of Truth
Accelerate IT operations and security workflows for endpoints and the sensitive data with our joint solution that creates a single source of truth. Provide better clarity and context to leadership about the state of all assets by leaning on a centralized view of your inventory and subsequent reporting.
BigID helps organizations of all sizes manage, protect, and get more value out of their data anywhere it exists — on-prem or in the cloud. Learn more about how you can enhance your visibility and control of all your IT assets by integrating with Tanium. The Tanium App is also now available on the BigID Marketplace. Get a 1:1 demo to see it in action today!