Data Privacy Management in Motion with BigID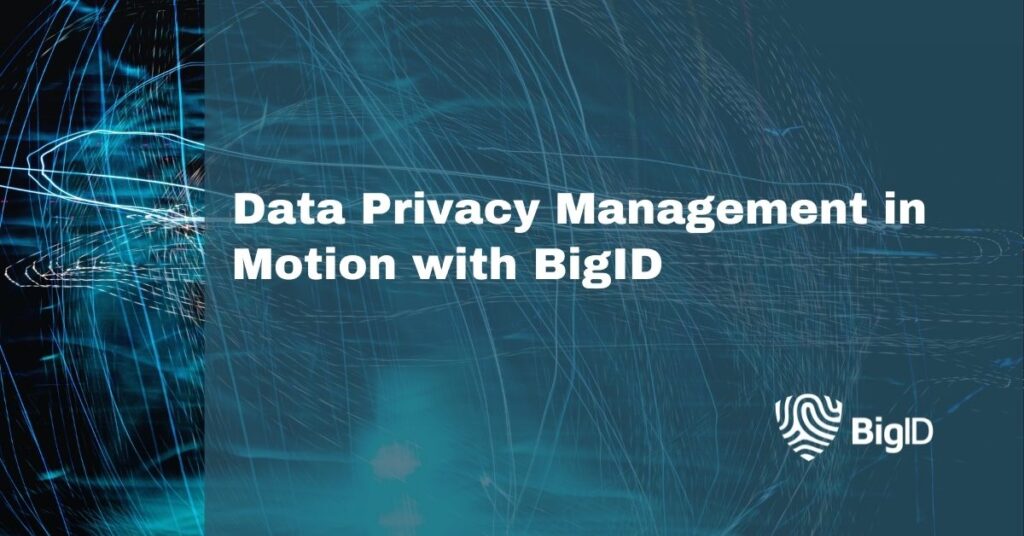 Data privacy has a lot of moving parts. Data is constantly in motion, continuously evolving, and changes in short intervals, so organizations have to keep pace to avoid non-compliance pitfalls. In Sir Isaac Newton's words on laws of motion: "To any action, there is always an opposite and equal reaction."
Those laws of motion even apply to data privacy, especially since data is dynamic – look at how new information is collected, processed, and shared (cross-border transfers, third-party sharing).
The Science of Data Privacy Compliance
Even though data privacy isn't unlocking the in-depth rules of physics, there are still rules that apply to how data is collected, managed, and shared. Organizations have to implement an automated data-driven program that is scalable and sustainable while building a foundation of accountability, transparency, and trust.
Data is everywhere. Businesses need to gain visibility and insight into the sensitive, personal, regulated, and critical data collected across the entire data landscape. It's also a forward-thinking, collaborative approach across several business functions (privacy, data governance, security, risk, compliance, and legal) to achieve cohesive data privacy compliance.
For some time, though, the standard has been the privacy function setting policies and processes without the technological ability to collaborate and adapt to internal compliance and external regulations.
How BigID Operationalizes Data Privacy Compliance
The in-depth knowledge needed on personal and sensitive data can be highly intricate. But an organization needs to understand how data is processed and collected, which takes a certain level of insight, process automation, machine-learning/AI, and operationalization to achieve this goal.
Sir Issac Newton also stated, "Truth is ever to be found in simplicity, not in the multiplicity and confusion of things." Unfortunately, data privacy is littered with complexities and distinct nuances, making it hard to take a simplified approach, but not impossible. But let's take a look at how BigID can help simplify and automate data privacy for any business, large or small, through privacy compliance management and operations.
Privacy Compliance Management
Compliance management is about identifying and mitigating the risk related to processing personal information. It's all about managing risks across the full data lifecycle and the processes, policies, and interactions.
Here are the applications needed for privacy compliance management:
Privacy Impact Assessments (PIA/DPIA): Easily build seamless workflows and frameworks for privacy impact assessments (PIA) to estimate the risk associated with all data inventory.
Cross-Border Data Transfer Governance: BigID helps organizations identify, manage, and monitor all personal and sensitive data activity — including third-party data sharing and cross-border data transfers.
Privacy Risk Model – Risk Configuration: Leverage risk scoring to measure and monitor sensitive or highly critical data across the entire organization to mitigate privacy risk.
Policies and Compliance Assessments: Assess data privacy and protection regulations with a sustainable approach to meet privacy requirements with well-defined policies aligned to compliance.
Privacy Compliance Operations
Compliance Operations are the operational steps necessary for managing information daily, a critical component of compliance and risk management. Compliance Operations provides a way for organizations to manage privacy risks with discipline and proactive approaches to building trust and transparency with consumers.
Here are the applications needed for privacy compliance operations:
BigID: A Holistic Approach to a Mature Privacy Program
BigID is helping organizations worldwide move beyond policy and process to establish a more data-centric holistic privacy suite designed to simplify and automate compliance. As a result, organizations can further drive innovation, reduce risk, increase business value, and adapt to the constantly shifting data privacy landscape by implementing a privacy program.
Another Sir Issac Newton Quote applies nicely to the digital transformation of data privacy, "My powers are ordinary. Only my application brings me success." This statement cannot be any more accurate about the use of technology. BigID is taking that same level of innovation and revolutionizing the science of data privacy management. So, in the spirit of Newton, let's keep Data Privacy in Motion!
Schedule a BigID demo to learn more about how your organization can build a mature privacy program.