PIA vs. DPIA: The Art of Privacy Risk Assessments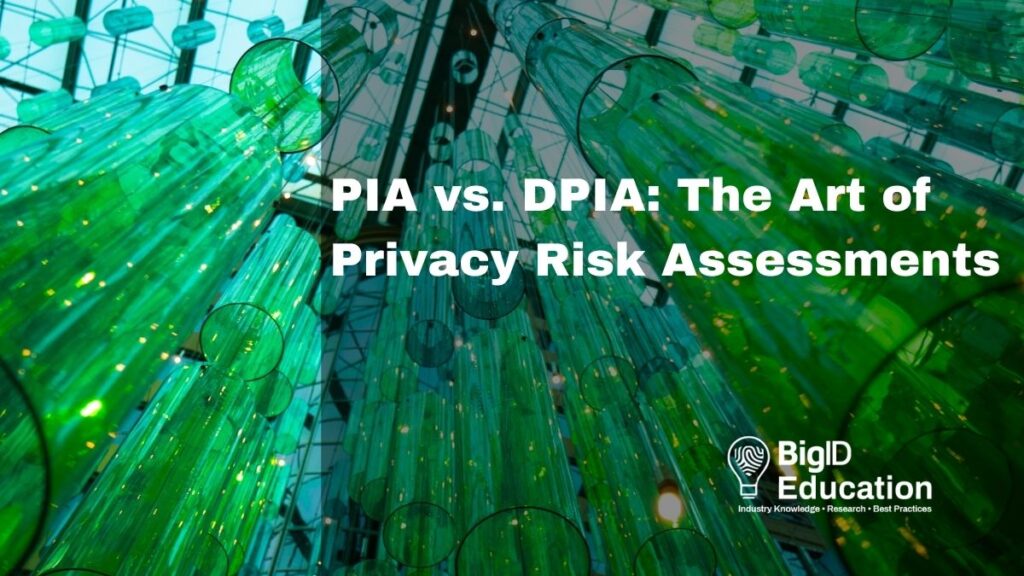 Can you accurately monitor how data is flowing within and outside of your organization?
If not, be forewarned: most businesses need to understand how they collect, use, and share information — and how those practices relate to privacy risk.
Managing data risk and privacy is often a nightmare for many businesses, as it can be hard to determine which data requires a higher level of protection. That is why companies need to implement privacy risk assessments to understand the current and future risks that could potentially impact customers, employees, and the organization as a whole.
What Are Privacy Risk Assessments?
Privacy risk assessments or impact assessments are customarily referred to as Privacy Impact Assessments (PIA) and Data Protection Impact Assessments (DPIA).
The purpose of a privacy risk assessment is to provide early warning signals that can detect risk factors so organizations can avoid mistakes in privacy compliance and structure their programs to reduce privacy-related risks. In addition, a risk assessment is an effective tool against data theft and customer protection in the data privacy landscape.
Privacy risk can result from exposure to issues that could derive from personally identifiable information (PII) exposure. The risk assessments endeavor will try to evaluate and ultimately resolve this threat to individuals' privacy.
What Is a Privacy Impact Assessment (PIA)?
A PIA is a standard process that identifies and documents data behaviors across processes, products, and systems that contain personal information and establishes how the potential privacy risk is managed, protected, and shared.
Organizations use PIAs to mitigate organizational privacy risks. They are usually conducted when a new business process is implemented, a new company is acquired, or a new product launches. However, PIAs can also be applied to existing processes, products, and systems when they are altered (e.g., when a company expands business to a new country or region).
PIAs help any business:
ensure that information collected complies with legal and regulatory requirements for privacy
evaluate the risk of data collection, maintenance, and the circulation PII
identify the right measures and procedures to mitigate any potential privacy risk
What is a Data Protection Impact Assessment (DPIA)?
The EU General Data Protection Regulation (GDPR) has placed a spotlight on how organizations tackle privacy protection and risk assessments. GDPR mandated a new requirement for businesses to develop DPIAs for data processing activities that would be considered high-risk.
While there are no definitive requirements for how organizations go about documenting a DPIA, here are some implementations companies should consider:
A methodical approach to describing processing activities and those activities' overall purpose (what, when, how, and why personal data is being processed)
An assessment of the legal basis that makes data collection a necessity in relation to its purpose
An assessment of the risk that would jeopardize the privacy rights of any given individual (customer, employee, etc.)
That the data protection measures that need to be taken to mitigate risk and ensure the protection of personal and sensitive data align with GDPR requirements for compliance
These key points should help organizations prioritize the type of data they collect and process, the risk related to data processing, and the possibility of any incident and its overall impact. Thus, a DPIA helps organizations take an objective approach to evaluating the risk of data processing and preparation to mitigate negative scenarios.
The Difference Between PIA and DPIA
Even though PIAs and DPIAs are often used interchangeably, both assessments target different requirements and goals. For example, both PIAs and DPIAs enable companies to address and reduce risk — individual rights, organizational compliance, or both.
PIAs are primarily designed to analyze if organizations have controls in place to identify risk — and determine whether or not those organizations comply with privacy regulations. The ability to audit risk helps organizations take a proactive approach to potential problems and remedy any areas of non-compliance with reactive responses to privacy notices, opt-outs, data breaches, and security programs.
In contrast, the DPIA requirement is closely tied to GDPR Article 35, especially in instances where the processing of personal data will likely result in a high risk to data subject rights and freedoms.
A DPIA is required in these sorts of scenarios:
An evaluation of the personal identifiable aspects of an individual such as profiling (targeted advertising mechanisms)
Large-scale processing of PI & PII (collecting employee biometric data)
Automated data collection and processing
Large-scale surveying of public areas (surveillance data/facial recognition)
How BigID helps with Privacy Risk Assessments
PIAs and DPIAs can be troublesome to navigate since they consist of several documentation requirements – and it's  important to mitigate risk to maintain compliance.
With BigID, organizations can manage, monitor, and validate privacy risk assessments for GDPR Article 35 and CPRA compliance. Here are just a few ways how:
Collaborate with a data-driven approach to filling PIA/DPIA
Integrate with Record of Processing Activities (RoPA) process
Customize questionnaires for the assessment of business process or project
Identify and reduce risks associated with processing based on risk level and activity
Coordinate with third parties to monitor and assess the risk of data sharing and transfers
Automate risk calculation for privacy, security, and data governance
Easily create regulatory reporting to comply with privacy requirements
Learn more — and get started with BigID's PIA App to automate regulatory compliance (GDPR Article 35, CPRA) by building specific workflows and frameworks for privacy impact assessments (PIA) and data protection impact assessments (DPIA).