The C-Suite Spot: How the CISO, CPO, and CDO Unite for Success
Data Perspective
Data Privacy
Data Protection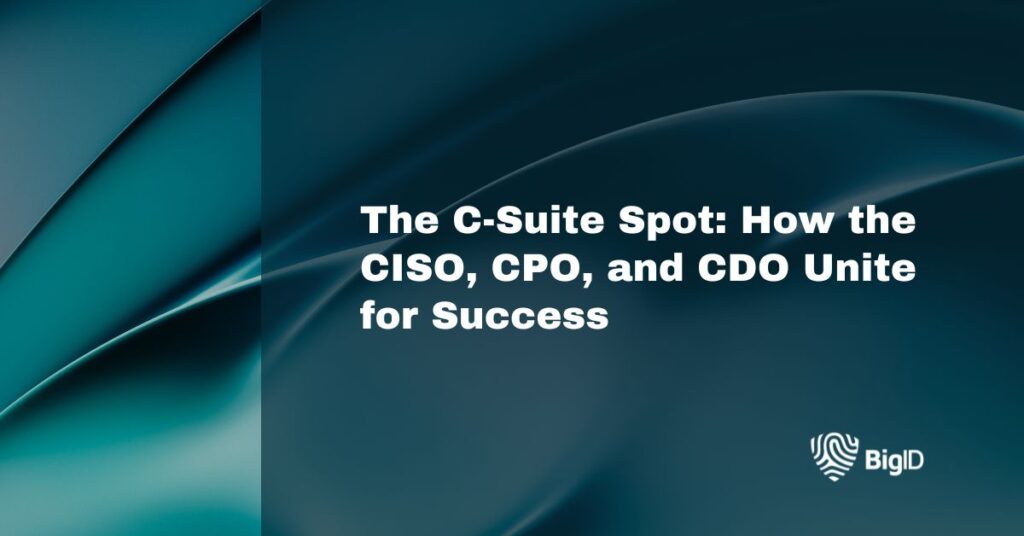 In today's data-centric world, information is— without a doubt— the most valuable asset. Still, it is also the most vulnerable asset, making data protection and regulatory compliance an organizational goal. The roles of the Chief Information Security Officer (CISO), Chief Privacy Officer (CPO), and Chief Data Officer (CDO) are executives that have become integral to an organization's overall success. These executives must focus on integrating systems based on purpose, collaboration, and partnership. How these executives interact can drive cost effectiveness, revenue, innovation, compliance, and better decision-making.
Even though these roles are traditionally distinct, each focuses on specific aspects of data management: security, privacy, and governance. By embracing the power of technology and cross-functional teamwork, these executives can effectively navigate the data protection and compliance landscape of the future.
Benefits of Efficient C-Suite Collaboration.
A Global Human Capital Trends report, "The Rise of the Social Enterprise," stated, "Despite being necessary to advance the enterprise, 73% say their executives do not regularly collaborate." Organizations must recognize these interdependencies and collaborate across functions to meet growing challenges effectively.
Leading organizations recognize the benefits of an aligned approach, ensuring strategic purpose, improved partnerships, risk mitigation, and efficient internal collaboration, which is vital for market and competitive advantages. From improved risk management to enhanced regulatory compliance, here are some examples of the benefits of C-Suite collaboration:
Increased Innovation, Efficiency, and Productivity: According to Frost & Sullivan research, collaborative companies are 30% more innovative and at least 36% more productive. Improving efficiency creates better workplace dynamics, reduces costs, and increases profitability.
Improved Data Risk Management: Collaboration provides a more comprehensive view of data risks. When the CISO, CPO, and CDO work together, they can collectively identify and mitigate data security, privacy, and compliance risks.
Unified Technology Stack: Investing in integrated technology solutions ensures that the CISO, CPO, and CDO can access the same data, insights, and communication channels.
Enhanced Regulatory Compliance: Organizations can achieve regulatory compliance more efficiently by aligning efforts. Compliance with data protection laws becomes an integrated part of operations rather than a siloed function.
Established Data-Driven Culture: A united approach fosters a data-driven culture where individuals at all levels understand the importance of data security, privacy, and compliance. This culture promotes responsible data practices and reduces the risk of data incidents.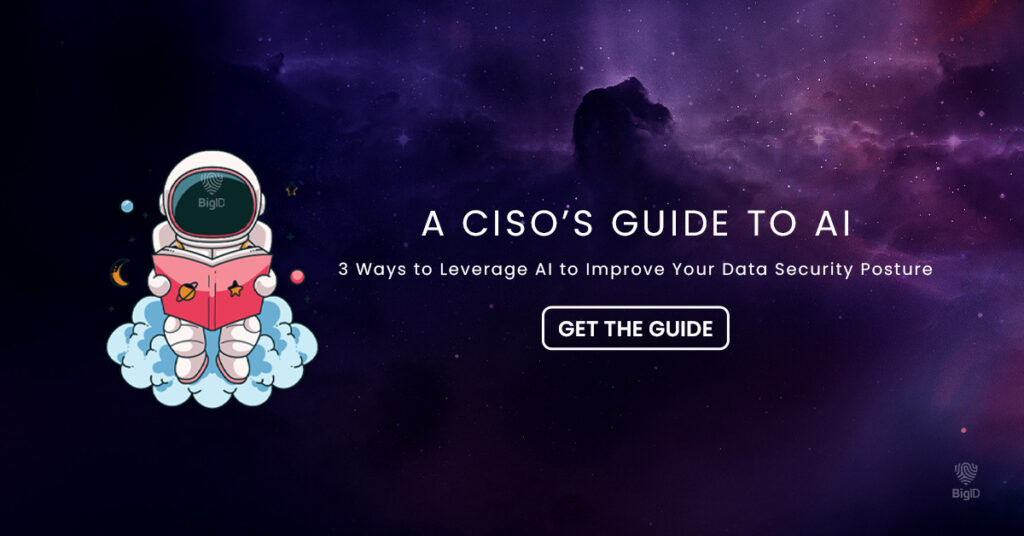 How Technology Can Unify the C-Suite
When it comes to digital transformation, the people and process are crucial, but technology is what truly can bring the C-Suite together. It requires a shift from siloed, standalone systems to an open, unified platform for managing data. A unified platform can deliver insights beyond having sufficient data management, improving security, and protecting privacy; it can improve overall operations and shape the enterprise data strategy. While some executives may need to be more aligned, most understand the need for the general business to provide safe and secure environments, maintain standards, and comply with regulations.
Establishing a Unified Approach
With unification, all systems are integrated, enabling access to all data operations from a single source of truth. Executives must distinguish between systems that integrate with a software development kit (SDK) or application programming interface (API), which gives some connectivity to consolidate and truly unify the data. With a unified system, executives will have access, views, and the ability to interact with information across systems. When all elements of an integrated system work together in a unified way, they secure the enterprise, improve operational efficiency, and provide actionable business intelligence.
Defining Strategic Goals & ROI
When collaborating, C-Suites must clearly define goals, such as what data, features, or insights would be the most important in supporting their strategic goals. A unified platform enables better tracking of key metrics and better collaboration between departments, which leads to better decision-making and more significant ROI.
Executives should consider which pain points can be resolved with better data visibility, automation, and collaboration. What could be gained by eliminating redundant processes and systems? When all data is in a unified platform, it can reduce operational expenses, maintenance, and training and effectively boost productivity and efficiency.
Streamlining Operations for Data Governance, Privacy & Security
A Workday survey, "The Super-Collaborative C-Suite," stated, "52% of IT leaders recognized improved cybersecurity compliance, and privacy protection is a priority investment area". Cyberattacks are rising worldwide, so cybersecurity and privacy management should be a top priority for all organizations. The potential for a unified system should align with the organization's overall technological priorities.
When data is divided into siloed systems, it's hard to see the full scope of risk. A unified platform allows organizations to monitor and track data to get insights, trends, and relationships. Taking a more strategic approach, executives can help the organization recognize the value of data-driven insights provided by a platform to improve cybersecurity and automate data privacy.
How BigID Helps Unite the C-Suites to Protect Data and Achieve Compliance
The CISO, CPO, and CDO must recognize that the complexities of collaboration and communication require an enhanced approach to business. There is an increased focus on collaborating and leveraging technology-based capabilities for data protection and regulatory compliance.
BigID is designed to help C-Suites collaborate and take a unified approach to data lifecycle management to navigate data privacy, protection, and compliance successfully. From data security posture management (DSPM) and data access governance (DAG) to data loss prevention (DLP), privacy, and compliance— BigID offers a complete software solution, which includes:
Data Discovery: Identify the organization's sensitive data by location, content, and context.
Data Inventory & Classification: Build a data Inventory and tag data with the industry's broadest set of security, regulatory, and privacy machine learning (ML)- enhanced classification.
Hybrid Coverage: BigID supports any data source and type – SaaS, ERP, Dev Tools, Mainframe, Mail, Data in Motion, noSQL, Chat, images, unstructured or structured, on-prem or across the cloud to eliminate sensitive data blind spots.
Open Integrations: Integrate with many tools like Collibra, Alation, OneTrust, SAP, Salesforce, Tableau, Confluent, Databricks, ServiceNow, RSA, Appian, AWS, Azure, O365, GCP, Box, IBM, and many more products.
Identity-Awareness: Discover and search based on identity attributes like names, geolocation, gender, and more, enabling automated DSAR, Breach Response, Privacy Impact Assessments, Record of Processing Activities (RoPA)/Data Mapping, and people inventory.
Consistent Data Governance: Improve data-driven decisions with auto-classification, automated data profiling, and advanced data management.
Automated Data Privacy: Comply with privacy regulations with end-to-end privacy automation – from privacy portals to data rights management to deletion.
Enterprise-Class Security: Drive data security posture management with an ML-driven data security platform to reduce risk and remediate data.
Collaborative Remediation Workflows: Streamline remediation efforts with collaborative workflows to define, prioritize, investigate, and remediate individual data risks based on the threat level.
Advanced Reporting: Develop insightful reporting and analytics to define and monitor key metrics about your data privacy, security, and governance initiatives to better understand risk.
Data security, privacy, and compliance convergence are no longer optional; they're a necessity. Organizations must recognize the interdependencies between these functions and empower the CISO, CPO, and CDO to work together effectively. By doing so, they can better protect data, achieve regulatory compliance, and build a data-driven culture that ensures the responsible use of data.
Schedule a demo with our experts to see how BigID can help your team collaborate within a unified platform to reduce risk and achieve compliance.