What is DSPM? Data Security Posture Management 101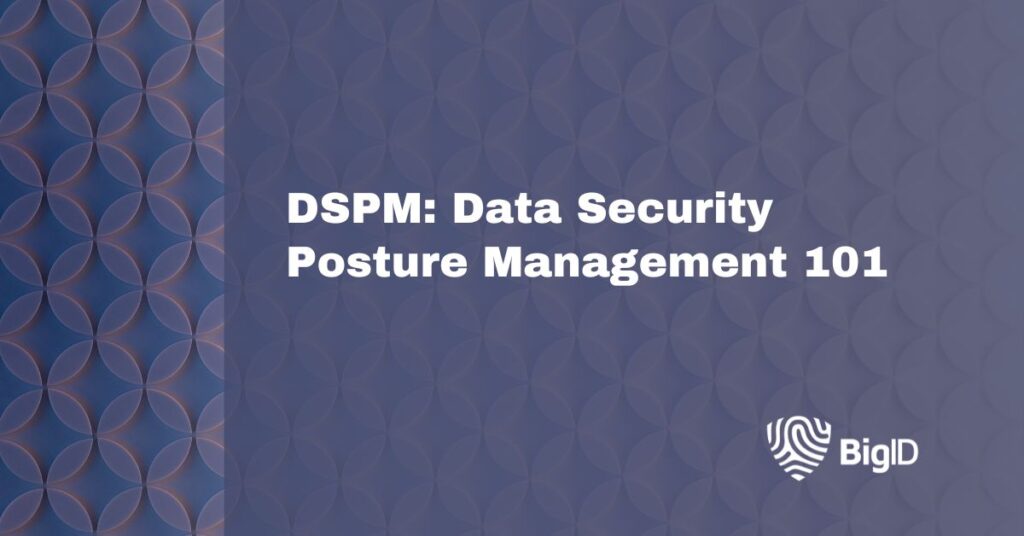 What is data security posture management? (DSPM)
No matter the industry, organizations of all sizes are collecting, storing, and processing more data than ever before. Data management in the modern age requires new and comprehensive solutions that protect an organization's assets—whether on prem or in the cloud.
Data Security Posture Management or DSPM refers to a set of techniques security and IT teams utilize to automatically identify and understand their sensitive data and reduce their organization's risk of data leaks, compliance violations and much more.
Data security posture management is an emerging data security technology area, leveraging context-driven data discovery and classification to provide continuous insight into the security posture of data stores and associated misconfigured access privileges.

– Ralf Helkenberg, IDC Analyst
Why is DSPM important?
An organization's overall health depends on several key factors—security posture is a critical piece of the puzzle. Without it, an organization can become susceptible to an array of cyber attacks, data breaches, and even audits resulting in heavy fines.
DSPM helps businesses discover and understand their data in depth, take actionable steps to protect or remediate it, and continually assess their risk.
How can you improve your data security posture?
While the most effective data security programs are tailored to the specific needs of the organization, there are several best practices that can improve data security posture no matter what scale the business is operating at.
Here are a few tried and tested ways to improve data security posture:
Know Your Data: You can't protect what you don't know—more than half of an organization's data is often unstructured or unknown dark data. Data discovery platforms like BigID use ML classification and advanced AI to uncover the data you know about and the data you don't. Knowing your data enables you to accurately classify and provide context to all your sensitive information, wherever it resides.
Reduce Your Attack Surface: Many businesses store far more data than they actually need or use. The more you store, the more you have to protect. Data without proper insight serves no purpose, but deleting it can greatly reduce your attack surface and improve your organization's security posture.
Monitor Your Data: Have a system in place that carefully monitors all of your enterprise data from creation to deletion. A customized data inventory can help keep track of what data is being created, accessed, and modified throughout the entirety of its life cycle. Maintaining an up to date data inventory provides clarity to all of the different stakeholders within your organization.
DSPM vs CSPM
Like DSPM, cloud security posture management provides security frameworks that protect an organization's data—the main difference is where the data is being protected. In the case of CSPM, data stored in the cloud is the top priority.
CSPM allows security teams to assess risk within the ever-changing cloud infrastructure. Both CSPM and DSPM provide more visibility into the unknown data storage of an organization, remediate sensitive data, and help achieve compliance.
These security techniques provide the best coverage when used in unison., Without one or the other, critical locations can remain unprotected and therefore susceptible to breach or attack.
Read more on DSPM vs CSPM on our dedicated post.
Data security posture management (DSPM) challenges
There are several pressing challenges that can stifle the success of DSPM initiatives. Lack of visibility—where security and IT professionals don't have access to proper context within an organization's data stores.
Without a clear understanding of what data is being stored, used and modified, security teams are left in the dark, conducting several hours of manual labor to discover their enterprise's data in full.
With new data created each and every day, it can be nearly impossible to manually keep track and protect each new piece of data. Time is a resource many teams don't have enough of. Without the use of automated data management platforms, organizations are working around the clock to ensure their data remains safe.
BigID's approach to DSPM
The future belongs to those who can adapt to the evolving technologies and glean new insights from the data they are already collecting. BigID is a data intelligence platform for privacy, security, and governance that reduces risk, improves security posture, and orchestrates controls.
BigID automatically identifies and protects sensitive and regulated data across the cloud, on-prem, and SaaS with data security posture management to mitigate the risk of unauthorized exposure and regulatory non-compliance.
Our intuitive platform allows you to gain complete visibility and control across all of your data to assess and improve your security posture wherever your data resides. With BigID's data-centric approach you can automatically map, monitor, and remediate data – all under one platform.
Equip your organization with the critical capabilities of DSPM with BigID's data discovery, user access maps, data flow tracking, protection against data exposure, and data security posture reports.
For more information get a 1:1 demo here with our experts or read more about this topic and the future of DSPM.