Introducing the New & Improved BigID Partner Program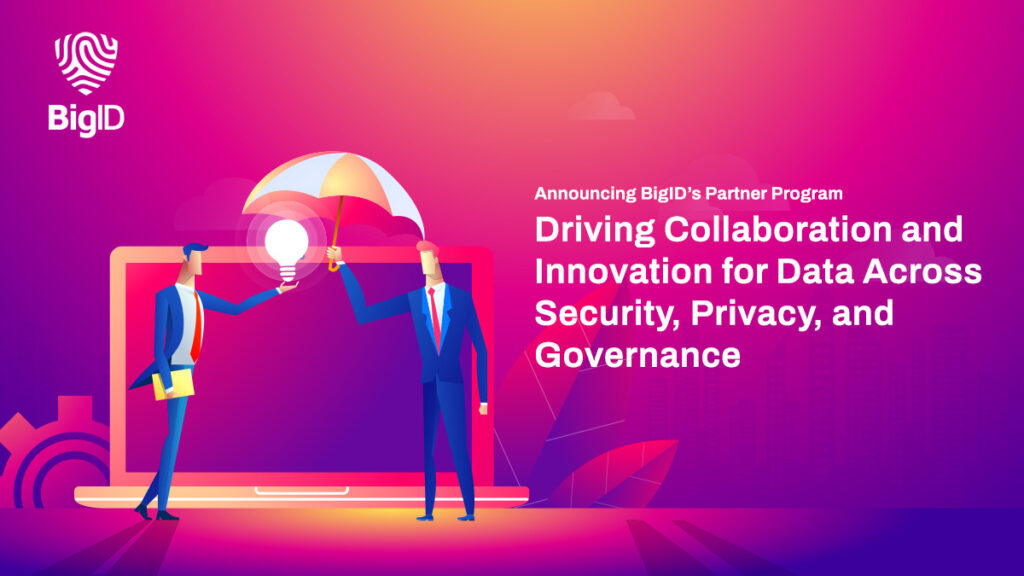 The ever-changing landscape of technology is a double-edged sword; new tools and applications offer the opportunity to improve efficiency and better serve customers. On the other hand, the constant influx of data from myriad sources creates complexity and confusion, leading to costly mistakes. That's why BigID is excited to announce enhancements to our partner program, which will enable our 150+ partners to extend and enrich their solutions and services. By partnering with BigID, businesses can take advantage of open platforms and expertise to streamline their data, security operations, and governance to improve their chances of success in today's fractured world of digital data.
Our goal is to help our partners accelerate their success while helping our customers solve complex security challenges more efficiently. The enhanced partner program benefits will serve the broad partner ecosystem by providing access to exclusive resources, training, and support. New benefits include new partner qualifications to differentiate your company in our ecosystem to customers, additional incentives through our newly defined reseller program, invites to exclusive partner town halls, access to BigID sales collateral, real-time opportunity visibility, dedicated partner certification tracks on BigID University, monthly partner newsletters, app development resources, and more!
Partner program benefits for customers and partners alike
The expansion of the BigID Partner Program enables a deeper level of engagement across the globe while driving collaboration and innovation in order to provide best-of-breed solutions that meet customer needs for:
Consulting Partners
Engage with your BigID team to provide customers with advisory, implementation, technical or procurement services: global systems integrators (GSIs), regional systems integrators (RSIs), resellers, managed service providers (MSPs), consultancies, and agencies
Technology Partners
Integrate software and solutions with the BigID platform to provide compelling joint offerings to customers: independent software vendors (ISVs) and cloud service providers (CSPs) By working together, we can help our customers overcome these challenges and improve their overall security posture.
BigID specializes in helping organizations holistically secure data—from on-premises and cloud data stores to big data platforms—and we're quickly becoming recognized as one of the most innovative vendors in the space…but don't take our word for it – here's what our partners have to say!
Splunk and BigID
"Working with our technology partners to build a strong, integrated ecosystem is key to helping our customers solve complex security challenges efficiently. BigID is an innovative, emerging security technology vendor solving some of the hardest security issues with data security and recognizes that working with a broad range of ecosystem partners is a critical part of ensuring customer success." said James Young, Global Security Strategist at Splunk. "The team at BigID have been very collaborative and supportive in working with Splunk to build use case-based product integrations to solve data security problems for our customers." The first BigID & Splunk integration…more to come soon!
Wiz and BigID
"Partnering with BigID is a natural fit. Together, we're closing the security gap between data and the cloud" said Trish Cagliostro, Head of Global Channels and Alliances at Wiz. "Through the Wiz partnership with BigID, we're able to deliver more value for our customers – maximizing data protection and cloud security while extending customers' ability to manage risk."
Use BigID to automatically find, classify, categorize, label, and tag all of your sensitive data. Leverage cutting-edge ML and NLP to accurately find all data at scale. Enrich Wiz with BigID's Data Intelligence to quickly and efficiently highlight and prioritize data at risk. Get instant visibility into sensitive data that may be prone to exposure, accelerate SecOps by prioritizing data vulnerabilities by data risk and attack path, proactively reduce risk by blocking attack paths based on best practices and playbooks, extend your risk model with data intelligence and context Improve your cloud data security posture.
MongoDB and BigID
"BigID is phenomenal as a partner: we're able to team up in so many different areas from business to technology and everything in between." Said Sarah Branfman, MongoDB "The partnership between MongoDB and BigID continues to add value to our partners and customers so that we're truly better together."
Together, BigID and MongoDB quickly discover, classify, and manage data stored in MongoDB to provide customers ability for configuration and timeout options to minimize resources and storage for fast, efficient, and reliable data discovery. Read more about it here.
AWS and BigID
"We partnered with BigID because BigID complements AWS, and it enhances our overall capabilities – which is really good for customers." said Chintan Sanghavi, Solutions Architect, AWS. "Customers see the combined value of our platforms – having the collaboration and partnership with BigID reduces the barriers for customer adoption."
BigID with AWS enables organizations to proactively manage, protect, and get more value from their data at scale – with support for Athena, Aurora, S3, DynamoDB, HIVE on AWS, EMR, RDS, RedShift, Kinesis, and more. With BigID organizations can: Gain visibility, manage and protect your sensitive data in AWS, facilitate compliant cloud and data lake migration, enable broader adoption of AWS services, big data, and analytics functionality. Read more about it here.
SAP and BigID
"BigID takes care of a data problem for our customers. SAP decided to not only partner with BigID, but SAP invested in BigID as a company because we saw the viability of a solution that could really help our customers that have multiple on premise and cloud properties." Gerard McCann, Sr. Director, ISV Business Development
BigID works with SAP to redefine data privacy, security and governance: helping customer organizations take informed action to unleash their data assets. Joint customers benefit from improving customer and brand experience by ensuring that consumer data is properly maintained, managed and kept compliant across their enterprises to build trust among end users. Read more about it here.
Snowflake and BigID
"Snowflake and BigID are partnering to provide our customers with secure data access for managing sensitive data workloads in the Snowflake Data Cloud. Snowflake and BigID partnership has enabled our product teams to co-develop BigID Access, Masking and Labeling App for Snowflake to easily identify sensitive data and automate access controls in Snowflake platform." Jeff Lee, Technology Alliances, Snowflake
See how Snowflake and BigID partners to create native data masking policies based on sensitivity, context, and classification. Together, customers can enable field level access and dynamic masking with Snowflake's native controls, Manage existing policies across data sources and tables, Continuously audit activity with automated reporting that includes data masking and access policies and activity. Read more about it here.
HPE and BigID
"HPE is pleased to be an investor in BigID. HPE Ezmeral Data Fabric and HPE GreenLake for Data Fabric provide the industry's first true hybrid, multi-cloud data fabric solution. BigID provides a valuable addition to our growing partner ecosystem to help customers manage sensitive and complex data challenges." Ron Reuben, Head of Product, HPE Ezmeral, Hewlett Packard Enterprise
HPE Ezmeral Data Fabric and BigID teamed up to solve the challenge of the aggressive regulatory environment combined with highly valuable and sensitive data. We prioritize and remediate by simplifying data access, acquisition, processing, and surfacing of different data types across multiple use cases, workloads, and organizational teams. Integrating data intelligence and metadata management across all HPE Ezmeral Data Fabric- supported platforms and data types. This increases trust in and quality of insights provided to enterprise data consumers. Read more about it here.
Fortanix and BigID
"Fortanix is proud to be a part of the BigID Marketplace. Our partnership with BigID is an important one for us and for customers, who are looking for data discovery and classification as the needed first step of data protection and privacy. You have to know what and where your data is, before you can encrypt and protect it. We look forward to providing this better-together solution to customers." – Patrick Conte, Vice President, Business Development & Strategic Alliances
Finding sensitive and confidential data with BigID? Use Fortanix DSM SaaS to secure it with this application that automates the workflow between finding sensitive data and securing it through encryption. BigID identifies any security and privacy related findings at scale across your data ecosystem and dynamically triggers data-protection actions on the applicable assets using the Fortanix platform. Read more about it here.
ALTR and BigID
"Our experience building for the BigID marketplace was extremely positive. The BigID team was very helpful, they provided well documented APIs, and the MarketPlace listing was simple to get up and running. We essentially had no issues and were integrated within 2 weeks. One of our major goals with the integration was delivering time to value for our customers. We've heard over and over again that data governance projects, especially when they include security, can drag on and on. ALTR and BigID were specifically built as SaaS platforms with very rich APIs to deliver time to value very quickly for customers. We help customers be confident that the data BigID identifies as sensitive will be protected with ALTR's tokenization in Snowflake, automatically and seamlessly with a few clicks of a mouse." – James Beecham, Founder & CTO
The BigID/ALTR integration enables automatic tokenization of data that's classified sensitive by BigID. BigID allows users to scan, discover and classify data. Altr leverages classification results to drive tokenization that allows it to fully protect data within the Snowflake environment. Read more about it here.
MANTA and BigID
"We're excited for the launch of BigID's partner program and are proud to be part of it. Like BigID, we at MANTA are committed to data protection and helping customers garner actionable data intelligence. With this new program, technology solution providers can bridge their collective strengths and deliver advanced solutions that help customers safeguard their most valuable asset: their data." Petr Stipek, VP of Partnerships, MANTA.
To help joint customers, BigID helps Manta to tag sensitive data, scales privacy and security, and automatically identifies and classifies sensitive objects in BigID, while seamlessly updating MANTA with privacy-awareness. Read more about it here.
Synthesized and BigID
"The integration of BigID with Synthesized allows customers to quickly de-identify sensitive data through the generation of safe and compliant high-quality synthetic test data for use in non-production environments. The BigID marketplace enables effortless delivery of the solution to customers in minutes thereby accelerating digital transformation and cloud adoption strategies." – Nicolai Baldin, CEO & Founder
BigID finds, classifies, and catalogs all of your customers sensitive data. The integration with the Synthesized Testing Data Kit (TDK) allows your customers to quickly de-identify sensitive data through the generation of safe and compliant high-quality synthetic test data for use in non-production environments – this makes data catalogs actionable — accelerating application release cycles and cloud adoption strategies. Read more about it here.
Atakama and BigID
"Atakama is proud to be a technology partner in the BigID App marketplace, our partnership with BigID is a natural fit given their industry-leading data discovery and classification capabilities," said Scott Glazer, CRO at Atakama. "The ability to discover and classify sensitive data is a critical first step in a progressive data protection strategy. Combined with Atakama's multi factor encryption for unrivaled data security, organizations optimize their security posture by protecting high-priority data assets against data exfiltration"
Combining data classification and discovery tools with encryption provides a complete security solution for identifying and protecting sensitive data in real time. The joint solution mitigates two major concerns when it comes to data protection: eliminating user error by leveraging the unparalleled accuracy of data classification and identification provided by BigID, and enabling appropriate controls with Atakama's protection that is optimized for the sensitivity of the data. Read more about it here.
Torq and BigID
"Torq integrates with BigID's discovery and classification capabilities to rapidly and accurately remediate exposed sensitive data by instantly notifying and interacting with the security operations team and data owner, and closing the identified resource," said Eldad Livni, CINO and Co-Founder of Torq. "The combination of Torq and BigID delivers a significant advantage for companies driven to maximize their data privacy and protection in an accurate, fast and automatic manner." More to come soon…
Anecdotes and BigID
"The BigID and anecdotes partnership represents the modern approach to Compliance innovation and automation that are at the core of what both companies do." Said Ryan Lieser, Vice President of Alliances & Partnerships at anecdotes. "It was inevitable that the leader in the Data Visibility and Control space, and the pioneer of Data-Powered Compliance automation would partner to enable customers to take their Compliance and Privacy to the next level."
Solidatus and BigID
"I'm thrilled that BigID will bring additional metadata to enrich Solidatus clients' enterprise data blueprints", said Solidatus CEO and Co-Founder, Philip Dutton. "Solidatus' users will be able to discover new data assets, classifications, profiling, quality, and risk metadata to automatically action insights gained from the deeper understanding of their data ecosystems. In short, the sum of Solidatus and BigID is greater than the parts alone."
RiskQ and BigID
"This partnership couldn't be timelier, said Ariel Evans, Co-founder and CEO of RiskQ. "We both share urgency in automating key aspects of cybersecurity, and we are thrilled that BigID will help us bring seamless and automated data classification to the RiskQ solution."
SPHERE and BigID
"Coupling BigID's vast expertise in finding a customer's most sensitive data, with SPHERE's automated remediation process, organizations can now not only discover the areas they need to protect, but also to be able to seamlessly lock down access to their critical assets." Said Rita Gurevich, CEO and Founder at Sphere Technology Solutions This immediately decreases the risk and impact of ransomware and enables a strong data security posture.