Records Management: Understanding Data Value & Risk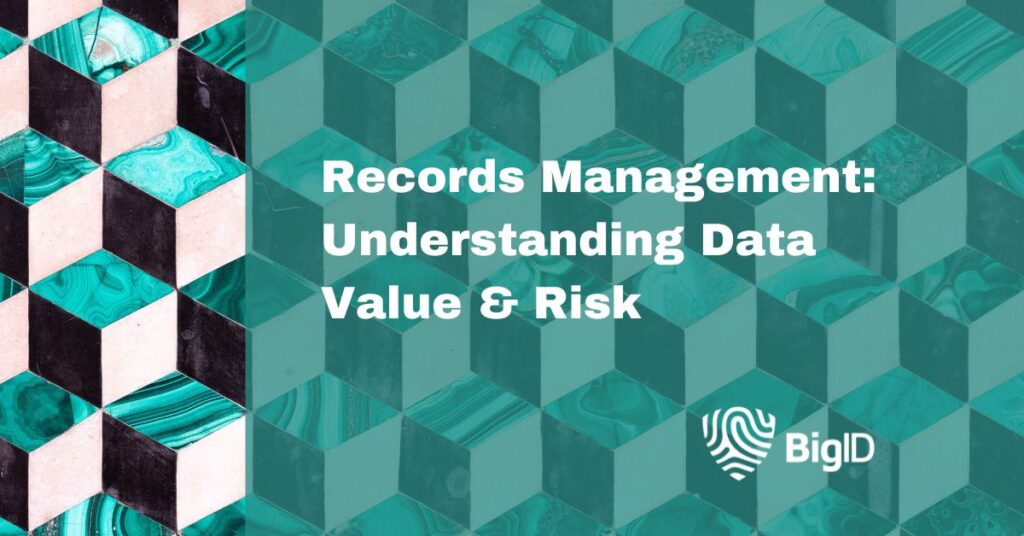 Each and every day, roughly 2.5 quintillion bytes of data are created. Unsurprisingly, responsibility for collecting and storing this information can be a massive ordeal requiring organizations to utilize a process called records management.
Records management is the process of managing records throughout their lifecycle; from creation to disposal.
What is the purpose of records management?
Records management aims to provide secure storage, accessible use, and compliance for all of the valuable information a business collects. This method is typically more efficient at keeping records and providing organization than other means.
Additionally, records management ensures that only relevant and required information is retained and then disposed safely. This in turn helps comply with records management regulations and privacy laws CPRA.
The records management lifecycle explained
According to the National Archives and Records Administration (NARA), the lifecycle of electronic records consists of five steps:
Create or Receive: The first step can be done by typing up a document, writing it down by hand, recording an audio file or creating a video clip. In addition, this step includes creating electronic versions of paper records in order to make them more accessible and easier for employees to access at any time.
Modify or Use: When a document is retrieved from storage and used for its intended purpose or modified in any way to fulfill a new need.
Maintain & Protect: The protection and maintenance of electronic records is vital to the records lifecycle. This means making sure that there are no unauthorized changes made to records after they have been created or received.
Dispose & Destroy: Any documents that are no longer needed or no longer have value should be disposed of.
Archive or Preserve: After you have discarded the non-essential records, identify the remaining materials that must be preserved permanently and place those in a secure archive.
ERM systems
Electronic Records Management (ERM) refers to the management of files and documents stored electronically. It ensures an organization has access to the right records when they are needed. When records are stored electronically, it boosts efficiency through automation. An ERM software can help you automate the process, eliminate duplication and facilitate easy maintenance.
In addition, ERM systems allow organizations to store data in the cloud without compromising on security or privacy concerns while maintaining control over its own data storage infrastructure.
Importance of records management
No matter the size of the organization, stored records can quickly become unmanageable. Without proper organization and systems in place it can be difficult to glean any valuable information from all your electronic records.
Records management is key to helping organizations comply with regulations, manage their costs and save time by being able to find important records when they need them. Poor records management can lead to an array of problems, including costly compliance penalties, unnecessary audits, and reduced efficiency amongst the organization.
Benefits of records management
Here are several ways records management can provide value to your organization:
Maintain compliance: All organizations are subject to data privacy and governance laws that stipulate how their records should be maintained. Proper records management is essential to avoid heavy fines or legal action.
Secure your data: Organizing your data and preserving its integrity and confidentiality are essential to safeguarding the organization. Records management can help you organize data so that it remains safe from a potential breach of security.
Effective record retrieval: The usefulness of your records is dependent upon their ease of retrieval. With a powerful records management system, you can easily store and retrieve important information whenever it's needed for business decisions—and make better use out of the data you already have.
Decrease storage costs: Most organizations store more data than they actually need. Discarding any records no longer of use will not only reduce storage costs but improve your risk posture at the same time.
Recent example of record keeping fines
Poor records management has consequences—sometimes expensive ones. The most recent example of this was when the Securities and Exchange Commission (SEC) announced charges against 15 broker-dealers who failed to maintain and preserve electronic communications.
This recordkeeping mistake resulted in combined penalties of more than $1.1 billion for several financial institutions like Barclays Capital and Citigroup Global Market.
BigID records management capabilities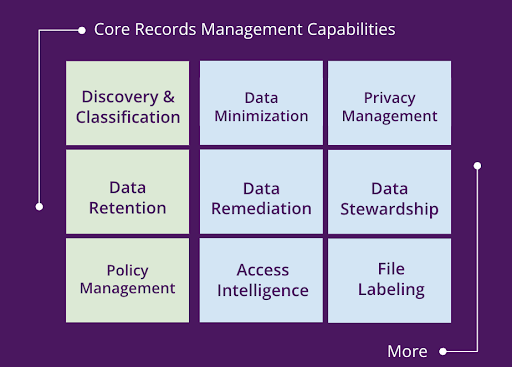 Recordkeeping incidents like the SEC's recent crackdown are strong reminders why having a record management solution you can trust is important. BigID's data intelligence platform provides a solution for every step of the records management lifecycle, from managing data on premises or in the cloud, to archiving and disposing of records when they're no longer needed.
BigID Data Retention applies retention policies for different types of information and by specific geographic regulations. Through discovery and classification, BigID knows what type of information the data is. The platform uses AI to automatically assign relevant retention rules to the associated data to take action. Connecting with BigID Remediation and Deletion capabilities, data owners receive notifications to delete expired data while preserving data that must be saved for a legal hold.
BigID's powerful search feature to help you discover and inventory your data, reducing risk and limiting liability with data minimization. Advanced ML and AI enable BigID to identify sensitive information automatically and help your organization achieve compliance by managing and enforcing retention policies. For more information get a 1:1 demo with our experts.