BigID Metadata Exchange App for Informatica EDC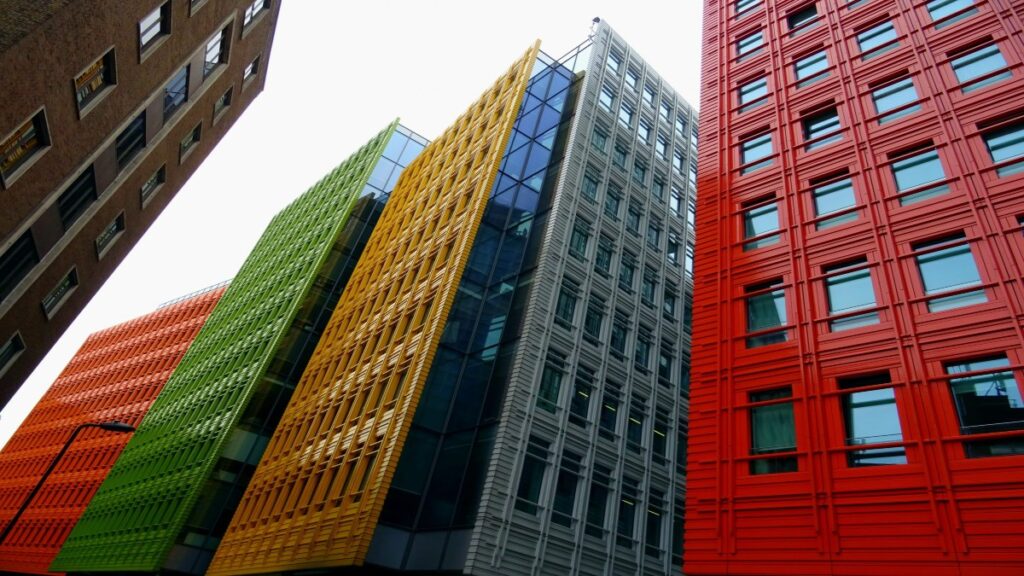 BigID's Metadata Exchange App for Informatica EDC enhances your data catalog with BigID insight to get higher value from your Informatica investment. BigID's automation and discovery adds insight to EDC for a more robust and accurate data catalog. Discovery-in-Depth enables data stewards to do more validation and less manual curation. Organizations use Informatica as an enterprise data management solution, including a data catalog and business glossary.  Use BigID for automation to eliminate manual processes and scan all data sources and types for a comprehensive view and deeper discovery of your data environment for EDC.
BigID Machine Learning for Deeper Discovery Resolves These 5 Common Challenges for Informatica EDC:
Increase data source coverage and add automation to populate Informatica EDC
Resolve false positives in EDC using advanced classification with confidence levels
Discover sensitive data to protect, ROT data to eliminate
Use ML to connect business terms to physical data
Surface data privacy and policy awareness in EDC
Automate and Populate EDC with Broad Data Coverage, Context, and Insight
Traditionally metadata catalogs focused primarily on data for analytics, and therefore offered limited data sources or types. However, modern data programs have increased influence over all data diverse stakeholders, and see the value in having a complete view of the data to power all of their enterprise needs.  BigID enhances Informatica with automated scanning for all data sources and types to fill in coverage gaps for sources, types of data, and metadata enrichment that EDC does not offer. BigID integration uses automation to reduce administration overhead and optimize performance. Customers can enrich existing data or add new data sources to EDC, resulting in a more complete and accurate catalog with additional context for higher value and greater ROI from your Informatica investment.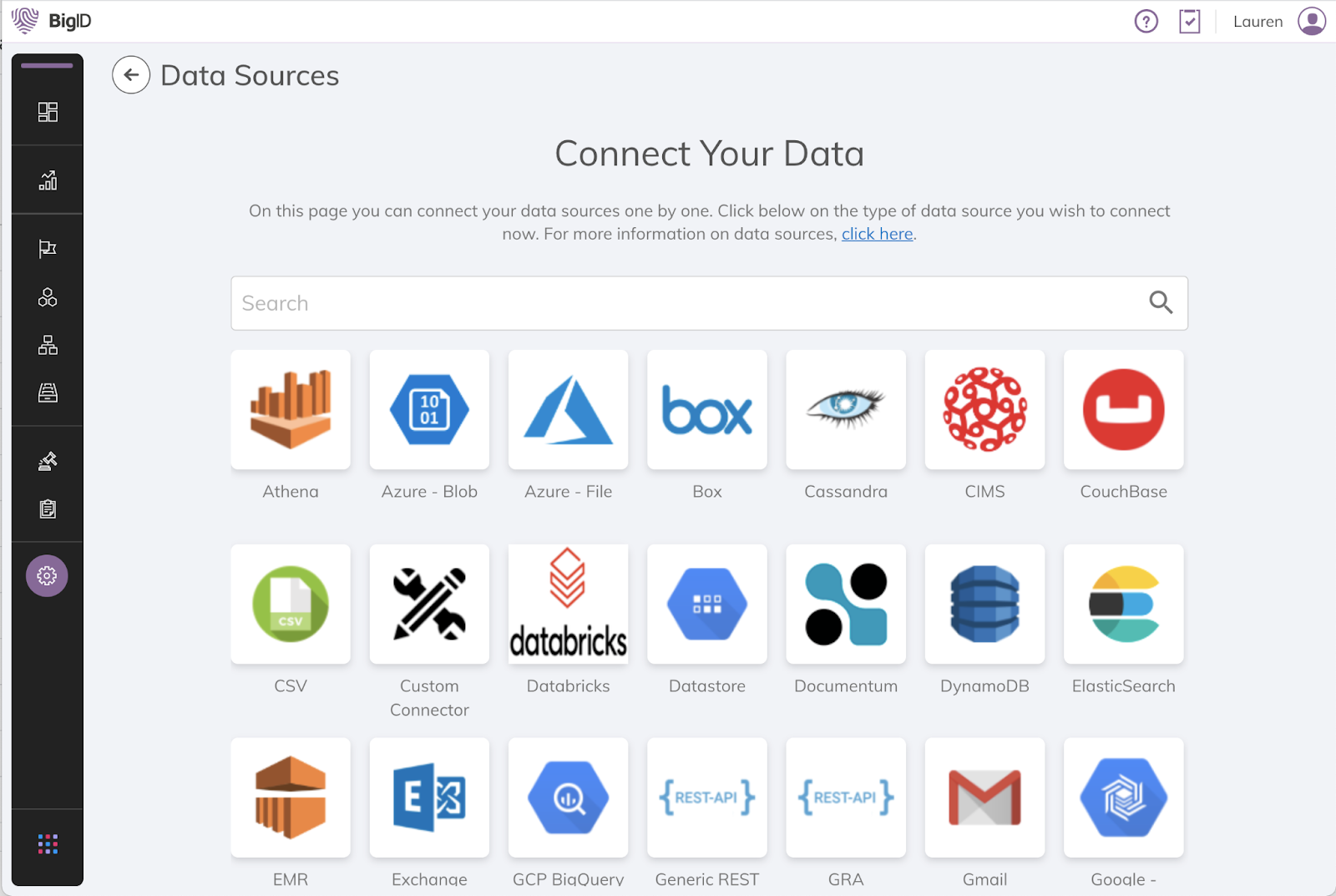 Validate Data Findings in EDC to Resolve False Positives and Minimize Manual Curation
BigID delivers high confidence identification to apply data classifiers or domains. Traditional pattern matching results often include a high number of false positives, which requires extensive manual curation to select correct classifiers. BigID uses patented ML for higher confidence matching data to a single classifier. Data stewards use BigID classifiers with a confidence level for defined certainty to select the correct domain from the multiple options suggested by EDC. BigID's automation and ML increases the efficiency of data stewards to validate findings instead of spending time on manual curation. The advanced insight removes ambiguity, saves time, and provides a more accurate data environment.
Apply ML for Enrichment and Add Data Context to EDC
Beyond scanning the data, BigID Discovery-in-Depth applies 4 lenses of ML through classification, correlation, cluster analysis, and catalog. The deeper insight enhances Informatica EDC providing additional context to know what and where the data is. Automated discovery identifies sensitive data to protect, and finds redundant, outdated and trivial (ROT) data to remediate. Going deeper, BigID surfaces the specific location of sensitive data, provides a Data Quality score, and integrates with native Retention and Remediation apps to take action on discovered data.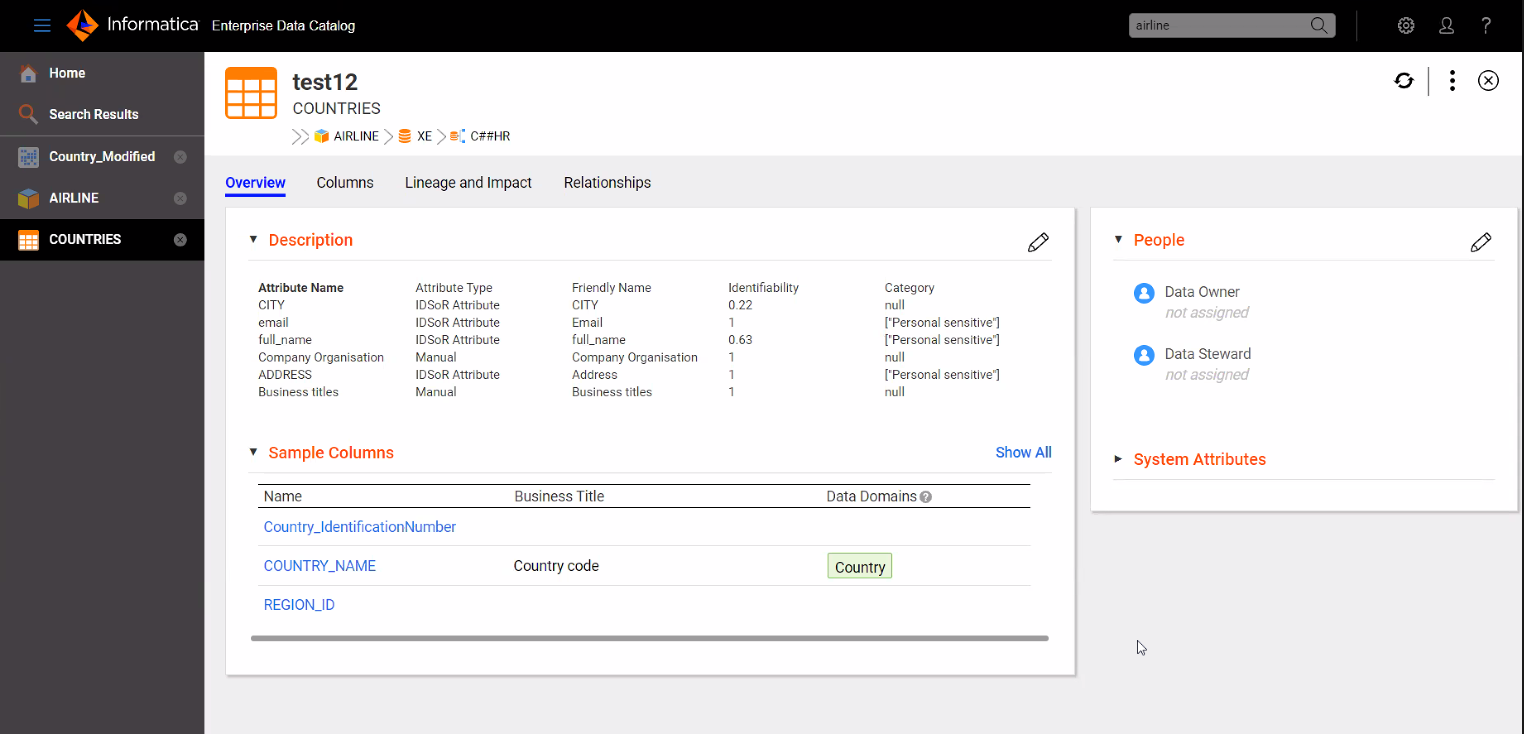 Connect EDC Business Terms to Physical Data
Without BigID, most classification and tagging in EDC requires manual work by data stewards. BigID metadata exchange ingests Informatica business terms and uses ML to classify and label data by those business terms with a high degree of accuracy. Data stewards save time and increase accuracy by validating the findings suggested by BigID instead of starting with manual curation. BigID ML adds scalability, speed, and accuracy for classification and data context in EDC.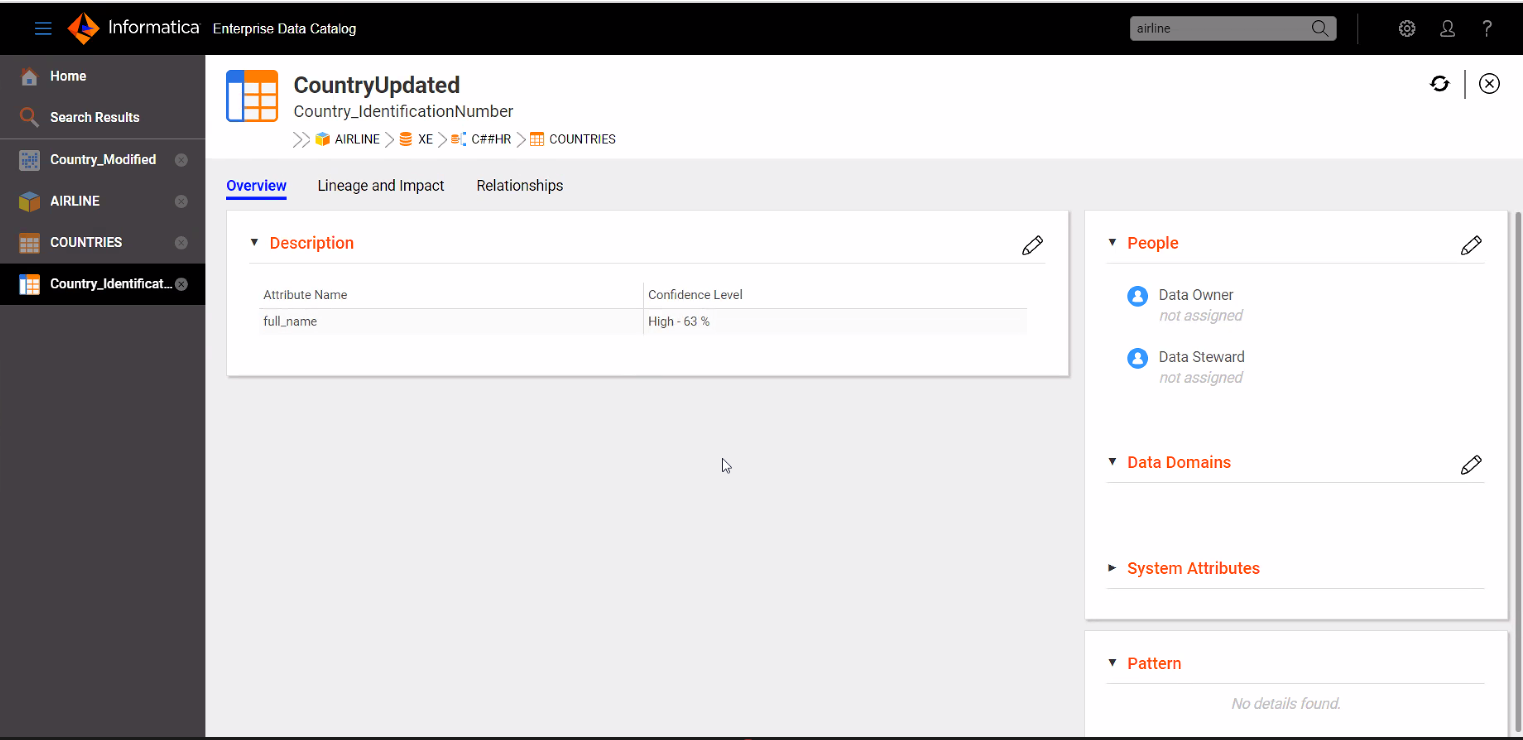 Surface Data Privacy and Policy Awareness in EDC
Data users need to comply with new privacy regulations and corporate data policies. BigID's Policy Manager allows administrators to easily add and update policy rules and then use ML to identify the data that is affected by those rules. The BigID EDC metadata exchange tags the relevant columns and datasets with policy labels in EDC. Catalog users see labels and policy tagging for responsible data use and privacy-awareness, and BigID applies the tags as security and privacy labels that can be used for downstream enforcement.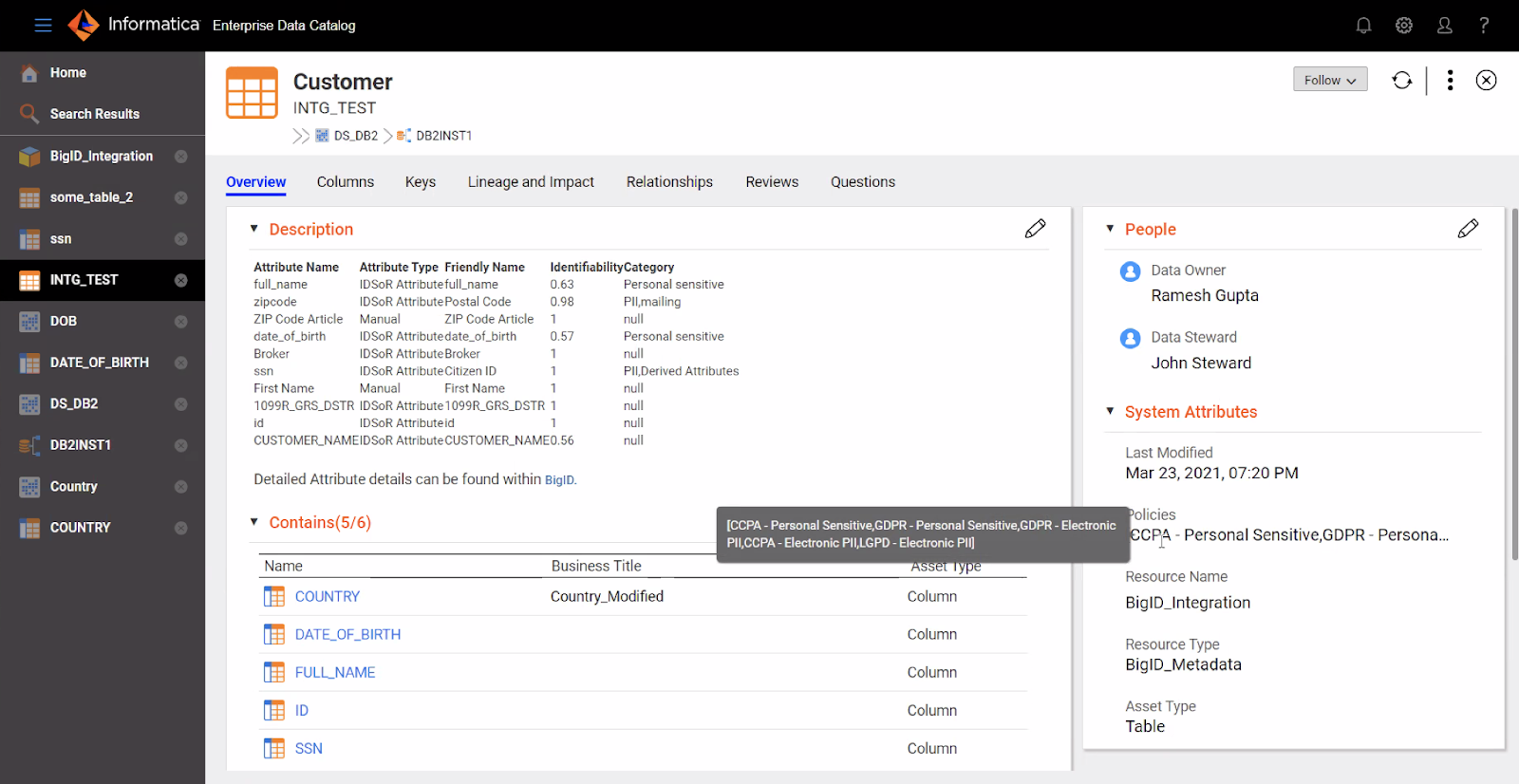 Get a 1:1 custom demo with our data catalog experts to learn about how BigID can enhance your Informatica EDC.