Data Governance 101: How to Build a Business Glossary
Data Discovery
Data Perspective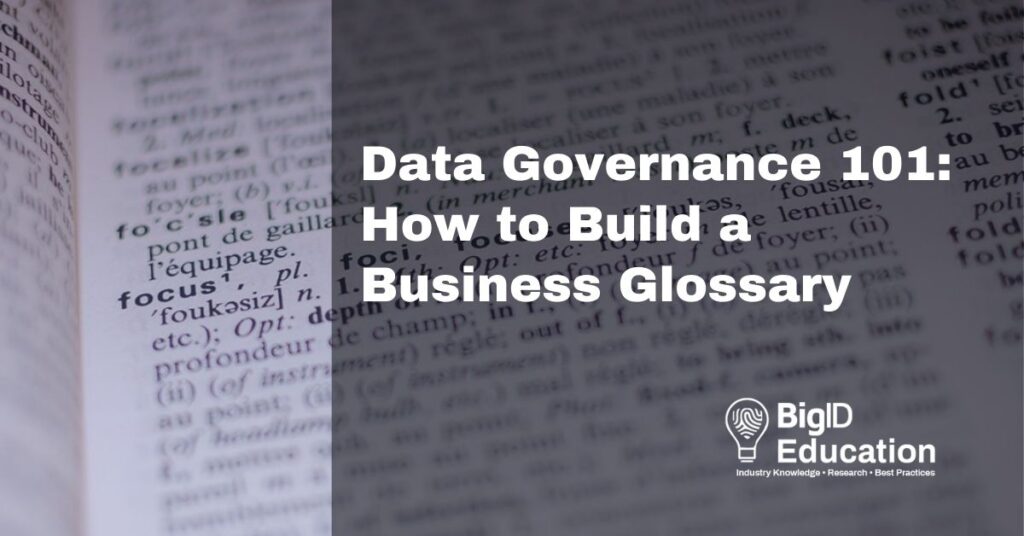 Effective communication requires the use of a common language — or a shared understanding of exactly what a term, concept, or definition means, within all its uses and applications. All too often, however, given different backgrounds or presumptions, people do not share exactly the same understanding — and communication breaks down.
Ultimately, these misunderstandings can negatively impact an entire organization — and if everyone thinks they're being perfectly understood, the cause might not ever be known, tracked, addressed, or solved
What Is a Business Glossary?
To the rescue: a business glossary — one of the many key resources that data governance programs produce to promote understanding and shared usage of language across an enterprise.
A robust business glossary defines key business terms and concepts based on a company-wide consensus — and establishes relationships between those terms and definitions that the whole organization can comprehend, use in daily operations, and report on regulatory compliance.
Beyond the audit requirements, the business glossary is meant to serve as a centralized knowledge set that documents:
the definition and usage of the business term amongst the different Lines of Business,
the physical instantiation of the data including the authoritative source,
acceptable data quality rules for measuring the business terms,
and the owners and partners responsible for creating and defining the usage of the term.
Unfortunately, creating a business glossary — which often marks the starting point of any effective formalized data governance program — is usually still seen as a manual, labor-intensive task. It doesn't have to be.
Business Glossary Challenges
Why is building and maintaining a business glossary so difficult to achieve? If you ask any S&P 500 company, you'll hear some common reasons:
The knowledge to create a business glossary resides in the minds of many individuals across the business and among IT professionals.
Even after we create an impressive 500-data element list with complete definitions, authoritative sources, data quality rules, and sample data, the metadata is already stale.
The business glossary has become obsolete upon completion since no one in the business will actually utilize this information for compliance with any new regulations.
All of these difficulties boil down to one central challenge: It is a time-consuming, labor-intensive, manual effort to collect, curate, and maintain the information in a business glossary.
Who Manages a Business Glossary?
While creating and maintaining a business glossary is the domain of the data steward, Chief Data Officer, and data governance office in general, many more parties are involved.
The governance program needs to rally these parties to engage in multiple efforts. Let's take a look at what these efforts (traditionally, that is) involve.
asking for subject matter experts to document and input their definitions into a centralized spreadsheet
requiring that technology owners and operation teams contribute their understanding of the business term into the business glossary
repeating the effort until all stakeholders can weigh in and agree upon the final definition and usage
negotiating and communicating a process to agree upon the final information to be documented in the glossary
negotiating and communicating a process for ongoing changes and updates
And it doesn't stop there.
Even after the different metadata describing the terms is documented, multiple tiers of approvers must provide input and review the glossary to ensure that all points of view on each business term are captured. It's common for business terms to go through multiple iterations and changes — and for the process to include steering committees to review and sign-off on the definition.
Considering the vast number of data elements that must be included in a comprehensive business glossary — as well as the time and buy-in it takes for consensus at the enterprise level — manual approaches are wildly inefficient.
Furthermore, with such a prolonged, manual, and intensive effort to build a business glossary, the glossary can quickly become stale with outdated information. As additional copies of data are created, the physical instantiations of the business terms are not all captured in a manually curated business glossary — nor are all the relevant business data quality rules.
Business Glossary Vs. Data Dictionary
Business glossaries are designed to be broadly accessible across an organization. They're geared toward business users — not technical users — and contain logical concepts that anyone in the organization can easily understand and apply. This includes information like definitions, descriptions of use, data owners, and more.
The purpose of a business glossary therefore differs from a data dictionary, which is designed for an organization's technical users, includes column-level names and corresponding definitions, and is usually under the purview of a system owner of the database source.
Data dictionaries come in the form of spreadsheets, schemas, tables, and columns — whereas business glossaries provide context in easily accessible textual form that can quickly provide meaning to the data dictionary. However, in most cases, the two resources work together and should correspond.
The Role of a Business Glossary for Compliance
In addition to aligning company understanding, organizations use business glossaries to connect governance and compliance efforts. The glossary can be used to demonstrate adherence to data policies and regulations for reporting purposes.
Since regulators require the use of business glossaries to prove compliance to data governance programs, an organization's need for a business glossary will never go away. With new and updated data privacy and protection regulations surfacing all the time, up-to-date business glossaries — and the comprehensive data governance programs that produce and maintain them — are more critical than ever.
Business Glossary and Data Discovery
Organizations need to leverage an AI-based, ML-driven approach that covers and finds all of their data, everywhere — and then classifies and tags it according to business needs. BigID's automated discovery, metadata collection and analysis, and machine learning classification can:
classify data and metadata
minimize manual steps
facilitate seamless collaboration between business and technical stakeholders
align business terms with metadata
This integration can help organizations not only bridge business and technical perspectives but also leverage active metadata for a range of data governance activities.
Get a demo to see how BigID's discovery-in-depth foundation and next-gen classification techniques can help any organization — across any industry — populate a business glossary, minimize manual steps (and potential manual error), centralize business glossary efforts to data professionals, and help build a better data governance program.