BigID Named a Major Market Player in 451 Research's "Data Management Market Map"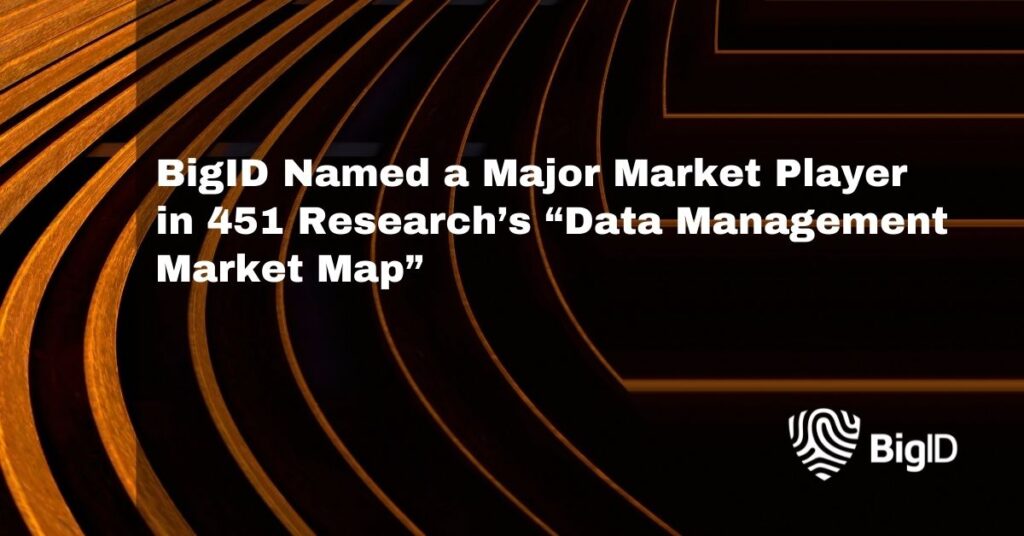 There are evolutions as industries and vendors grow: call it crossing the chasm, market maturity, or market awareness – we're thrilled to share one such example: BigID has been named a Major Market Player in 451 Research's "Data Management Market Map 2022".
There are many data management vendors in this world; hundreds if not thousands of them. As an analyst at Gartner for 14 years, I tracked easily 400-500 of said vendors. This recent report from 451 Research lists 190 distinct vendors that are spread across data governance, PrivacyOps, metadata management, data quality, MDM, data integration, and streaming data integration, for a total of seven categories.
144 of the vendors listed are pure play – meaning that they only play in one market (PrivacyOps, for instance). That means 46 of the remaining vendors have technology in more than one area, and of those 46 vendors, only 20 have products that stretch across at least four of the technology areas listed above, and are noted as "Major Market Players".
Where was I going with the evolution of a vendor? Well, BigID is one of those twenty vendors listed as a "Major Market Player". I have to stop and savor that for a minute. Who else is in the list of Major Market Players? The likes of AWS, Cloudera, Google, IBM, Informatica, Microsoft, Oracle, and SAP… just to name a few.
Getting named a "Major Market Player" – and having been listed in the report for having data governance, data quality, metadata management and PrivacyOps – is just the beginning. What makes BigID unique even amongst the other major market players named in this report?
Data Scanning: BigID has 100s of built in connectors: all types of data needs to be included (check, we manage structured, semi-structured, unstructured, and data in flight),
BigID provides a single pane of glass (or a single source of truth) to manage this data (check, whether you want to call it a data catalog or a registry, we have it),
BigID grabs all of the metadata from the scanned data and displays "birds of a feather" data such as all of the CVs in the org, and also clusters all of the data associated with an individual or an entity. In addition, ML technology is applied to enhance and enrich the data, adding context and insight.
Once this is all done, then there are different use cases and users such as data quality engineers, data stewards, data analysts, data scientists, chief privacy officers, chief digital officers, and so on that have different and specific needs for collected metadata and content.
Big ID has built an app marketplace that services these categories of use cases including: PrivacyOps, Data Security and Data Governance. Orgs are able to acquire and utilize specific apps for specific business needs, while still having that underlying architecture and data access in one platform.
BigID's customer base continues to grow at a rapid pace, driven by our diverse portfolio and technology innovation. While we're thrilled that BigID is named a Major Market Player for Data Management, we are committed to evolving the landscape of data management even more. To see how all of this fits in a unified data intelligence platform, see it in action at BigID.com.