Data Catalog
ML-driven data catalog for technical, operational, and business metadata across all data, everywhere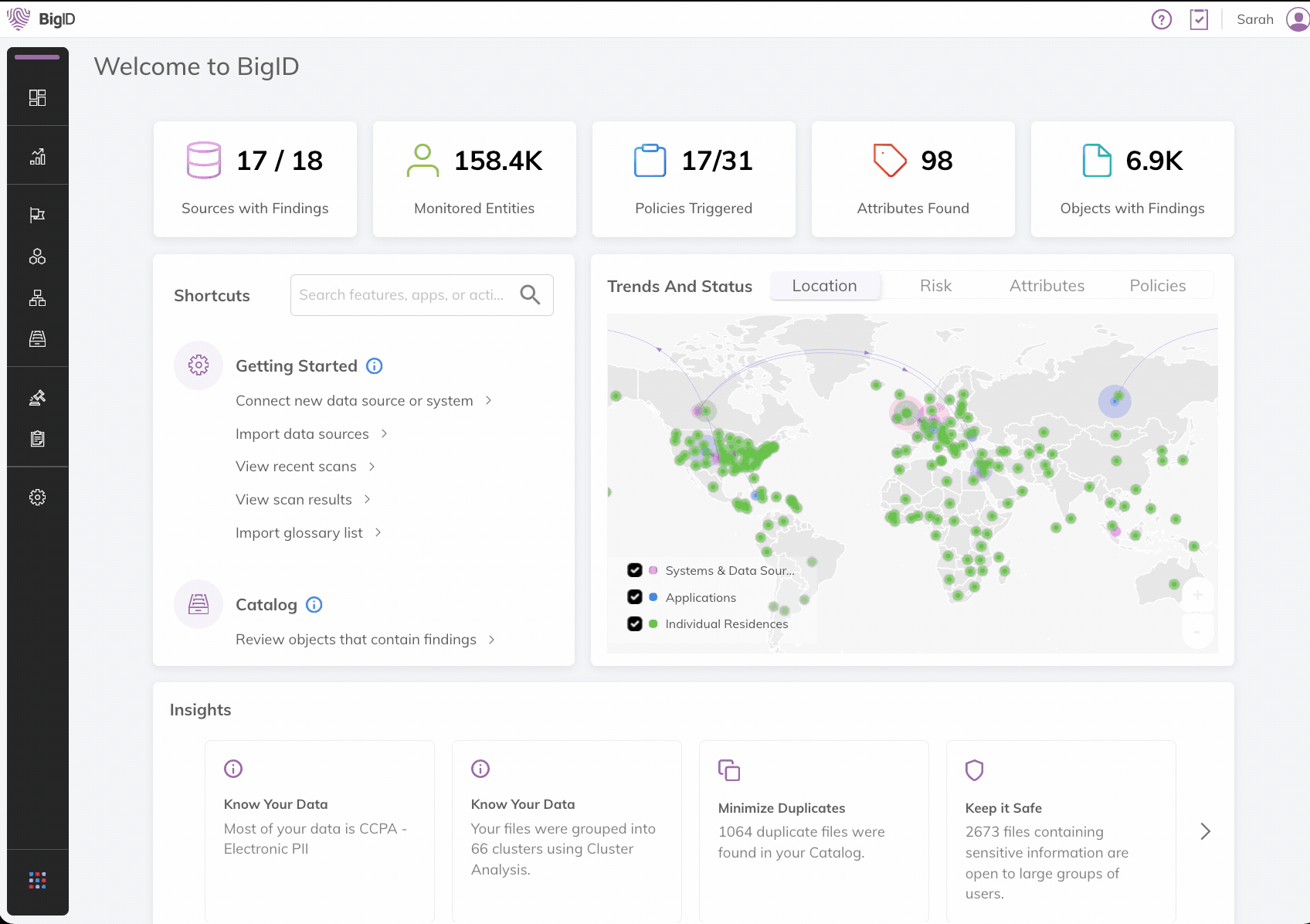 Compare Catalogs
Dashboard for Governance
Unified View

Discover all data across your entire ecosystem in a single data catalog. Find structured and unstructured data, in the cloud or physical database, in motion or at rest, and eliminate the challenges of hidden and siloed data.

Automate Discovery

Get deep data classification and cataloging for greater accuracy, comprehensive insights, and shorter time to value. Eliminate the need for manual maintenance to maintain the catalog inventory with automated scanning.

Manage Risk

Identify sensitive and personal information, discover ungoverned assets, and identify open access to vulnerable data. Get deep insight for data governance at scale by incorporating active metadata and advanced classification.

Enhance Metadata

Apply AI and ML automated profiling and tagging to add context to data. Layer technical, business and operational metadata to see data attributes and relationships for added context and data-driven insights.
BigID Data Catalog
Automatically catalog and map sensitive & personal data with deep data insight, incorporating active metadata and classification. Gain additional privacy, security, and business insight – all within a single pane of glass.
See a Demo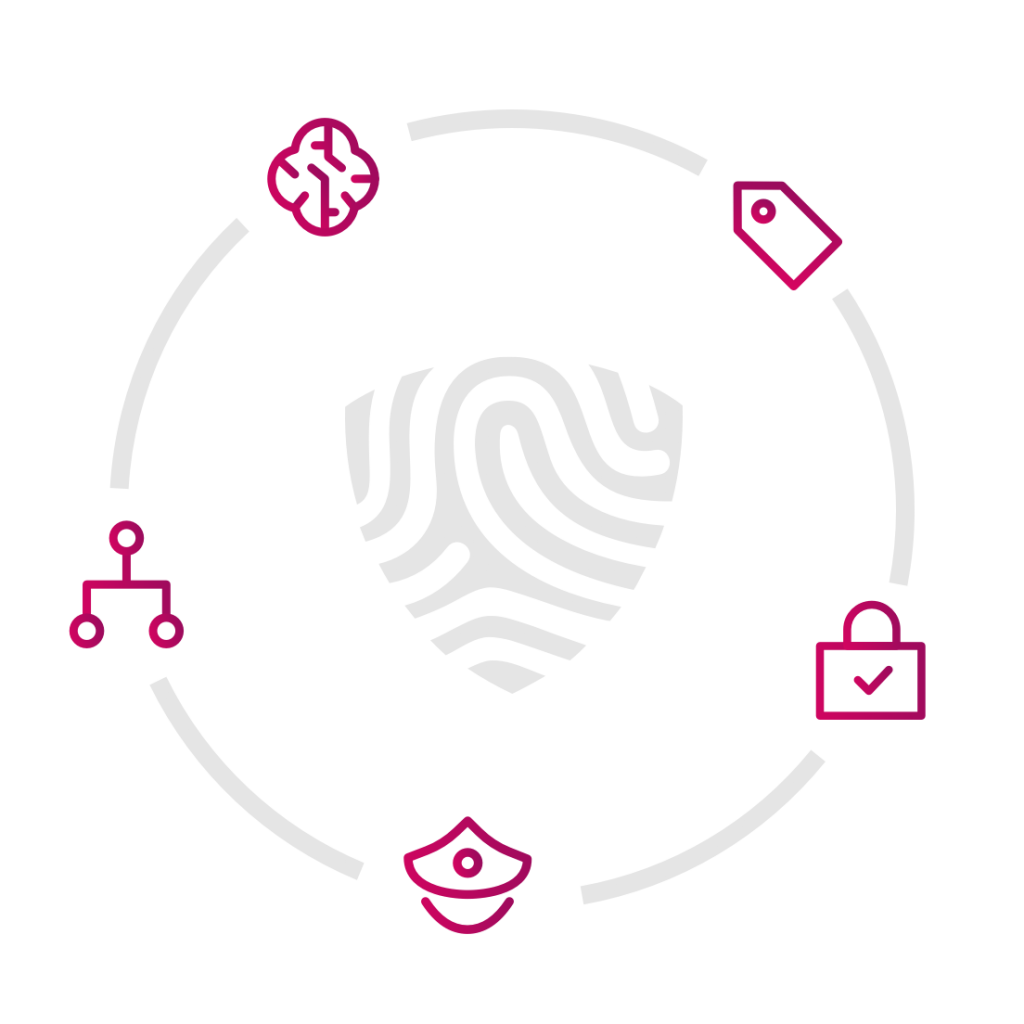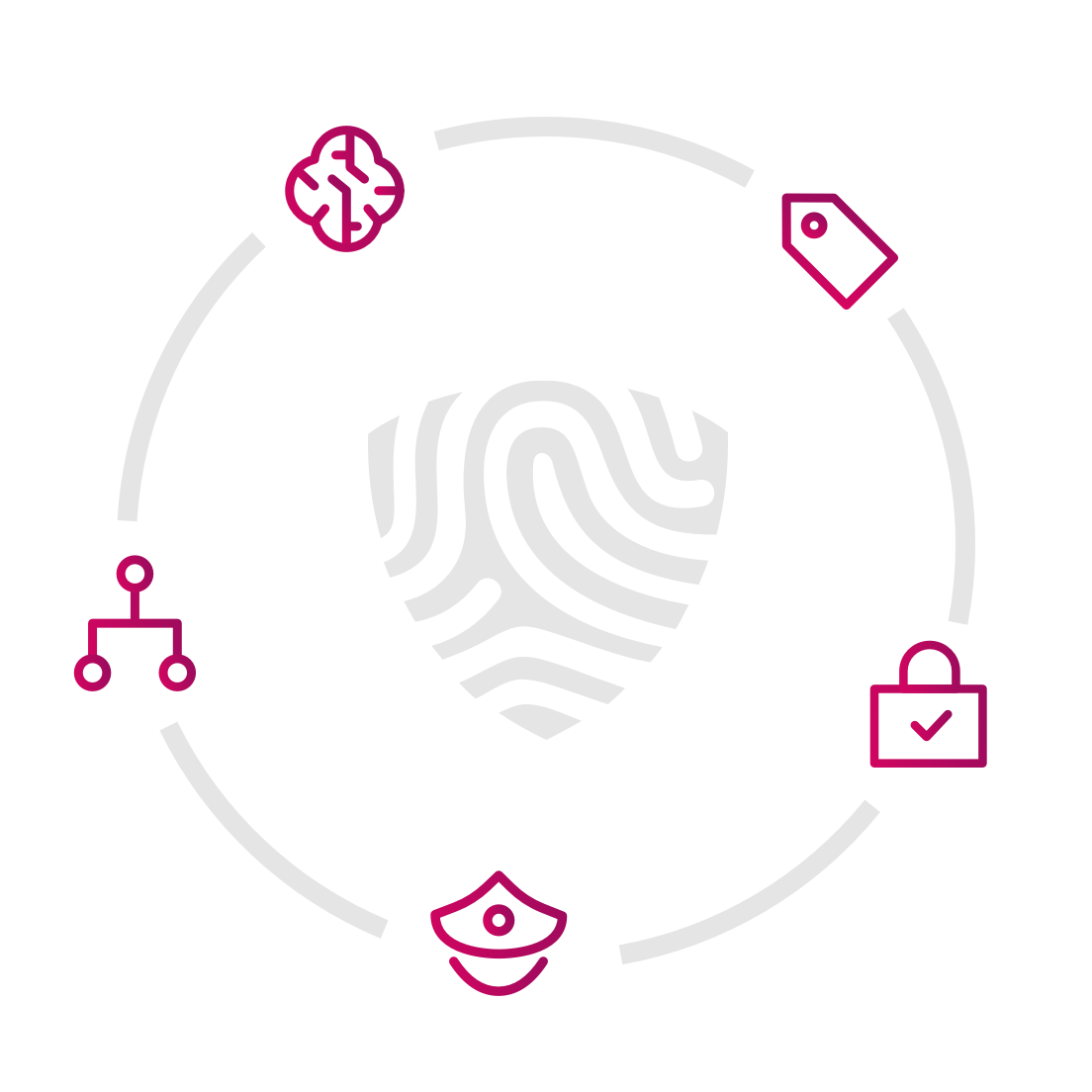 Complete Data Coverage
Connect to all data sources and types for a complete catalog view. Quickly and easily connect data sources to start automated scanning to populate the catalog – and get a single catalog for all your data, everywhere.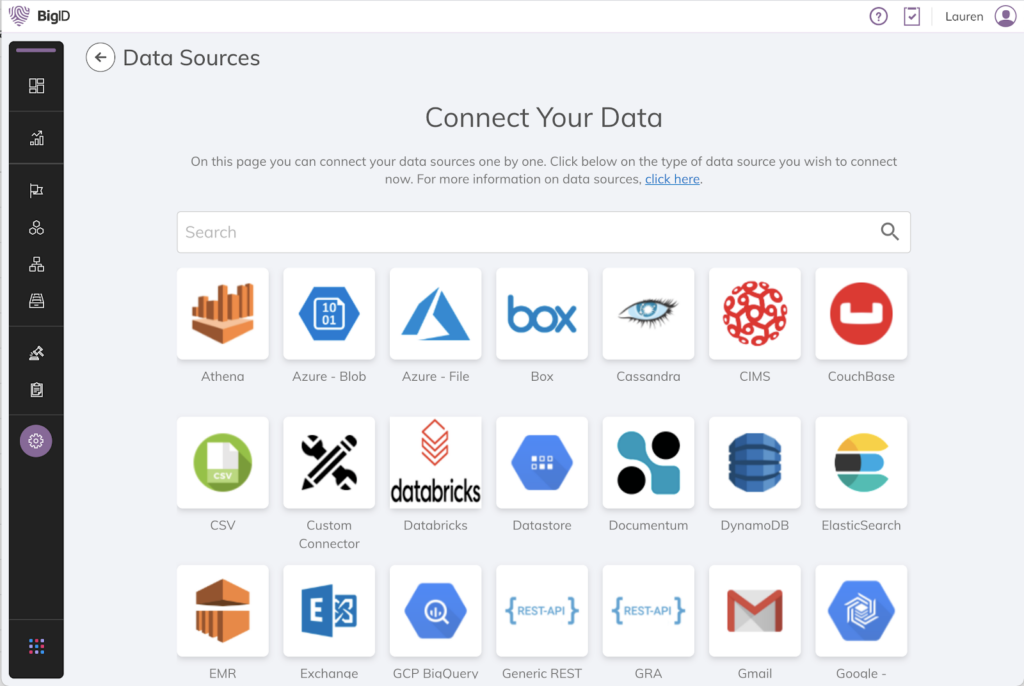 Discovery-in-Depth
Apply AI and ML to analyze physical data at scale. Get deeper insight and context to data to know not only where the data is, but what the data is, and whose it is. Leverage data intelligence to automatically identify duplicate data, high risk data, sensitive data, and overexposed data.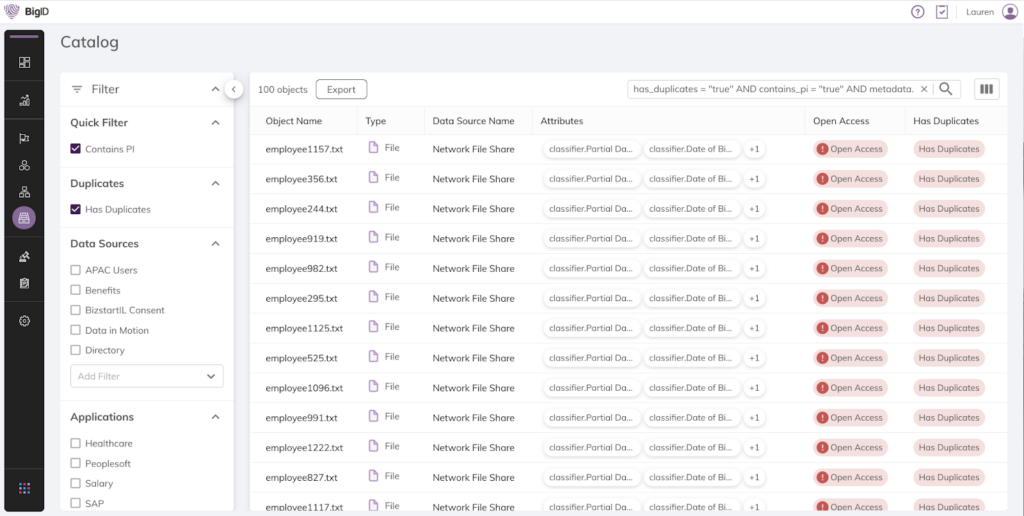 Take Action For Governance
Take action on the catalog data through the app framework with apps to remove duplicate data, manage data retention policies, or remediate for data governance.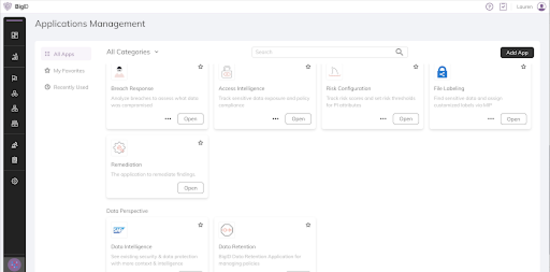 Extensible Platform
Integrate with critical business applications and solutions like Salesforce, Snowflake, and ServiceNow to enhance the data ecosystem.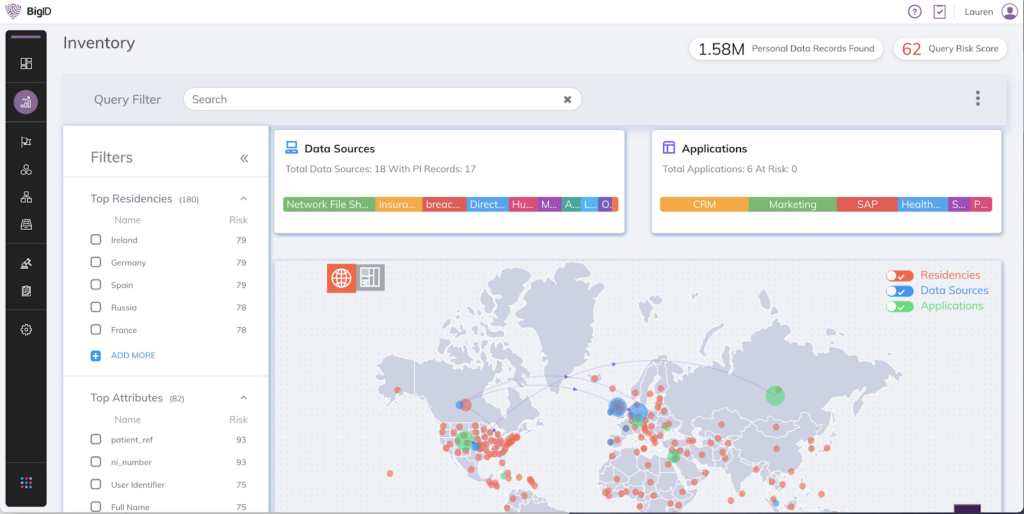 Enhanced Productivity
Search for data objects, data sources, and policies across all data sources with natural text search and revisit recently viewed objects for work efficiency.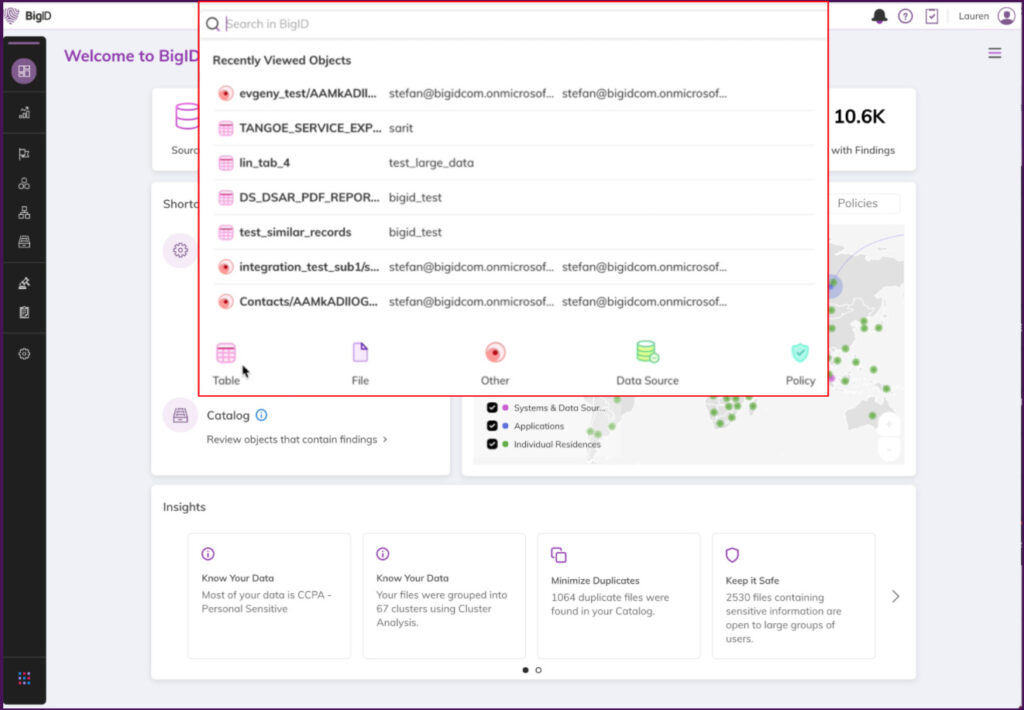 Explore More BigID Data Solutions