The 12 Data Privacy Vendors that Matter Most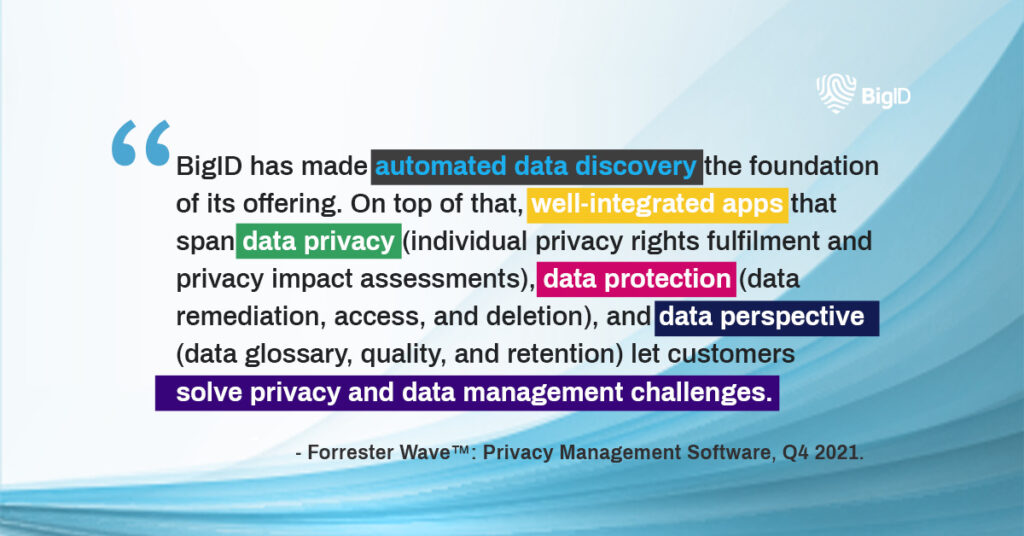 BigID has been included as one of the twelve that matter most in data privacy in The Forrester Wave™: Privacy Management Software, Q4 2021.
The Forrester report highlights the need to "support data-driven approaches to privacy compliance and governance", shifting "the focus from paper-based compliance to data-based compliance." According to the report, "Privacy and data management are tightly integrated in the vision and in the platform that BigID brings to market."
Where does BigID come into the picture?
We received  the highest scores possible in ten criteria including:
Personal data discovery: the ability to natively discover data accurately, automatically, and across the entire data landscape.
Privacy rights management and fulfillment: workflows to support and automate fulfillment of individuals' privacy rights, including customers, consumers, and employees.
Auditing: enable users to perform audits on their privacy programs, measure effectiveness, and report against risk
Reporting: privacy dashboards to track, analyze, and monitor the evolution of privacy activities
Data flow maps: automatically create, manage, and update dynamic (and customizable) data flow maps
Ethical and privacy risk scoring: identify, assess, and manage emerging risk scenarios
Integration: the ability to integrate with other products already in use across an organization's tech stack
Automation: Automating workflows across privacy initiatives
Support for multiple business use-cases: the ability to support use cases across business units including security, data governance, data science, and more
Forrester noted that  BigID was the "First to pioneer the idea that data discovery for privacy must start from personal and personally identifiable information" and  "has made automated data discovery the foundation of its offering. On top of that, well-integrated apps that span data privacy (individual privacy rights fulfillment and privacy impact assessments), data protection (data remediation, access, and deletion), and data perspective (data glossary, quality, and retention) let customers solve privacy and data management challenges."
With our latest modular apps – including apps for PIA, RoPA, Privacy Portal, Data Retention, and more, we're continuing to help customers adapt to the evolving challenges of privacy regulations.  BigID's comprehensive platform spans across discovery, privacy, security, and governance to bring our customers value, innovation, and long term success for privacy, security, and governance initiatives.
Get a live demo with our privacy experts today.