13 Ways to Automate Privacy to Consistently Meet Compliance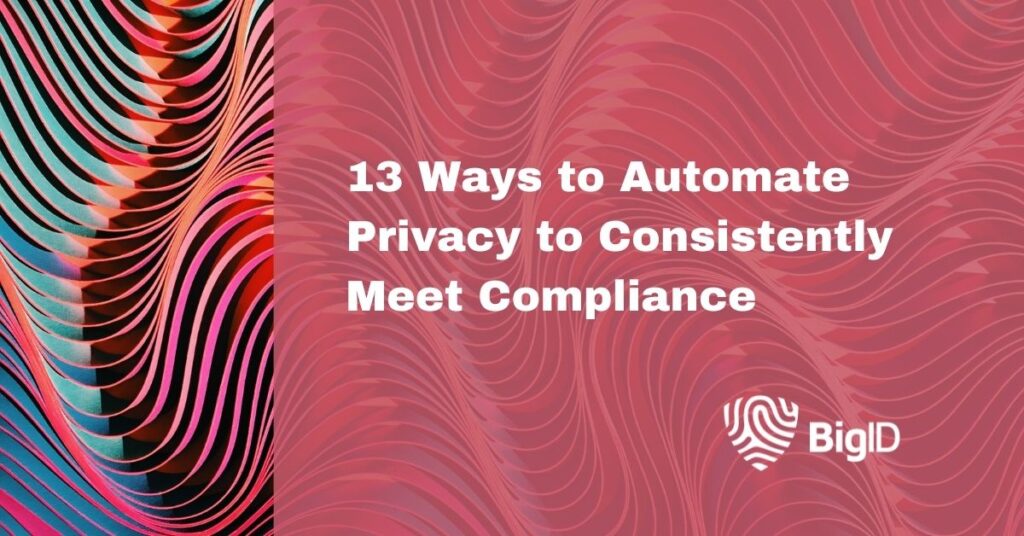 This is part two of a series that focuses on how to use automation to improve agility and accelerate data initiatives.
From the start, data privacy automation has been the heart of BigID. This is because we know the daily pressures of managing and securing data in complex regulatory environments. According to Gartner, government regulations requiring organizations to provide consumer privacy rights will cover 5 billion citizens and more than 70% of global GDP by 2023. That's why leveraging automation allows you to execute faster since regulatory pressures are time-sensitive.
Here are thirteen ways in which BigID has automated common data privacy workflows and processes that have immensely helped take the burden off of our customers:
Regulatory Policy: BigID automatically aligns and supports over 130+ unique global regulatory requirements, including policies, classifiers, and workflows for GDPR, CCPA, LGPD, HIPAA, NY Shield, PIPEDA (Canada), PIPL (China), LFPDPPP (Mexico), POPIA (South Africa), APPI (Japan), individual US State data protection and privacy laws, and more.
PI Inventory: Automatically find, classify and inventory personal information based on relationship, context, and ML capabilities. BigID delivers granular insight into locations of PI to facilitate several privacy-use cases such as the automatic fulfillment of data rights at scale, correlating consent, opt-outs to an individual, or facilitating data deletion requests.
Data Subject Access Request (DSAR): In the scope of Privacy, fulfilling data subject access requests (DSARs) can be painful. BigID implements an end-to-end DSAR process, from request management through fulfillment to meet compliance with GDPR, CCPA, and other regulations. In addition, BigID gives the ability to operationalize, manage, and audit data rights requirements.
Complete Deletion Automation: BigID automates workflows and the deletion validation process for data owners to review, approve and confirm the request. Then take it one step further by automating complete deletion to remove data by system and users to assure compliance.
Privacy Portal (Consumer DSAR Intake): Create a customized self-service privacy center to bring trust and data transparency to customers through an easy-to-use privacy-on-demand solution. The BigID Privacy Portal is a proactive approach to privacy compliance using a lightweight and flexible request intake to manage, collaborate and fulfill privacy requests automatically.
Cookies & Preferences: BigID provides end-to-end cookie consent and privacy preference management within a customer preference center. Automatically capture and manage a customer-facing portal for the consumer to control their consent/preferences to build trust and avoid hefty fines.
Privacy Impact Assessments (PIA): Automate the standard process of identifying, documenting, and minimizing privacy risks in the data inventory that contain personal information with Privacy Impact Assessments. BigID PIA Automation app eliminates the manual process of PIAs with customizable templates and collaborative remediation workflows for end-to-end fulfillment.
Cross-Border Data Transfers: Automatically assign data residency to an individual's data across files and objects. Also, manage data flows across multiple jurisdictions, enforce data residency requirements, and get alerts on cross-border data transfers with BigID.
Third-Party Data Sharing: BigID's automated data flow mapping enables users to map, track and report on the third-party data sharing. BigID customers can send an assessment to a 3rd party to monitor risk and remediate violations to ensure compliance.
Privacy Risk Configuration: For risk mitigation, apply risk scoring to measure and monitor sensitive and critical data across the entire data landscape. BigID helps reduce data privacy risk with automated remediation workflows that help take action on policy-based risk.
Record of Processing Activities (RoPA): Build and document a Record of Processing Activities to map data across the organization to fulfill compliance requirements for GDPR, CCPA, and LGPD. BigID RoPA Mapping app automates data flow mapping to assess the risk of business processes, such as data ownership, breach status, 3rd-party data sharing, and cross-border transfers.
Consent Management: Assess compliance policies against correlated consent records to protect data subject rights and assure full compliance. BigID's Consent Governance app can automatically correlate multiple consents, preferences, and opt-out records to personal information to determine the purpose, type, and related privacy policy.
Regulatory Reporting: Automatically design, generate, and export reports through templates and workflows that address multiple and specific audiences. BigID's dashboards are designed based on user-level and context to meet the needs of regulators, auditors, executives, privacy program managers, and customers.
Our product and engineering teams are continually looking for ways to incorporate automation throughout the platform and individual applications. Stay tuned for more developments!
BigID helps organizations of all sizes address data privacy holistically with a cohesive approach to managing privacy risk. So start saving time, automate manual processes, and execute your data privacy program today. Get a 1:1 demo to see BigID in action.