Automated & Actionable Data Risk Reports for Management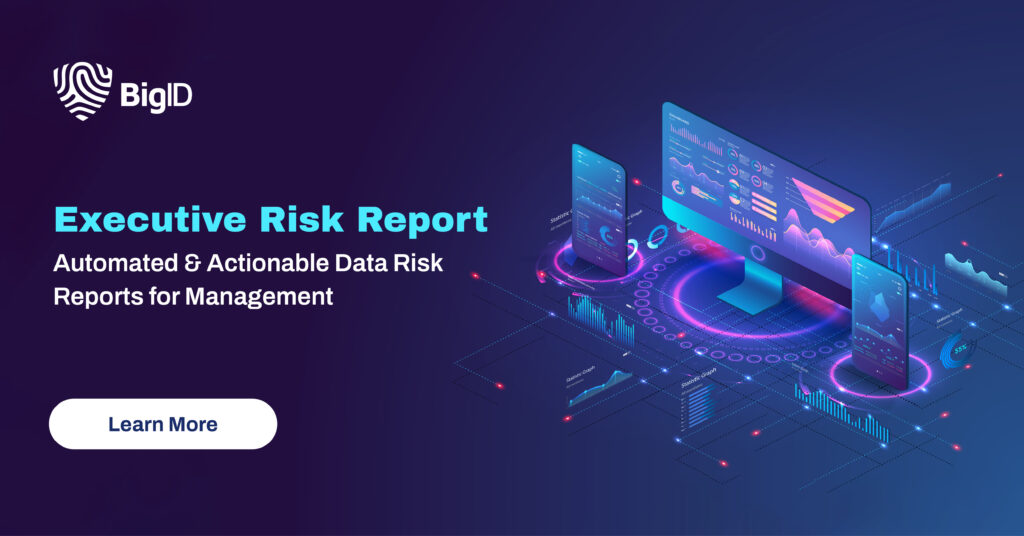 Continually monitoring and assessing risk with respect to your data can be hard. Translating data-at-risk into a formalized, informative report for executive management can be even harder. According to a recent State of Data Security 2022 Report, just 8%  of organizations can confidently find all of their sensitive or critical data across their environment.
It's why we developed the Executive Risk Report – an easy-to-understand and automated way to generate actionable risk reporting about the most critical data across your entire environment. With the Executive Risk Report, customers can quickly generate an executive summary of the most important insights about data-at-risk to drive decision-making and monitor risk reduction over time. It's reporting that that works for you!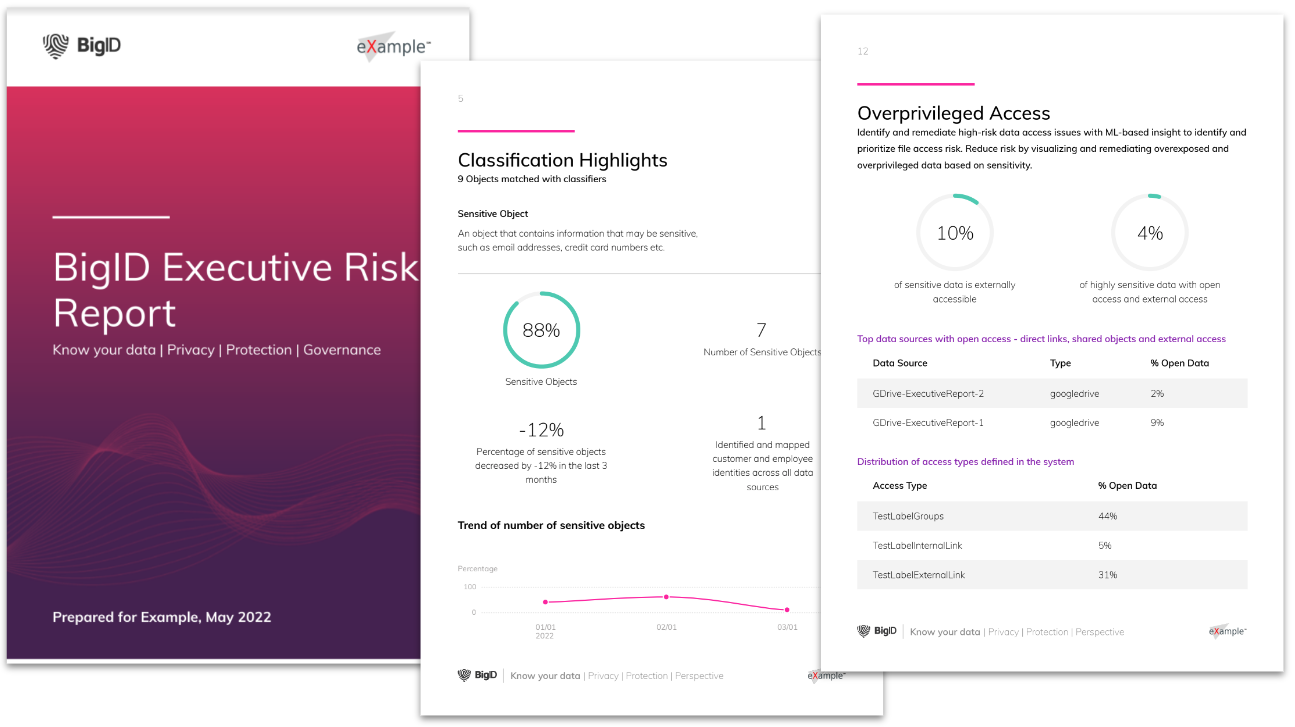 Easy & Automated
Requiring security teams to piece together risk reports with respect to your data is cumbersome – both in time and resources. It puts a strain on their already heavy workloads and takes time away from day-to-day strategy and operations, which can't afford any time lost. In addition, manual, ad-hoc reporting is prone to human error and may contain outdated information, both of which go counter to the expectations of executive management. Over 50% of organizations rated their ability to automate tasks as unsatisfactory, per the State of Data Security 2022 Report.
The Executive Risk Report alleviates the burden of security and risk teams from manually creating their own reports by completely automating this task. Generate and download the report, on-demand in PDF format to share or schedule the periodic delivery of the report to the right decision-makers. Continually drive awareness about the state of risk with respect to your data while illustrating the impact of risk reduction initiatives over time.
Comprehensive, but Concise
The Executive Risk Report provides a comprehensive overview of the most critical insights about risk with respect to your data. Geared towards security leadership, this report strikes the perfect balance between detail and brevity by clearly and concisely summarizing important risk-related takeaways. The report includes easy-to-understand explanations of technical terms and concepts around data security, much of which get lost in translation. The report is also broken down into two main sections, where the first provides an overview of sensitive or critical data findings highlighting trends, priorities, and sensitive data hotspots, while the second provides key findings on policy violations and regulatory issues that were detected.
The first section provides management with a complete overview of the sensitive or critical data footprint. Help your leadership team understand the power of BigID's in-depth data discovery by summarizing and mapping sensitive or critical data by type, including dark, regulated, or high-risk data and corresponding data sources and applications. Showcase sensitivity or criticality data growth or reduction trends, including hotspots that geographically help identify where most of your sensitive or critical data is, and identify priorities for remediation.
Using these insights, the second section provides a concise overview of policy violations and regulatory issues that were found and ultimately triaged by BigID. Give your leaders insight into your current, aggregate risk posture with a Data Risk Score, calculated based on multiple factors, such as data source type, location, findings, and more. Improve data hygiene by providing a concise understanding of the impact of risk from overexposed data or overprivileged users based on access intelligence insights. Summarize key sensitive or critical findings that align with specific compliance, privacy, or protection regulations, and corresponding business policies that were triggered to that helped enable remediation. Lastly, understand the number of data rights requests (DSARs) automated by BigID and the associated processing costs saved by your organization.
Measure Your Success Impact Over Time
With the Executive Risk Report, users can monitor the direction of key insights and metrics with respect to data risk posture over time. By turning insights into action, the Executive Risk Report offers validation of the impact BigID has helped drive through risk reduction initiatives. Users can leverage the Executive Risk Report to communicate the ROI realized from the investments into both the BigID platform and corresponding data security, governance, and privacy applications.
BigID helps organizations of all sizes manage, protect, and get more value out of their data anywhere it exists — on-prem or in the cloud. Discover the power of BigID's Executive Risk Report and how it can help drive awareness and decision-making for your organization. Get a 1:1 demo with our experts to see it in action.