Whose Fine Is It Anyway—Top 20 Defining Privacy Payouts of the Last Decade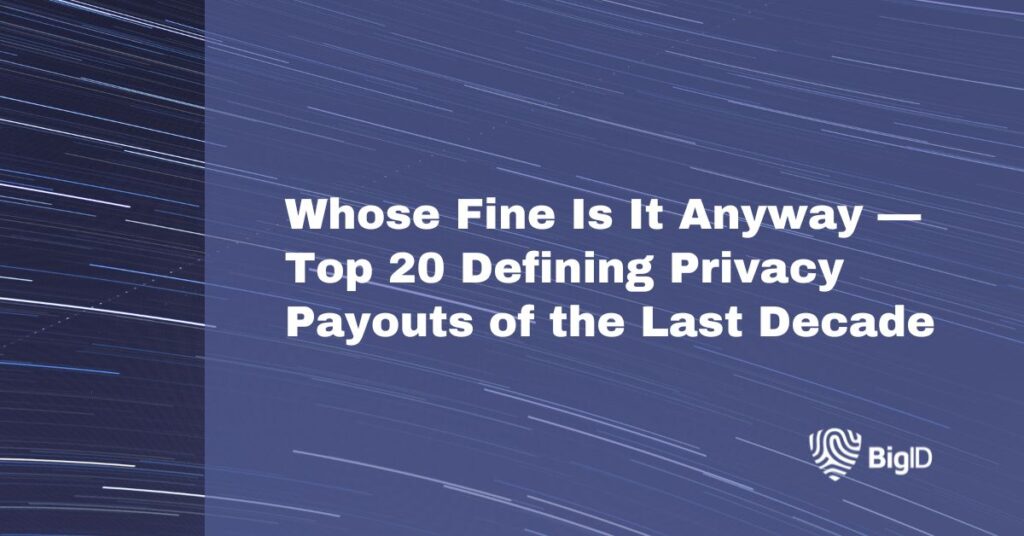 The past decade has witnessed a disturbing surge in data breaches and privacy violations. From social media giants to financial institutions, no industry has been spared from the prying eyes of cybercriminals and the consequences of insufficient privacy protection measures.
This guide includes a detailed roundup of privacy fines imposed over the past decade, the evolution of data privacy regulations, high-profile cases, and their impact on businesses and individuals alike.
Pre-2013: The Early Years of Data Privacy
In the early years of the digital age, privacy violations were a growing concern, although they often operated beneath the surface of public consciousness. With the rapid advancement of technology and adoption of online platforms, the potential risks associated with personal data mishandling were not yet fully understood. This era laid the groundwork for the privacy landscape we face today, where the protection of personal information has become a critical issue.
While privacy violations were not as prominently regulated as they are now, some notable cases emerged that foreshadowed the consequences awaiting those who failed to protect personal data including:
2011 Sony PlayStation: Approximately 77 million users, including names, addresses, email addresses, and even credit card details— fell into the hands of hackers resulting in a $395,000 fine from UK regulators and roughly $170 million in total losses. This breach highlighted the vulnerability of personal data and the need for stronger security measures.
2012 Google: Google faced heavy scrutiny over its collection of personal data from unsecured Wi-Fi networks during Street View mapping. Several countries imposed fines on the tech giant for privacy violations including $25,000 from the FCC.
Although the penalties were relatively modest compared to what organizations typically face today, they played a significant role in shaping privacy regulations and public perception. The early fines demonstrated that privacy violations could have real-world consequences for both individuals and organizations, prompting a deeper understanding of the value of privacy.
As news of privacy violations and data breaches spread, individuals became more cognizant of the risks associated with sharing personal information online and started to question how their personal data was being collected, used, and shared. Trust in organizations to handle personal data responsibly began to waver— driving a demand for stronger privacy protection measures.
In response to these developments, governments worldwide started to develop and refine privacy regulations. They recognized the importance of creating frameworks that could keep pace with evolving technology and address the emerging challenges of the digital age.
2013-2015: Heightened Awareness
The years 2013 to 2015 marked a turning point in the public's awareness of privacy issues. As technology continued to advance at a rapid pace, so did the concerns surrounding the protection of personal data. The widespread adoption of smartphones, social media platforms, and online services led to an exponential increase in the amount of personal information being collected, shared, and stored. This growing realization prompted individuals, organizations, and governments to take a closer look at privacy practices and the need for stronger safeguards.
The heightened awareness surrounding privacy during this period was accompanied by several notable fines imposed on organizations for their privacy violations including:
2013 Google: Federal Trade Commission's (FTC) settlement with Google cost the tech giant $22.5 million for deceptive tracking practices, involving the use of cookies to collect user data without their consent. This landmark case sent shockwaves through the industry, emphasizing the importance of transparency and user consent in data collection practices.
2015 Anthem: After suffering a data breach which compromised the protected health information (PHI) of nearly 78.8 million individuals, healthcare provider Anthem paid a record breaking $16 million for violating HIPAA. The breach served as a wake-up call for the healthcare industry, highlighting the critical need for robust security measures in handling sensitive patient data.
2015 AT&T: Employees at AT&T call centers in Mexico, Colombia and the Philippines were found to have stolen the names and full or partial Social Security numbers of about 280,000 of their customers in the United States. The Federal Communications Commission (FCC) fined AT&T $25 million for failing to protect the personal information of its customers— the largest penalty they had ever issued for a data security and privacy violation at the time.
These incidents served as critical indicators that the consequences of insufficient data privacy and protection could be severe. The collective response to these events paved the way for more robust privacy regulations and an increased focus on cybersecurity in the years to come.
2016-2018: GDPR Introduction
The European Parliament's passing of the General Data Protection Regulation (GDPR) signified a historic milestone in the protection of individuals' personal data and their privacy rights. Some of the most notable regulations included significant penalties for data breaches on both data controllers and processors, obtaining consent for data usage with the use of clear and understandable language, and the mandatory notification of affected individuals within 72 hours of becoming aware of a data breach.
Since its official implementation in 2018, GDPR has introduced significantly higher financial penalties for non-compliance— up to 4% of an organization's annual global turnover or €20 million (whichever is higher) for the most severe violations. This incentive has encouraged many organizations and international governments to prioritize data protection and seek enhanced privacy frameworks.
Some of the high-profile cases during this period were:
2016 Advocate Health: After failing to protect the electronic protected health information (ePHI) of 4 million patients, the Health and Human Services Department's Office for Civil Rights (OCR) fined Advocate Health Care Network $5.5 million dollars for failing to implement physical access controls, not applying proper security policies, and multiple other violations of HIPAA.
2017 Equifax: Credit reporting company Equifax suffered a massive breach that led to the exposed Social Security numbers of 147 million customers. A settlement with the Federal Trade Commission (FTC), the Consumer Financial Protection Bureau (CFPB), and 50 U.S. states and territories required Equifax to pay out a total of $700 million. The settlement also mandated Equifax to improve its data privacy practices and undergo regular assessments of its security systems.
2018 Facebook (Meta) and Cambridge Analytica: One of the most widely publicized cases during this period involved the social media giant Facebook and data analytics firm Cambridge Analytica. It was revealed that 87 million Facebook users' personal data had been harvested without their consent and used for political purposes. The Information Commissioner's Office (ICO) in the UK issued a fine of £500,000— the first of several penalties, including the harsher $5 billion slap from the FTC.
2019-2021: The "New Normal" of Data Privacy
The years following GDPR implementation were marked by the expansion of privacy regulations beyond the European Union (EU), with many countries implementing their own frameworks inspired by the landmark legislation. The GDPR set a precedent for comprehensive privacy laws and sparked a global movement towards stronger data protection. New geographic regions like California and Brazil recognized the need to enhance privacy rights and enacted their own legislation.
California's Consumer Privacy Act (CCPA) and Brazil's General Data Protection Law (LGPD) were developed to provide individuals with more control over their personal data and establish guidelines for organizations handling it. Regulatory developments grew in tandem with acknowledgement of privacy as a fundamental right in the digital age.
With a more global scope of privacy in play, several notable fines and penalties were imposed on organizations for privacy violations including:
The combined weight of these fines and the negative impact on consumer trust forced businesses to reevaluate data handling practices and invest in compliance, privacy and security measures at a greater scale.
2022-2023: Privacy Takes Center Stage
Through the course of the last decade, privacy regulation and its implication on global business affairs has evolved tenfold. The trend of more significant and harsher fines continued to escalate between 2022-2023— highlighting the increasing scrutiny and enforcement today's organizations now face. Safeguarding personal data and adhering to strict data protection measures are no longer a luxury, but a necessity. This fact was echoed in notable privacy fines such as:
2022 Instagram: After an investigation into social network Instagram's handling of children's data, Ireland's Data Protection Commision (DPC) imposed a fine of $402 million. The investigation focused on business accounts operated by users aged 13 to 17, which allowed the disclosure of their phone numbers and/or email addresses, raising concerns regarding the protection of personal information for minors.
2022 Clearview AI: Clearview AI, the facial recognition company, received a €22 million penalty from French regulator CNIL after it was discovered to be unlawfully processing French citizens' data and deleting the information.
2023 Meta: European Union regulators recently imposed a record-breaking fine of €1.2 billion ($1.3 billion) on Meta for breaching EU privacy laws. The violation involved the transfer of personal data of Facebook users to servers located in the United States. The fine was announced by the European Data Protection Board, following an inquiry conducted by the Irish Data Protection Commission, the primary regulatory body overseeing Meta's operations in Europe.
What a Modern Privacy Program Looks Like
No matter what your organization's size, industry, or geographic region— data privacy and protection fines don't discriminate. Staying competitive in today's increasingly competitive and digital market means staying compliant with all the data privacy regulations applicable to your enterprise.
The privacy landscape evolves constantly and requires organizations to invest in both holistic and flexible solutions for the entire data lifecycle. BigID is the industry-leading platform for data privacy, security, compliance, and governance. It offers all the essential components of a modern privacy program including:
To take a proactive approach on all of your sensitive enterprise data and accelerate compliance with privacy regulations like GDPR— get a 1:1 demo with BigID today.
Register for our webinar with Dr. Ann Cavoukian, creator of Privacy by Design and Executive Director at Global Privacy & Security by Design Centre— to learn how to operationalize privacy by design into your organization.