Know Your Data. Control Your Data.
Modern Data Visibility & Control
Modern Data Visibility and Control for the Multicloud and Beyond
Understand and minimize data risk across the cloud & on-prem with a data-first approach – from AI automation to end-to-end data lifecycle management, we've got you covered.
Why BigID?
A single platform to manage all your data, everywhere: data at rest and in motion; cloud and data center; structured and unstructured

Coverage

Get the big picture and add context to data to make better decisions across privacy, security, and governance

Context

Manage enterprise data volume (billions) and data sources (thousands) with low impact to your systems

Scale

Built for enterprise use with RBAC access granularity, password vault integration, best practices, and more

Enterprise Class

Take action across privacy, security & governance with apps - from file access intelligence to data retention to data remediation to data quality and more

Actionability

Enrich and enhance your existing tech stack with native integrations and advanced orchestration with countless other tools

Open Ecosystem

Leverage patented ML and NLP engine for more accurate classification and insight, predictive labels, automated data intelligence, and more

ML Augmented

Innovate with continuous metadata management: detect change, perform differential scans, trigger events dynamically, and more

Active Metadata

Build playbooks for bridging data, apps and actions

End-to-End Automation

Manage data by regulation and sensitivity & push privacy aware insight into your inventory

Privacy Compliance

Proactive risk management, risk scoring, and risk mitigation across your ecosystem

Risk Management

Customize views tailored to your audience - from IT to devs to data stewards to business users and beyond

Customized Views Coverage
Get unprecedented visibility and insight into personal, sensitive, and enterprise data – with broad data coverage at petabyte scale across almost any data source, cloud, or pipeline.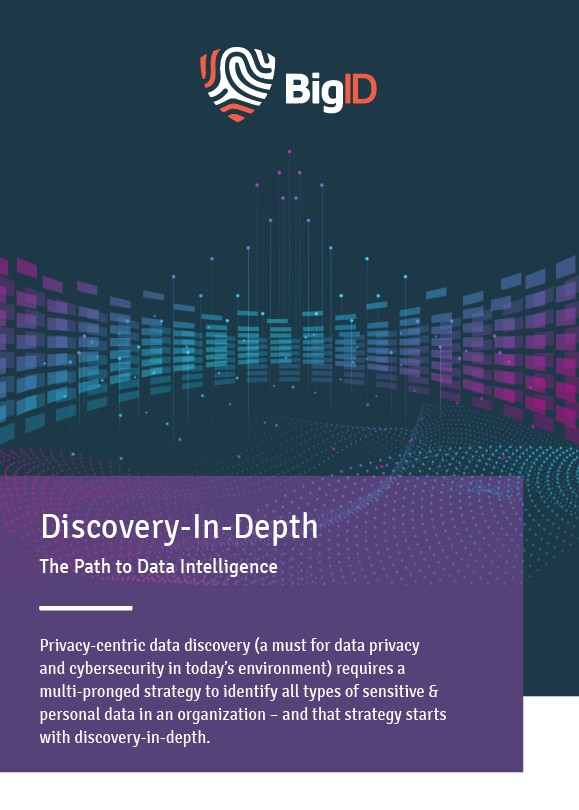 Data Intelligence
Discovery-In-Depth: The Path to Data Intelligence
Learn how discovery-in-depth gives organizations unmatched data intelligence for privacy, protection, and perspective.
Download