DSPM with a Difference: Elevate Your Cybersecurity with SQL Scanning That Stands Apart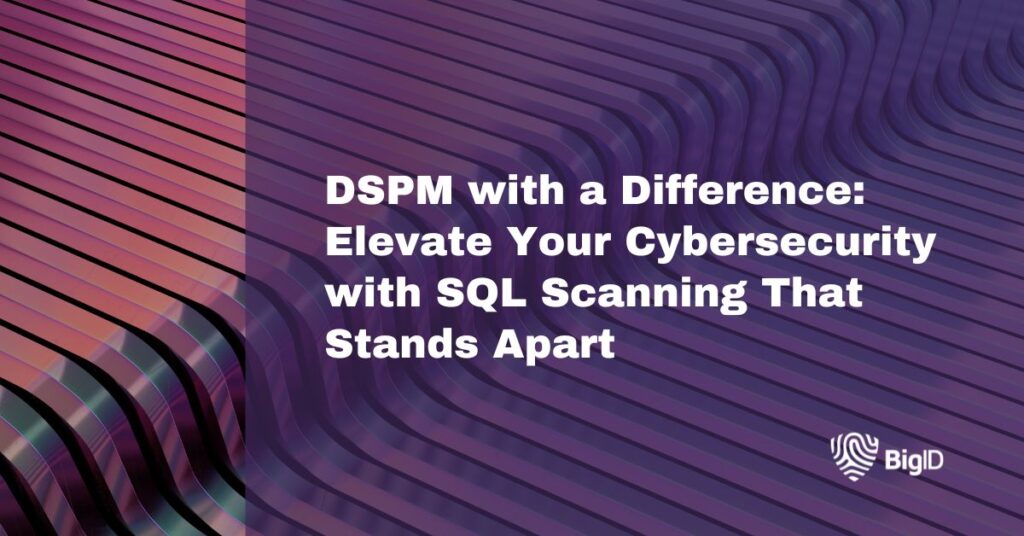 In today's digital landscape, data breaches and cyber threats are on the rise, making the selection of the right data security solution a paramount concern for organizations safeguarding their sensitive information. While many solutions claim to support SQL, it's imperative to delve deeper and uncover how your Data Security Posture Management (DSPM) solution can scale and unveil the secrets hidden within your SQL stores like RDS, MySQL, Oracle SQL, and MS SQL. In this article, we will explore what you need from SQL scanning and why it matters.
Cataloging and Classification: Illuminating the Data Landscape
At the heart of BigID's differentiating factor is its unique ability to both catalog and classify data: with BigID, customers can extract metadata into the BigID catalog (or push additional context into the catalog of your choice) – while simultaneously classifying data by type, sensitivity, context, residency, and more.
Fine-Grained Identification and Categorization: Precision Matters
BigID empowers customers to classify data with remarkable detail, ensuring a comprehensive inventory that's identity-aware, and tagged and labeled by category and sensitivity. This level of granularity allows organizations to implement tailored security measures, reducing the risk of inadvertent data exposure and ensuring compliance with data protection regulations.
Versatile and Tunable Classifiers: Customization Unleashed
BigID's classifiers offer unprecedented versatility and tunability, setting it apart in the space. While other vendors provide limited insights into their classifiers, BigID empowers users to customize and fine-tune classifiers to suit their specific needs. This adaptability ensures that organizations can align their data protection strategies with their unique requirements and evolving threat landscape.
Configurable Scans and Differential Scanning: Precision and Efficiency
BigID takes SQL scanning to new heights with its configurable scans and differential scanning capabilities. Unlike vendors offering fixed sampling and limited frequency options, BigID allows users to exclude portions of the database, create blackout windows, and conduct differential scans efficiently. With BigID, customers can exclude parts of a database (skipping over test data), or choose to simply just scan new or changed data with differential scanning. This reduces the overhead of repetitive scans, enhances scan precision, and improves overall operational efficiency.
Sensitivity and Risk Tagging on Structured Data: A Shield for Sensitive Data
BigID leads the way in tagging and labeling sensitivity on structured data, applying a sensitivity level to a database, column, table, attribute, or bucket – a capability unmatched by other DSPM vendors. This empowers organizations to tag and label sensitivity and across their structured data, alongside unstructured, fortifying their data protection measures.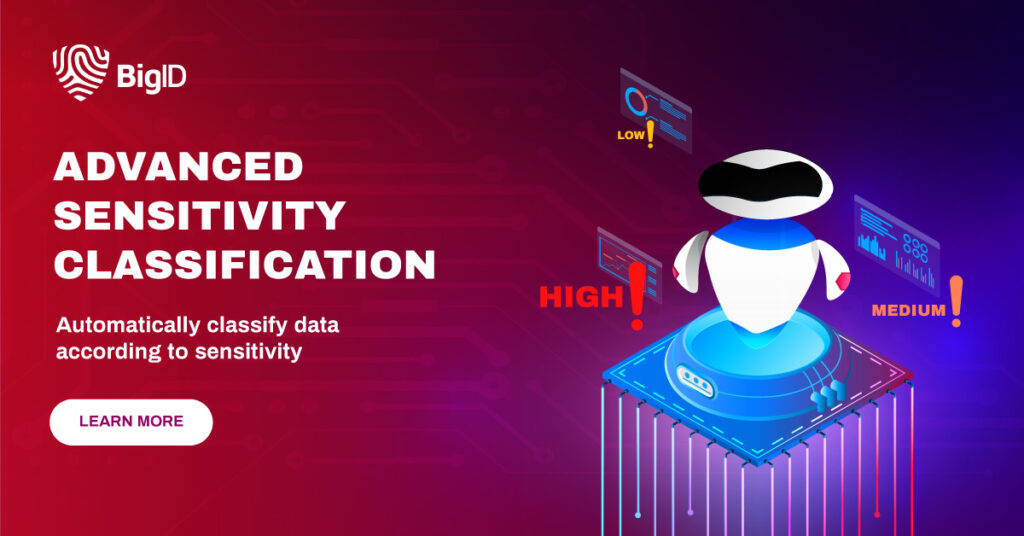 Identity Awareness and DSAR Automation: Compliance Simplified
BigID is the sole DSPM vendor with patented identity awareness technology, enabling the discovery of "indirect" or "contextual" personal information (PI). This enables customers to automate data subject access and deletion requests, streamlining compliance with data privacy regulations.
Detection of Toxic Data Combinations: Preventing Data Breaches
BigID stands out as the only DSPM solution capable of identifying combinations of sensitive data. This capability is instrumental in preventing potential data breaches and ensuring robust data security.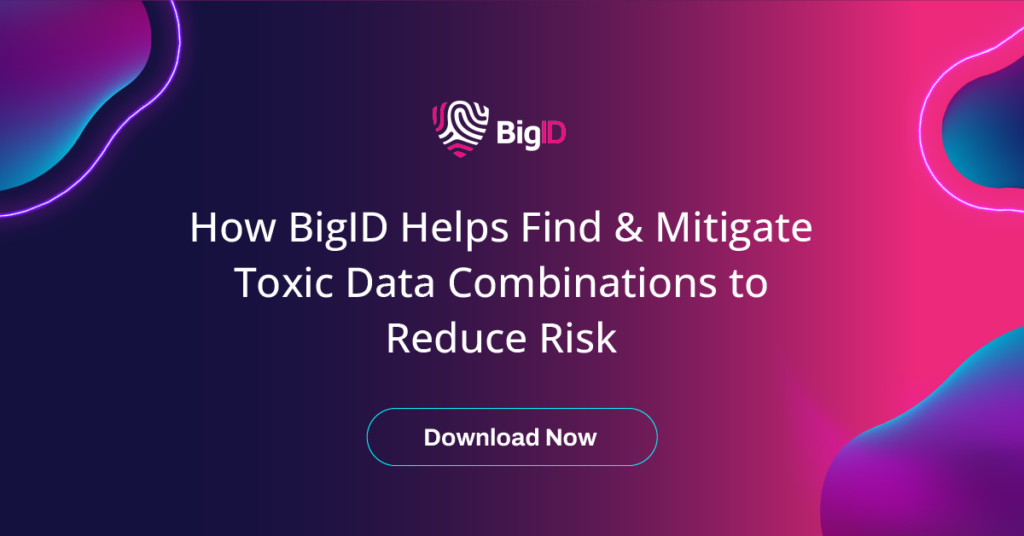 Exact Value/Data Matching: Precision Data Localization
For organizations seeking to locate critical data with precision, BigID's exact value and data matching capabilities prove invaluable. BigID accurately identifies exact matches or combinations of matches in datasets – which is important for locating critical data accurately.
Breach Impact Analysis: Retrospective Clarity
When a breach occurs, BigID shines as the sole solution capable of retrospectively determining data origins and the individuals affected. This level of insight is crucial for more effective incident response, reduced impact, and quicker resolution: customers can see what and who was potentially affected in a data breach.
Deduplication: Maintaining Data Integrity
BigID's deduplication capability detects duplicate and similar tables in structured data sets, a significant advantage for organizations looking to maintain data integrity and reduce storage costs. With this, customers can streamline data management, accelerate cost savings, and improve data quality.
Retention Management: Compliance Assurance
BigID offers automated retention management tailored for structured data sources. This simplifies compliance with data retention policies and ensures data is retained or disposed of in line with regulatory requirements, alongside out of the box (and customizable) retention policies.
Exact Remediation Location: Pinpointing Data Remediation
When sensitive data requires remediation, BigID excels in pinpointing its exact location. Unlike other DSPMs that merely flag the presence of sensitive data, BigID's precise data location information streamlines the remediation process – so customers don't have to manually investigate where to take action first.
Metadata Catalog Integrations: Seamless Data Governance
BigID's seamless integration with metadata catalogs, including Alation, Collibra, Informatica, and Databricks Unity, is unparalleled in the market. This integration is made possible by BigID's robust metadata capture and inventory capabilities.
BigID's SQL scanning capabilities redefine DSPM and risk management. Its unique features empower organizations to scale their data security efforts, gain unprecedented visibility, and adapt to evolving cybersecurity challenges. For cybersecurity buyers aiming to stay ahead in the ever-evolving threat landscape, BigID is the definitive choice for SQL scanning with a difference. Elevate your cybersecurity posture with BigID and protect your most valuable asset—your data.