Achieve Complete Data Visibility & Control Across GCP: BigID Now Available on the Google Cloud Marketplace
Data Intelligence
Data Protection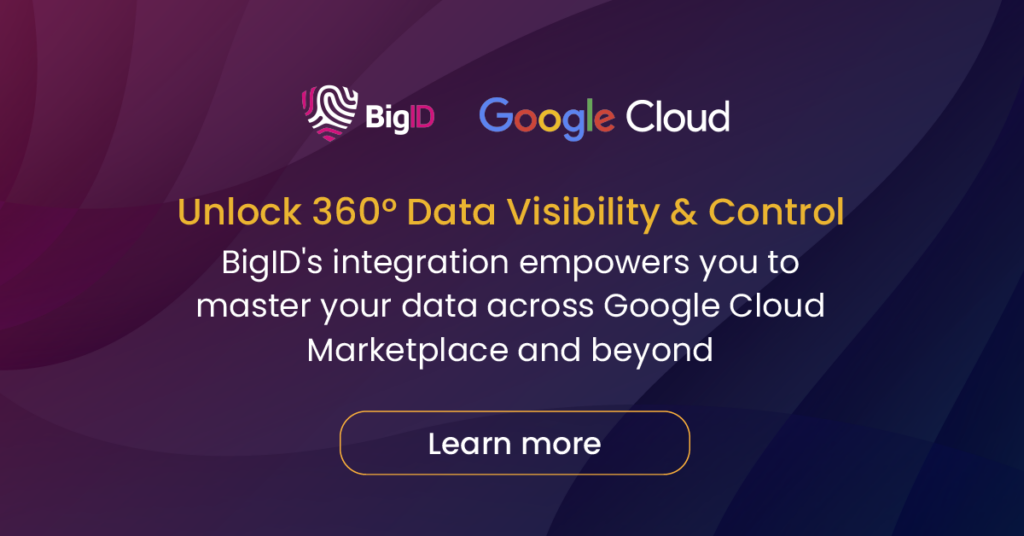 Handling and protecting sensitive, personal, and regulated data is changing as more organizations move their workloads and data to cloud platforms like Google Cloud (GCP). Making sure you can see, control, and keep this data safe at a large scale is critical for a better, more secure journey to the cloud. That's why we've teamed up with Google Cloud to give you an easy, automated, and secure transition to the cloud, especially for complex, varied, and voluminous data environments.
Complete Data Visibility, Context & Insights Across GCP
BigID's industry-leading platform for data security, privacy, governance, and compliance is now available on the Google Cloud Marketplace! This is a significant milestone towards simplifying your biggest data initiatives across the Google Cloud ecosystem. Leverage BigID's advanced data discovery and classification capabilities directly through the Google Cloud Marketplace, streamlining the procurement process and integrating seamlessly into your Google Cloud billing for efficiency and convenience.
BigID's support across Google Cloud enables you to leverage a number of capabilities to address your most critical data initiatives:
Automatically Discover All of Your Sensitive Data: Quickly find, manage, catalog, and inventory sensitive, personal, and regulated data across various GCP services and third-party cloud-hosted products without manual effort.
Completely & Precisely Classify Your Data: Utilize advanced ML and AI to classify more types of data, more accurately, at scale, across structured and unstructured cloud data sources. Pinpoint personal, regulated, shadow, dark, duplicate, ROT, and more types of data with precision.
Enable Comprehensive & Consistent Data Labeling: Seamlessly integrate with Google's Data Loss Prevention (DLP) and labeling frameworks to apply uniform data labels for better, more consistent protection and policy enforcement – both within Google Drive and across other data sources.
Identify Data Access Issues & Proactively Manage Access Rights: Get a comprehensive view of access privileges, aligning with both ACL and IAM frameworks, and take action to correct any instances of excessive permissions to sensitive files.
Optimize Cloud Spend: Maximize cloud investments by utilizing dollar-for-dollar drawdown options against Google Cloud commitments, ensuring cost-effectiveness.
Enable a Better, More Secure Google Cloud
Customers leveraging the BigID on Google Cloud can realize a variety of benefits across your organization:
Elevate Your Data Security Posture: Streamline sensitive data discovery and unify data labeling and policy enforcement to minimize data breaches and ensure a fortified data security posture.
Proactively Target Data Risks: Proactively identify, investigate, and remediate your most critical data risks and vulnerabilities before they become major threats.
Streamlined Procurement & Cost Optimization: Simplify procurement processes by accessing BigID's platform for data visibility and control via the Google Cloud Marketplace, optimizing cloud spend and better managing budgeting and resource allocation across Google Cloud.
Want to learn more? Set up a 1:1 with one of our BigID experts today and we'll show you how you can achieve complete data visibility and control across Google Cloud.