Cloudy Skies: New Study Finds Startling Truth About Cloud Data Security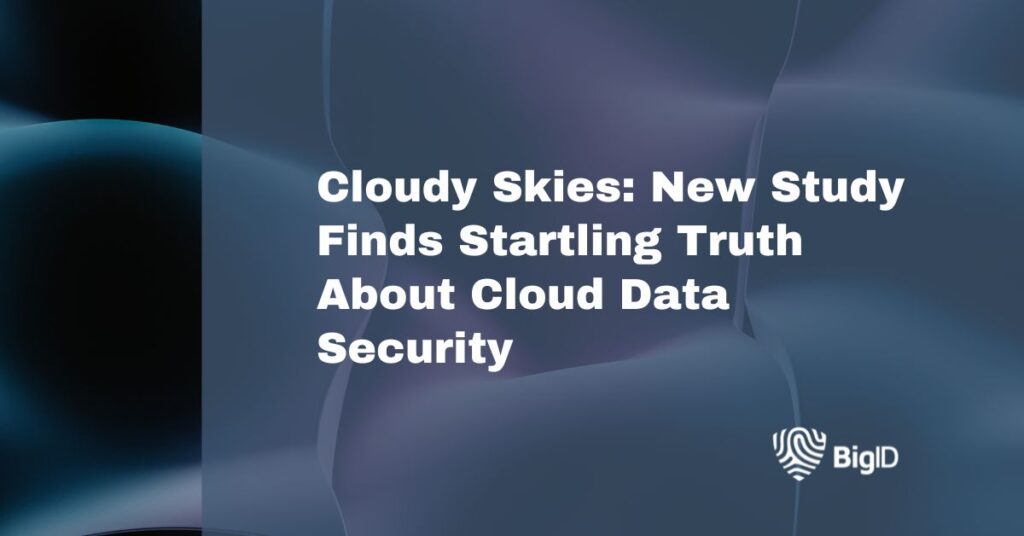 More than half of organizations lack confidence in their cloud data security posture.
The rapid adoption of cloud and multi-cloud models has led to an overwhelming proliferation of cloud services, resulting in an unprecedented amount of information scattered throughout the cloud. Unfortunately, the evolution and growth of cloud environments has outpaced the ability of IT and Security teams to keep up.
A recent survey, conducted by BigID, Cohesity, and Tenable, has shed light on some alarming truths about the concerns and challenges surrounding data security, as well as the improvements needed to enhance security posture in the future.
Highlighted below are some of the most significant findings from the 2023 State of Data Security & Management Report, along with the ways in which BigID can offer assistance.
Securing Data Still Difficult Across Different Data Environments
According to the study:
A mere 25% of organizations express complete confidence in their ability to secure data on-premises.
This percentage increases to about 44% when considering data across the cloud.
Over half of organizations lack confidence in securing all of their data, including sensitive, personal, and regulated information, which is a significant cause for concern.
The data landscape is continuously expanding, increasing in volume, variety, and vulnerability. The lack of comprehensive data visibility and control across various data locations and types is often the underlying cause of these confidence issues. After all, it's impossible to protect what you can't see.
That's why data security posture management (DSPM) solutions like BigID are critical for enabling complete visibility and control across all data types – structured and unstructured – and all locations – cloud, hybrid, and on prem. BigID seamlessly connects to and scans any data source, ranging from mainframes and messaging apps to pipelines, big data, NoSQL, Cloud IaaS, SaaS, PaaS, applications, and development environments.
Inadequate Data Recovery Undermines Cyber Resilience
67% of organizations lack complete confidence in their ability to recover their data and critical business processes following a breach or cyber attack.
Nearly every organization (95%) required more than a day to regain control, with over 70% needing four or more days to recover.
Organizations struggling to rebound from a major data breach often neglected the fundamental principles of sensitive data management. Data resiliency begins with getting your house in order by thoroughly understanding your data and building a contextual inventory.
BigID gives you the ability to know your data with rich and accurate context and insight. Discover, classify, and explore your data based on multiple attributes, such as data type, sensitivity, regulation, location, residency, redundancy, duplication, metadata, labels, tags, and more. Leverage this information to construct a comprehensive and dynamic data inventory that reveals the nature of your data, its location, accessibility, and other relevant details. In the event of a breach, this inventory serves as a reliable source of record, enabling you to ascertain the exact impact and understand which areas were affected.
BigID is also pivotal in providing you with the ability to define, prioritize, investigate, and remediate data risks and vulnerabilities, regardless of whether they reside in the cloud or on-prem. You can assign severity and priority levels based on various data contexts, including sensitivity, location, accessibility, and more. Enforce policies around specific types of data to automatically surface your risks and kickoff remediation. Streamline remediation management by facilitating collaboration among the right stakeholders and leveraging appropriate tools.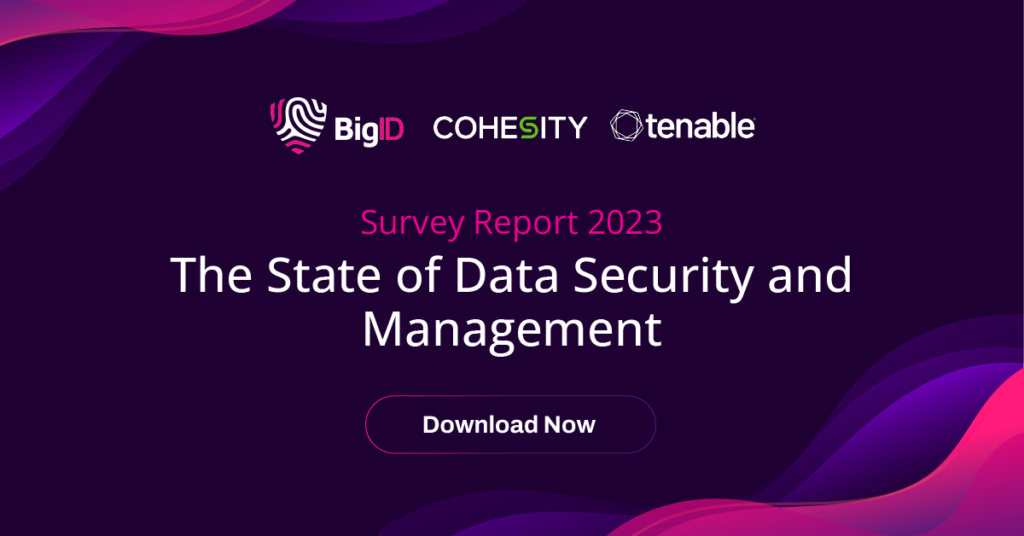 How Can Organizations Improve Their Data Security Posture?
Nearly 90% of organizations recognize the need for interoperability and collaboration amongst cybersecurity vendors to combat ransomware and other cyberattacks.
90% of organizations acknowledge the benefits of a data security and management platform that gives insight into overall security posture and cyber resilience.
Over the past decade, the security vendor ecosystem has experienced exponential growth in response to the increasing number and diversity of security issues. However, the resulting patchwork of disconnected point solutions, lacking interoperability, has created a fragmented and complex landscape. This approach falls short of providing comprehensive end-to-end security.
BigID API-first approach and open ecosystem facilitate seamless integration and enrichment with existing security tools across the security stack. This includes integrations with SIEM, SOAR, DLP, CASB, and native CSP features. By bridging gaps and integrating with the ecosystem, realize comprehensive data security and risk remediation workflows.
Understanding and monitoring security and risk posture is vital to any robust data security strategy. With BigID, automatically generate comprehensive and actionable reports on data risk posture, governance, and compliance. Continuously monitor critical insights about your data to remain well-informed and proactive. These insights enable you to swiftly identify and accelerate risk remediation efforts, while also allowing you to track the progress of your risk reduction initiatives over time.
If you're at BlackHat 2023, stop by our booth (#2600), join us for a VIP happy hour, or book a 1:1 meeting with one of our data security experts. Can't make it? Schedule a virtual 1:1 demo with one of us today!
Want to learn more about the findings from this survey? Download the 2023 State of Data Security & Management Report here.