Exclusive Webinar with BigID Featuring Gartner Dives into the Future of Enterprise Data Security & Compliance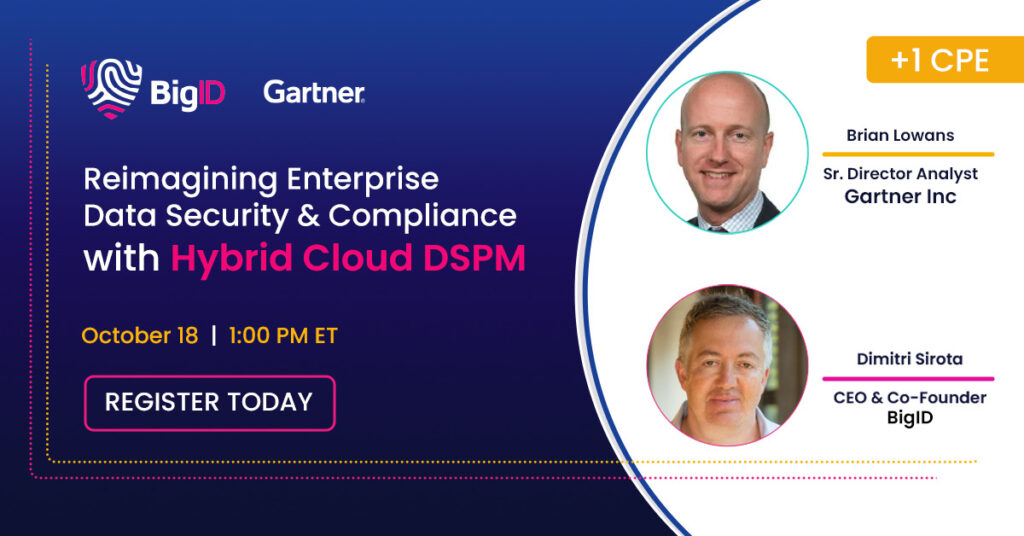 Amid the buzz of Cybersecurity Awareness Month, industry leading privacy, security, compliance, and governance solution BigID, is gearing up to host an exclusive webinar featuring world-renowned IT research consultant Gartner.
This highly anticipated session titled, "Reimagining Enterprise Data Security & Compliance with Hybrid Cloud DSPM," will share direct insight from not only BigID CEO and Co-Founder Dimitri Sirota, but also Gartner Senior Director analyst, Brian Lowans.
Grab your spot and RSVP now to learn more about what Lowans describes as:
Probably one of the most exciting developments I've seen in the 12 years I've been with Gartner.
DSPM and the BigID Difference
BigID's groundbreaking innovation in the data security posture management space has earned a number of accolades— and for good reason. BigID distinguishes itself from traditional security and risk management solutions by offering capabilities that go beyond just assessment.
Key differentiators include:
Unprecedented Coverage & Discovery: Everything hinges on knowing your data. BigID ensures comprehensive discovery— across the hybrid, SaaS, ERP, lower dev environments, structured and unstructured data, including dark, shadow, ghost, and hidden data. Get superior visibility and control over all your sensitive data, no matter where it lives.
Advanced Data Classification: Build a comprehensive and dynamic data inventory that goes beyond traditional classification. BigID's approach automatically classifies and tags by data types, regulation categories, sensitivity classification, metadata, and more.
Greater Scope of Remediation Actions: Automate the remediation of high-risk, sensitive, and regulated data across your entire environment. Trigger remediation workflows via the BigID Action Center for specific actions such as making an API call, sending an email, refining access control, opening a Jira ticket, labeling, deleting, quarantining, or encrypting the data.
AI Augmentation: Leverage automated labeling, deep learning for understanding images, NLP for text categorization, supervised learning for fine tuning— all driving deeper insights around your data.
Why Attend?
Today's digital frontier has never been more complex. The longevity and continued competitiveness of enterprises depends on their ability to adapt and continually adopt innovative strategies that safeguard their most valuable assets.
In this exclusive webinar, you'll learn foundational and advanced practices for next-generation cloud-native data security, compliance, and risk posture management. Elevate your strategies, revolutionize your approach, and join us for this transformative webinar experience.
As an added bonus— participants will have the opportunity to earn 1 CPE credit.
How to Register
Secure your spot now to gain invaluable insights from industry thought leaders. Mark your calendar for October 18th at 1:00 PM ET and register now.
To see BigID in action, get a free 1:1 demo with our experts today.