The Fundamentals of Data Management with Abel Aboh, Data Quality Lead at the Bank of England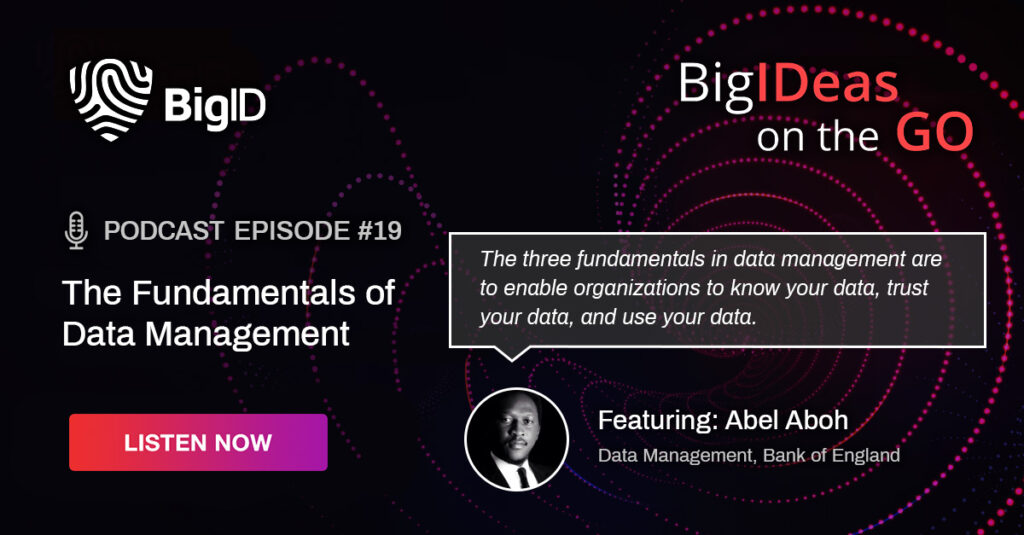 Abel Aboh, longtime data management expert and current Data Quality Lead at the Bank of England, joins the BigIDeas on the Go podcast to talk about how ML and AI are revolutionizing the world of data — plus three data management pillars every organization needs to know.
An Explosion in the Data Management Space
From financial services and defense contracting in the UK to data management at the Bank of England, Aboh left a career in human resource management to move into data management. "I think that's the best decision I've made," says Aboh.
As the data management space explodes, "CEOs are looking at how they can leverage their data as an asset," says Aboh. "That's always gonna go up and up and up — and massively in the next couple of years. So it's quite an exciting time to be in the data management space. A lot is going on across Europe, in America, in Asia, in Africa, and in the Middle East as well."
Data Is the "Lifeblood of the Organization"
As an individual, Aboh believes that a CDO "has got to be passionate about data. Passion about data is absolutely fundamental. If you're not passionate about data, you have no business being a CDO, and you have no business working in the data space."
As an organization, it's important to determine ways to gain good insights using your data. "Most organizations are looking for ways to understand their data," says Aboh. "Most are looking for ways to manage and govern and control their data. Data is the lifeblood of an organization — just like people are, as assets. Data is a critical asset as well. From a CDO perspective and an organizational perspective, that is just a win-win and an obvious opportunity to accelerate and deliver for the organization. And it doesn't matter what sector or industry we're talking about."
AI and ML
The manual days of data governance and the complex processes that come with it are on their way out — and AI and machine learning are on their way in, according to Aboh.
It may have historically been a slow shift, but it's speeding up. "One of the key things and one of the frustrations as a data management professional, listening to what the business is saying, is that they don't have time. A finance officer is recruited to do the finance. An engineering officer is recruited to do the engineering. But they have to use data to do those things."
So AI and ML make it possible for organizations to: 1) simplify processes — or minimize the frustration of working with the tech; 2) automate end-to-end processes with less human intervention; and 3) boost intelligence with better, faster, and smarter insights.
"Simplification, automation, and intelligence — I think those are the three key things that AI and ML will certainly do in terms of not just reshaping data management but to support data management delivery," says Aboh.
The Three Pillars of Data Management
In addition to the future three drivers of ML and AI in data, Aboh identifies the three pillars of data management that every organization should follow as knowing your data, trusting your data, and using your data.
"Sometimes we get into this space where we tell people about data management, and we make it quite complex. But whatever we do as data professionals, we have to enable any of those aspects, enable people to understand their data properly — which is about knowing. We're enabling them to trust their data — to make better decisions, as well. And finally, we're enabling them to use that data. And that simplifies what data management is about. Those are the three core things, in my opinion, that are absolutely fundamental," says Aboh.
If an organization can do those things, "they can make more money, they can save more money, and they can manage and minimize their risk, as well."
Check out the full podcast to learn more from Aboh about where data management is going in the future.