The Active Metadata Hub: The Next Generation of Metadata Management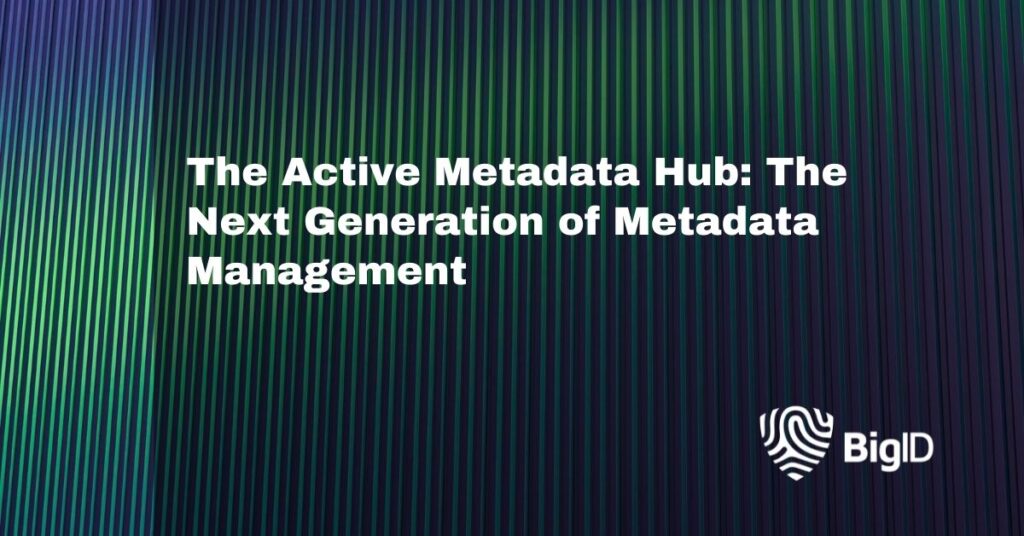 Metadata is the lifeblood of modern data management — it's the key to being able to trust your data, make better decisions around your data and unleash the value of your data. In layman's terms, metadata is the data about the data. Metadata can show if data is sensitive (such as internal only), financial (a credit card number) or should be protected (personal data about customers) — and can be categorized as technical, business, operational, augmented and inferred.
Data management disciplines such as data governance, customer 360, DataOps, data fabric and privacy enforcement all rely on key metadata. Meanwhile, data science and analytics initiatives rely on the ability to search metadata utilizing artificial intelligence to surface key findings.
A major challenge for traditional metadata management solutions is that so many activities revolve around finding and cataloging metadata data in a static form (often manually). Many of the metadata repositories are out of date and don't provide for the real-time needs for BI and data science. This passive metadata approach no longer works well for data governance and compliance — and isn't scalable for today's data environment. Even worse, the inability to accurately identify the metadata and the underlying data is far less actionable, whether for security, privacy or governance programs.
Why active metadata changes the game
Organizations are becoming increasingly dependent on active metadata. The "active" part extends on the old passive approach. This means discovering and capturing metadata in real time, requiring a data catalog that is always up to date and accurate. "Active" also refers to the inference of metadata attributes that can be used to tie together data sources that might not look alike at first glance.
An active metadata hub — think of it as metadata middleware — leverages an ML-augmented data catalog to enable orchestration, enrichment and policy enforcement. This means not only connecting and capturing metadata from a variety of data sources but also integrating with other data management tools, allowing for metadata to be exchanged, enriched and shared from an active metadata hub, which then becomes the authoritative source of metadata across the organization.
To be effective, an active metadata hub should be the crux of an open ecosystem, easily accessible via direct integrations and APIs and able to integrate across today's tech stack.
It's all about the data.
Data is the lifeblood of business — and it's more important than ever for organizations to know their data, trust their data and understand their data. It's more important than ever for organizations to be able to answer questions like:
Can I trust my data?
Do I understand my data?
Can I identify, track and manage the right data assets across data governance, customer 360, DataOps, data fabric, privacy and security tools?
Is my critical data protected in the right way?
How to overcome common challenges when adapting a metadata hub
It's never easy to shift strategies and technologies, but with data taking a lead role in business, transitioning to something that can evolve with your organization is crucial. Speaking of data: Different data sources and data management tools have different schema, structure and connectivity. Tying these different data sources — and the content and context behind them — into an active metadata hub can be challenging.
When processing data through that metadata middleware, it's important to ensure that data integrity and metadata elements are kept intact as the metadata is enhanced and enriched. This is a new way of managing metadata, and anything new often requires new tools, approaches and skills to make the next stage successful.
So, where should you start? Figure out what data sources and tools are tied to the project, review the current state and gaps in your data strategy and define clear milestones for success along the way. Once you've accomplished those temps, identify tools, services and skills that can proactively address those gaps. Make sure to align existing initiatives — data minimization, data validation, data migration — to get more from your existing projects and resources.
Conclusion
Data challenges are complex and evolving. Without visibility and control over their data, organizations are left in the dark. By incorporating active metadata into their data strategies, organizations can turn on the lights, which means being able to:
Determine what data is important to your business — not all data looks the same; not all data is stored together.
Collect metadata from all the different data sources across your environment.
Add business context so that you get the big picture: Context is key.
Connect data, metadata and activity to extend understanding of the what, the why and the who.
Enrich existing tools with additional understanding — adding risk-focused and contextual-based insight to make better decisions.
These steps are pivotal to the next generation of modern data management — and the future of data.