Power-Up Your DSPM: Find & Fix Access Rights Violations at Scale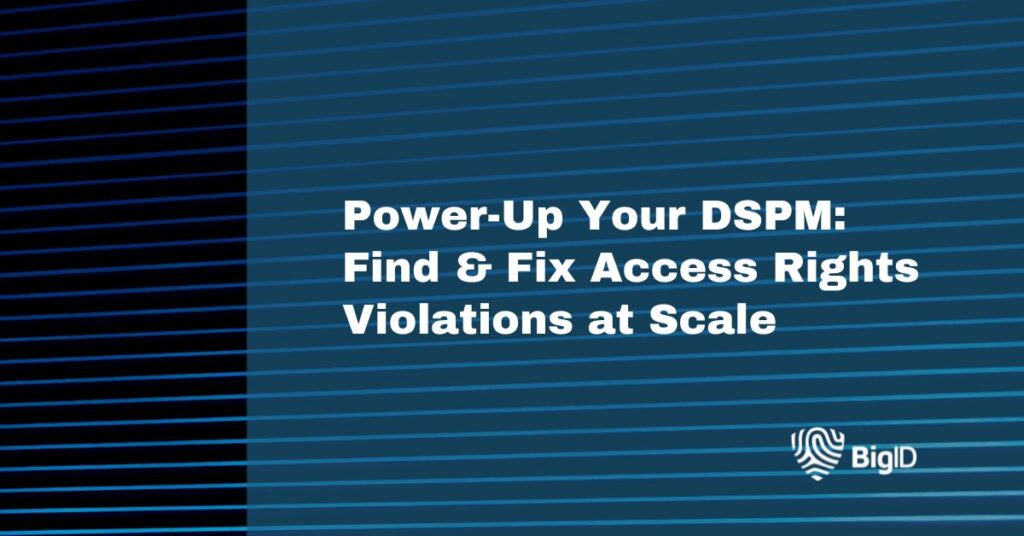 Many cloud security failures are self-inflicted, often caused by improper configuration. Granting excessive privileges to users or groups leads to unauthorized access and greatly raises the risk of data breaches. As organizations rely more on the cloud, the number of sensitive, critical, and regulated data sources, sets, and files in their network grows.
As a security team, you must embrace Zero Trust, maintain least privilege, and swiftly address threats that bypass your controls. In data security posture management (DSPM), knowing data accessibility is crucial. Unfortunately, legacy methods lack multi-cloud scalability and contextual insight to protect sensitive data across all sources, sets, and files.
Defend against access risks today. Unlock the power of Access Intelligence Remediation – manage access rights directly within BigID's industry-leading DSPM platform. Safeguard your sensitive data like never before, eliminating the threat of unauthorized access and ensuring complete data protection. By integrating access rights management within DSPM, proactively secure sensitive data with precision and efficiency.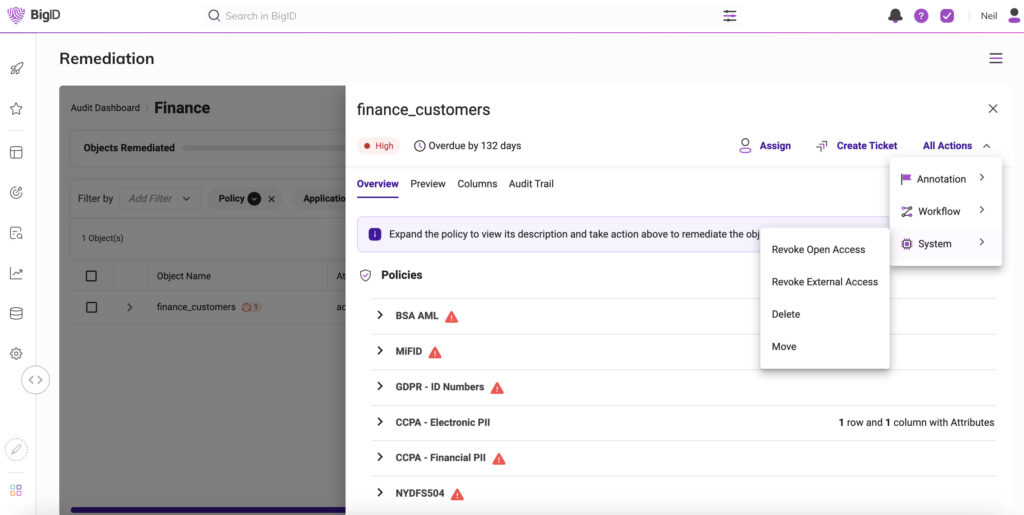 Detect & Investigate Access Violations
Uncover and eliminate unnecessary access privileges by spotting overexposure violations. This begins with the automatic discovery and classification of files containing sensitive data. Set rules for data types, like limiting access to HR data to the HR group. To pinpoint risks, define access types like "External Access" or "Open Access." Use these to create policies that govern sensitive data and trigger appropriate actions. For instance, flag HR files with Open or External Access as violations. Moreover, detect users and groups with unmanaged access to sensitive data sources, sets, and files. Identify sources with unrestricted access for focused intervention on specific data, users, and groups.
Revoke Access Rights
React swiftly to violations with automatic alerts and remediation workflows. Monitor these breaches as "cases" on the BigID Data Risk Management dashboard, alongside other sensitive information alerts. Take quick action by revoking access rights, assigning remediation tasks to data source owners, or opening ITSM tickets directly from BigID's Risk Management dashboard. Centralize risk management and mitigation by integrating access rights management into the DSPM process. Bridge the gap between data insight and action, enabling streamlined risk management and response.
By streamlining the process between discovery and remediation, BigID helps you not only accelerate your security operation but effectively mitigate exposure risk with confidence:
Be More Efficient
We understand the challenges you face in managing and securing your environments with limited resources. That's why at BigID, we've focused on integrating automation into all our products, including DSPM and access rights management. With automation, you'll speed up security operations, address critical issues faster, and optimize resource usage. Enjoy seamless access rights remediation and enhanced operational efficiency with ease.
Reduce the Risk of a Breach
Cut the risk of unintended exposure with swift and confident actions. Boost data risk reduction by prioritizing access-related aspects. Prevent unauthorized access with automated detection and remediation. Strengthen your Zero Trust strategy with a data-centric, risk-aware approach, achieving a least privilege model.
If you're at BlackHat 2023, stop by our booth (#2600), join us for a VIP happy hour, or book a 1:1 meeting to learn more. Can't make it? Schedule a virtual 1:1 demo with one of our data security experts today!