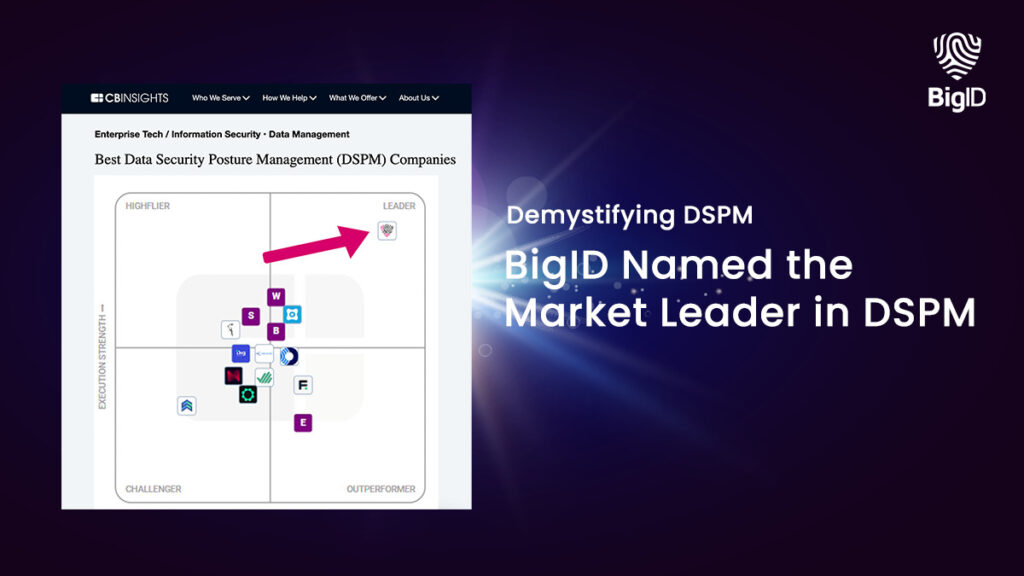 Every now and then, a new term catches the attention of the market: but it's difficult to cut through the noise of DSPM, DSP, DLP, DAG, DDR… you get the idea. Data Security Posture Management (DSPM) is here to stay: it's a prelude to the Data Security Platform (DSP), a way to answer "what now?" when you're assessing risk, and the strategy to take a data-centric approach to manage your risk.  
And in an era where data breaches and cyber threats are a constant concern, privacy and protection regulations are constantly evolving, and security is in the spotlight, it's more important than ever to find the right solution to manage and protect your sensitive data. BigID has emerged as the undisputed leader in the realm of Data Security Posture Management (DSPM): with a slew of accolades and a groundbreaking approach to data security, BigID has been named the leader in DSPM by CB Insights, and the most disruptive cybersecurity software in the space.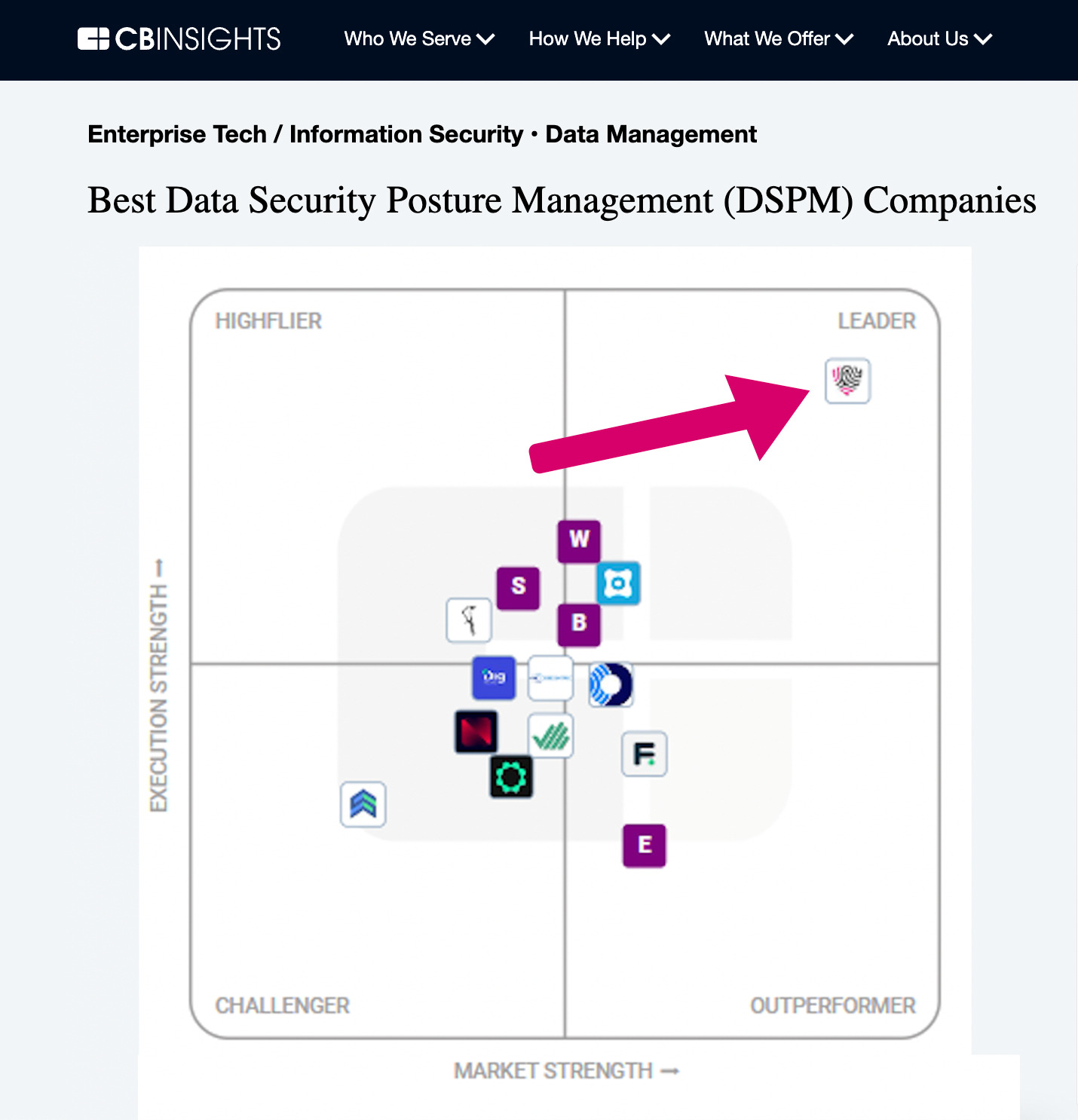 Why BigID is the Market Leader in DSPM 
What's the big deal?  BigID continues to lead innovation in emerging cloud data security categories like DSPM with new advanced discovery, remediation, retention, and AI automation features. Featured in Gartner's recent DSPM Innovation Insights and Forrester's Data Security Platform Landscape, BIgID's approach to data risk management stands out from the rest: with capabilities that don't just assess data risk, but help organizations remediate that risk, take action, and ultimately improve their security posture.
BigID has been recognized as the leader in DSPM across the board, with a few recent callouts including:
Where to Start with DSPM
At its core, DSPM is  "Discovery Plus": data discovery with security management capabilities that span from risk alerts to remediation.   While it's still an evolving market, there are a few
 critical things any DSPM initiative has to be able to do:
Identify, classify, and map sensitive data across your environment

Alert on high-risk vulnerabilities, policy violations, and data security vulnerabilities

Easily report and assess risk: with both granular and high-level reporting on your crown jewel data

Automate and orchestrate remediation for high-risk data – trigger alerts based on activity, remediate data security issues, reduce over-privileged data access and enforce controls over your sensitive data.
How BigID Is Different
Since BigID first entered the market, we reimagined data security, compliance, and privacy. BigID pioneered cloud-native security for the multi-cloud and hybrid cloud, building out the most comprehensive data-first solution for data visibility and control.  With years of R&D, testing, and collaborating with customers, BigID's platform seamlessly takes organizations from DSPM to DSP and beyond – enabling organizations to drive security from a data-risk standpoint.
What's the BigIDea?  BigID consistently stands apart from the market by demonstrating differentiated capabilities for our customers.  A few ways that BigID's DSPM is different include:
Coverage for the data that you care about most – wherever it is.  We've got you covered in cloud, on-prem, for structured and unstructured data. The cloud is just the start; you need to be able to uncover, classify, and analyze the data that you know about and the data you don't, whether it's dark data, shadow data, ghost data, and hidden data – across the cloud and on-prem. 

Risk management that's accurate: our classification & out of the box policies are less noisy and more accurate.  We've got patented ML & customizable tuning that gives you the right results based on your data – not somebody else's. That means you can prioritize the critical issues first – and enable your team to work smarter, not harder.

Remediation that works for you, the way you want.  We'll help you answer the question "what now?" – whether that's automatically triggering a Jira ticket, or a full-on remediation workflow to quarantine or delete your data.
DSPM is driving the security market to innovate, approach data security differently, and take a proactive approach to protect their data: take a test drive here, or hop on a 1:1 demo with our security experts to learn more.