Data Insights & Cloud Adoption in the Federal Space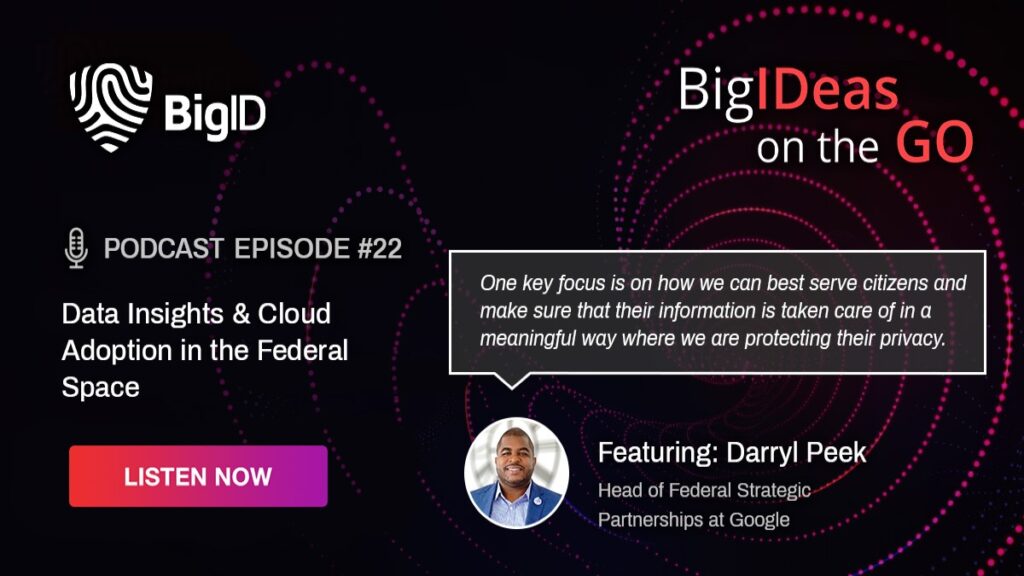 Recently named one of 2021's top IT influencers in the federal space, Darryl Peek, Google's Head of Federal Strategic Partnerships, sits down with BigID CEO Dimitri Sirota in our BigIDeas on the Go podcast to chat about cloud adoption in the federal space.
Peek has been with Google for about a year, but he started out as an engineer in defense contracting at the global security and aerospace company Lockheed Martin.
"I fell in love with really just bringing solutions to the market. So being able to talk about satellites and unmanned aerial vehicles was a very cool thing to do in my twenties," says Peek, "and it just continued to advance from there."
After that, Peek worked in cybersecurity at the Department of Homeland Security, where he helped to stand up the CTO's office as the Director of Digital Innovation and Solutions. "I ran shared services across the department — but then I just wanted to get back into a private industry, so decided to go into the product space."
Advancing and Modernizing Government Data in the Cloud
Peek's view of his work at Google is all about partnerships. "When we talk about partnerships, it's something that I'm very passionate about," says Peek. "I think that as we look to advance government and modernize government, it is a partnership that is required. So, for me, that means working with federal system integrators and technology partners in order to implement Google Cloud solutions to really solve government mission use cases."
Some of the top use cases require that Peek and his team "look at not only productivity but infrastructure modernization, application development, data management — and also smart analytics and machine learning."
Digital Transformation in the Federal Space — a Focus on Outcomes
In providing the guidance for the federal space, Peek maintains a laser focus on one specific thing: the outcomes. "What is our marching order, and what strategic outcomes are we trying to achieve from a mission for priority perspective?"
Right now, for example, "we're seeing a lot of conversation around health care," says Peek. "Of course, the pandemic has been very impactful across the nation, so how do we best serve the citizen, and how do we make sure that the information is taken care of in a meaningful way — and that we are protecting privacy?
Know Your Data
Migration to the cloud has a lot of different factors to it," says Peek. "You have the application side, of course, but then you have the data side."
Initially, in starting conversations around cloud migration, "the one area that we like to talk about is — what do you have?"
In being able to build a comprehensive data inventory, companies must consider, "what are the data assets that you use for your particular applications or particular use cases — and how do you plan to move them forward? Also, what are the particular outcomes that you're trying to achieve? Maybe you want to make it available on a smartphone, or available through multiple channels.
"So yes, you may have migrated to the cloud, but are you truly transforming to that next-generation that you're trying to achieve?
Check out the podcast to hear more about how Peek helps address these challenges — as well as his insights about how much the federal government is currently embracing the cloud.