BigID is Named to the 2021 Forbes Cloud 100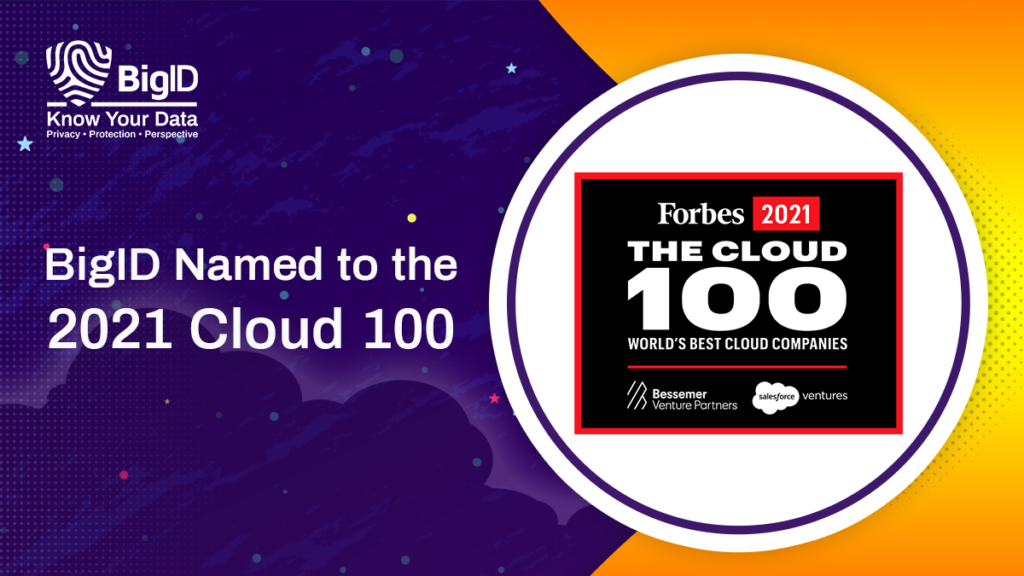 This past year has changed the world: from the way people work to how we communicate to how business runs – and now, more than ever, data is at the center of it all. Data is at the heart of the digital economy: making every business – from retail to financial services to manufacturing to technology – a digital enterprise, while pushing every company to digitally transform.
The cloud is pivotal to that digital transformation – and we're honored to be named to the Forbes 2021 Cloud 100: the definitive ranking of the top 100 private cloud companies in the world, published by Forbes in partnership with Bessemer Venture Partners and Salesforce Ventures, for the second year in a row.
This recognition from Forbes is a testament to how BigID empowers organizations to reimagine data management for privacy, security, and governance across their entire data landscape.  In an ever-evolving world of cloud acceleration, digital transformation, data privacy and protection regulations, and overall data sprawl – from type to sheer volume – BigID is a modern, scalable platform for customers to get more value from their data.
"How we work has undergone a paradigm shift and businesses of all shapes and sizes are reimagining the tools that are needed to ensure working from anywhere is a sustainable, long-lasting solution," said Alex Kayyal, Managing Partner, Salesforce Ventures. "The last 18 months have made digital transformation an urgent imperative and the cloud has never been more pivotal in powering our new digital economy. The companies on this list represent the leaders and businesses shaping the future of the cloud ecosystem and we are excited to partner with Bessemer Venture Partners and Forbes to honor these trailblazers of the industry."
Built on a foundation of ML-driven data discovery, with a series of intuitive and business-led apps, BigID's platform helps data governance, management, security, and privacy groups better manage, protect, and get value from their data across the entire data stack. By leading with the data itself, BigID gives organizations contextual insight and automation to improve efficiency, accelerate productivity, and unleash the value of their data – accurately, and at scale.
Organizations can gain insight into their data with accuracy and context so that they can get more value from their data, faster. Customers are able to identify dark data, achieve compliance, reduce risk, automate manual processes, accelerate cloud migration, and get to value faster. With a single platform for discovery, privacy, security, and governance, customers can reimagine data management with BigID.