The Art of Minimizing Data Security Risk: A Webinar with Databricks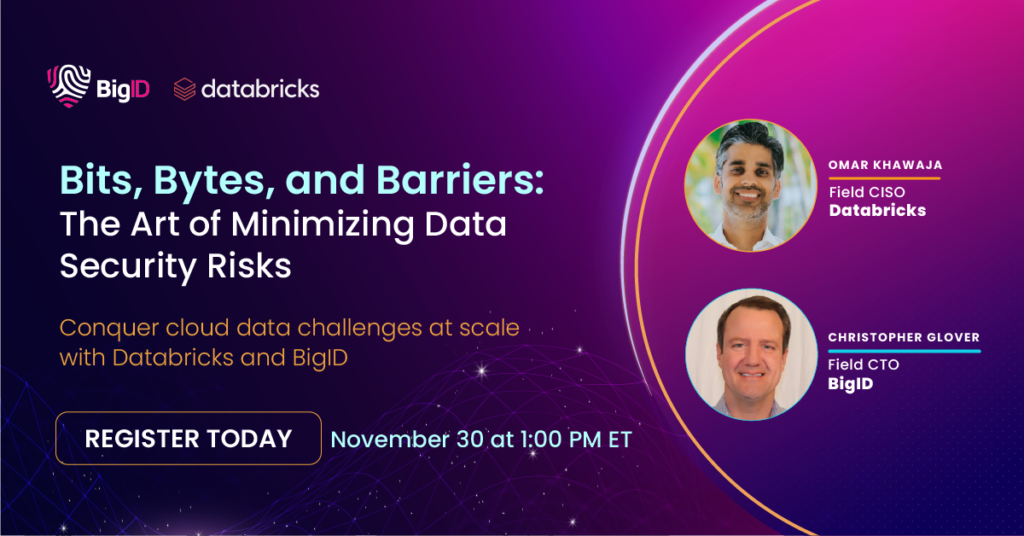 As organizations rapidly embrace the cloud and its transformative benefits, especially across analytics, ensuring a strong cloud data security posture has never been more difficult. As more apps and data, including sensitive, personal, and valuable business data, continue to proliferate, so does the attack surface and risk for unwanted exposure. A vigilant and proactive approach is crucial to safeguard valuable information in this new cloud frontier.
Fortunately, BigID and Databricks have teamed up to give organizations an edge towards better governing their most valuable data, strengthening their data security posture, and facilitating better, data-informed decision-making – at cloud scale.
Leverage BigID's advanced data discovery and classification on Databricks Lakehouse for seamless management, security, and regulation of sensitive data assets. Enrich Databricks' Unity Catalog to centrally and uniformly administer comprehensive data governance and security policies centrally. Enhance data security by proactively addressing sensitive data access issues, enforcing least privilege, and minimizing risks of overexposed data. Govern your generative AI efficiently with BigID's data insights and context to validate that your LLMs are training on compliant and secure data throughout the AI lifecycle.
Want to Learn More? Join Us!
Join us for an upcoming webinar, "Bits, Bytes, and Barriers: The Art of Minimizing Data Security Risk," on November 30 at 1 PM ET. Listen and engage with our presenters, Omar Khawaja, Field CISO from Databricks and Christopher Glover, Field CTO from BigID for a conversation about a new way of understanding and securing your most important data.
By attending this webinar, you will gain:
Expert Insights: Hear from industry leaders about the latest trends and strategies in data security.
Practical Strategies: Learn proven techniques to identify and assess data security risks at an enterprise scale.
Innovative Solutions: Discover how the synergy between BigID and Databricks can revolutionize your data governance and security.
Hands-on Knowledge: Gain practical tips on automating data discovery, classification, and streamlining governance across your organization.
This is more than just a learning opportunity – it's a chance to redefine how you manage and secure your data. You'll gain insights from leaders at the forefront of data security, exploring new perspectives and strategies about protecting your cloud data. Whether you're looking to enhance your organization's data governance, stay ahead of compliance demands, or understand how to protect your data in an ever-evolving digital landscape, this webinar is a must-attend. Equip yourself with the knowledge and tools necessary to turn data security challenges into opportunities for growth and innovation.
How to Register
Take advantage of this opportunity to transform your data security strategy. Register now and be ready to step into a world where your data is not just secure but also a powerful asset for your organization.