BigID and Databricks' Unity Catalog: Accelerating Data Governance and Security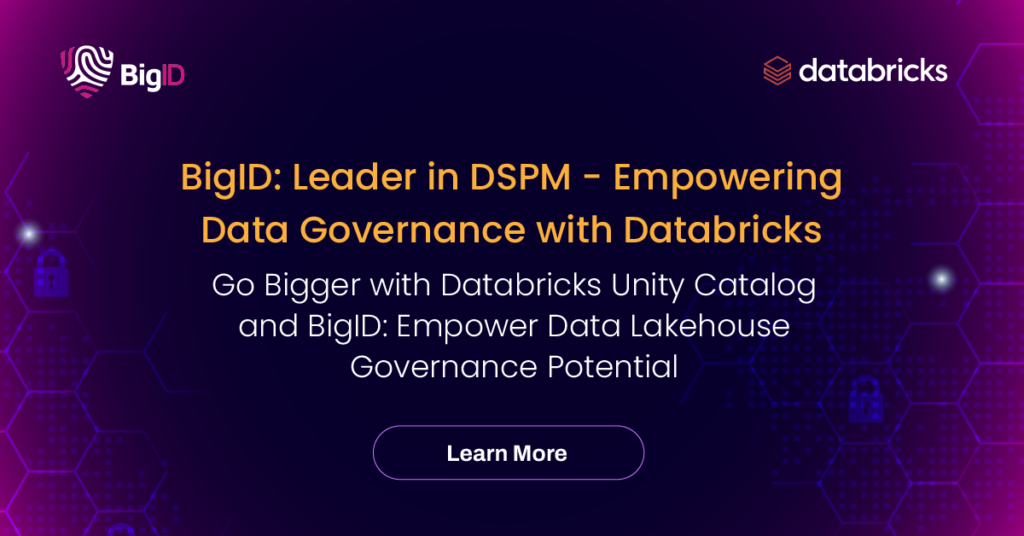 In today's data-driven world, organizations are increasingly reliant on their data to make informed decisions, improve operations, and drive innovation. However, with this reliance comes a growing need to govern and protect data.
As Databricks articulated at the Data+AI Summit 2023, customers are striving for data democratization and faster access to data while ensuring unified governance across all data sources.
BigID and Databricks' Unity Catalog are two powerful tools that when combined, can help organizations achieve data governance while minimizing unauthorized data exfiltration. BigID is a data intelligence platform that helps organizations discover, classify, and protect their data. Databricks' Unity Catalog is a unified governance solution for all data and AI assets including files, tables, machine learning models and dashboards in your lakehouse on any cloud.
When BigID and Databricks' Unity Catalog are integrated, organizations can gain a number of benefits, including:
A comprehensive view of their data: BigID's data intelligence capabilities can be used to discover and classify all of the data in Databricks. These capabilities are able to tag the data, enriching the Unity Catalog with additional context around the data, such as the data's purpose, its sensitivity level, or its owner. BigID's integration hydrates the Unity Catalog with metadata providing a single source of truth for data assets.
Enforced RBAC: BigID's policy engine leverages the tags that are placed on the data in Databricks to enforce role based access controls (RBAC), ensuring only authorized users have access to sensitive data. Another tactic to minimize data exfiltration.
Data masking: Leveraging the native data masking capabilities within Databricks Unity Catalog combined with BigID's policy engine provides the business with a solution for just-in-time data empowerment to users with rights to the data. Those users without rights to the data will not be able to see the entire record or parts of the record based on the user access rights. A powerful tool to protect a businesses sensitive data, such as PII, financial data, or their crown jewels from the risk of unauthorized access or data breaches.
Integrating BigID with Databricks' Unity Catalog is a powerful way to accelerate data governance and security. This solution has many applications such as creating a secure onramp to Databricks' Data Lakehouse to help migrate a business's workloads, and protecting the data while the business leverages the data to drive informed decisions.
Schedule a 1:1 demo with BigID to learn more about how your organization can leverage this powerful solution for data governance and security.