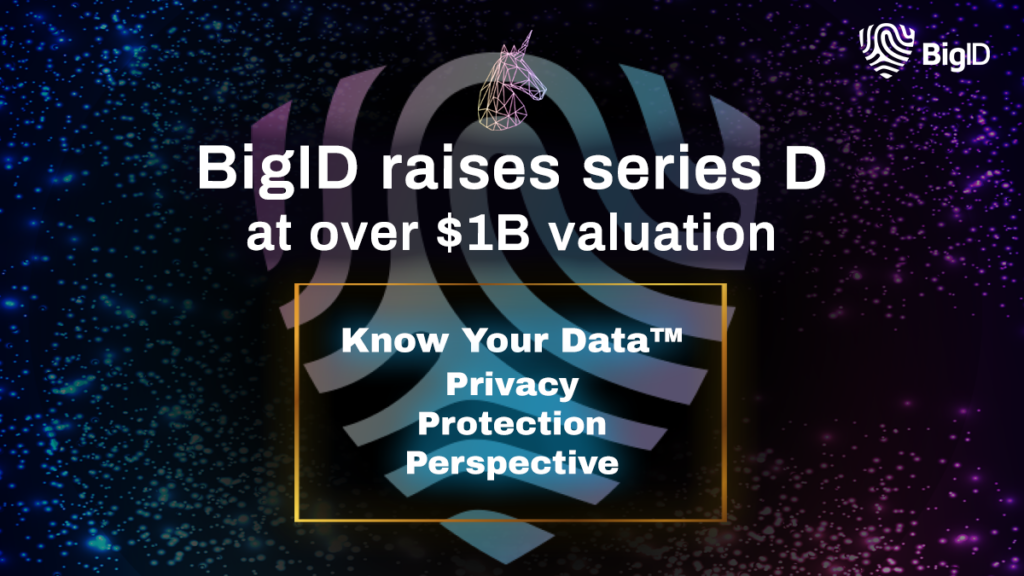 BigID began in 2016, built to rethink data discovery and data intelligence for today's data-driven world. We set out to create a scalable way for enterprises to know their data – leveraging ML and AI to revolutionize how organizations approached their data across the entire scope of their data environment, and how they get value from it. Today, we're announcing our third round of funding in a little over a year, led by Salesforce and Tiger Global, joined by Glynn Capital, with participation from existing investors Bessemer Venture Partners, Scale Venture Partners, and Boldstart Ventures. While it was driven by existing investors, it represents a major milestone in BigID's history, making us a unicorn just over four years from when we started.
Reaching this milestone took a lot of hard work from the team: over the course of the past year, BigID also began shifting from a best-in-breed data solution for privacy to a data intelligence platform built on a foundation of data discovery for answering not just privacy questions, but also larger data protection and data perspective questions. We also got here by addressing secular trends like privacy (that require a new level of data transparency and accountability) as well as acceleration to the cloud – which requires new approaches to effectively inventory and understand the data you have in the first place.
In 2020 alone, we have all seen data take center stage.
From new privacy regulations like the California Privacy Rights Act (CPRA) getting voted by into law to Brazil's proposed Lei Geral de Proteção de Dados (LGPD) coming into effect, these privacy regulations expand privacy rights – and focus the spotlight on individual's rights to know what data is being collected, processed, and how it's being used. New data sovereignty conversations around what data can be transferred where – like with Schrems II – bring into question data adequacy and underscore the need to know not only what data an organization collects, but whose it is and where it is.
Covid has changed the way the world works, accelerating both cloud migrations and digital transformation initiatives – driving more migrations to AWS, Azure, GCP, and Office 365.
New data platform IPOs like snowflake are driving the new tech stack, and organizations are adopting more agile ways to store and process data, from data lakes to data warehouses, all ultimately focusing on how to get more value from data.
Data breaches are never far from the headlines, whether from a misconfigured AWS S3 bucket or overexposed permissions, affecting organizations in all industries, of all sizes, and on all types of sensitive and personal data.
What all these trends share is a common need to know your data: what it is, why you have it, where it came from, to whom does it belong, how is it being accessed, and more. This requires a complete rethink for how data is found and contextualized. BigID is the first data intelligence platform that combines ML based classification, cataloging, correlation, and cluster analysis to provide unmatched insight across legacy and cloud data stores.
Equally important, BigID is the first data platform to marry foundational discovery and insight with action. With the introduction of the BigID App Framework and Marketplace, BigID is now the first solution that can provide an open ended set of actions customers can take on the data they find for better compliance, greater data protection and more automated data governance. BigID can enables organizations to meet emerging regulations, secure their data, and unlock their data value in an open, flexible way.
As we look out to 2021 and recovery from Covid, BigID aims to offer our clients a unique approach to unlocking their data value for data privacy, security, and governance. And in 2021, you'll see continued leadership in innovation, faster time to value with new apps, and even more ways to engage BigID from the cloud.