Data Privacy Day 2022: 5 Steps Toward Privacy Enlightenment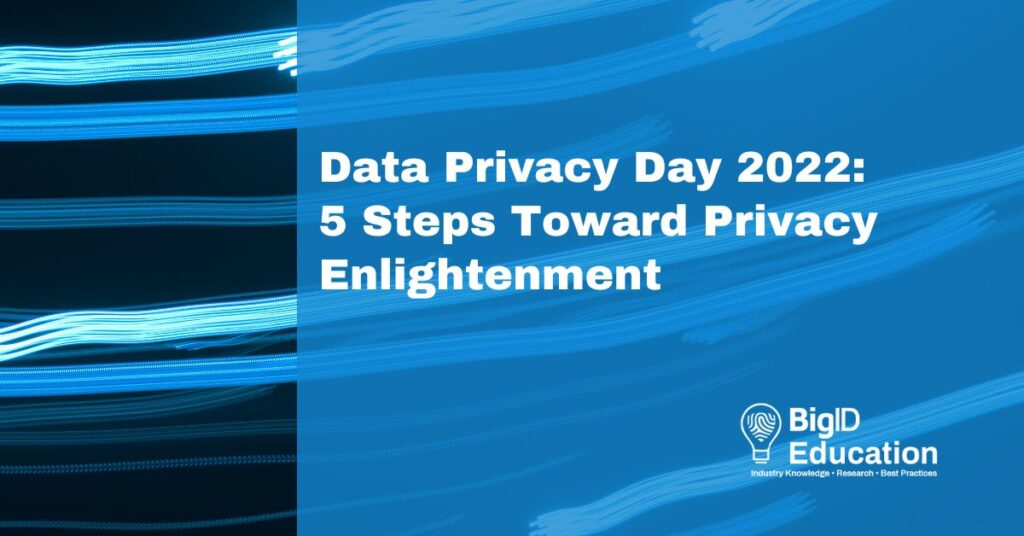 The year 2021 saw astronomical progress for data privacy, with Asia, Canada, Africa, and the US introducing new laws. Every year, new local and global data privacy and protection regulations amplify individuals' rights to personal data, as we grow toward what may one day be full coverage worldwide. Even in the first month of 2022, there have been a wave of new proposals, high visibility questions about data sharing and cross border data flows, and more (not to mention, a wordle just for data privacy!).
Below are five ways to tap into your privacy zen this Data Privacy Day — learn how to protect your data, prevent breaches, reduce risk, and achieve compliance using the BigID Privacy Suite.
Data Discovery
Inventory PI & PII
The first step is to locate and inventory all of your data across the entire data landscape. BigID's deep data discovery foundation helps organizations inventory, map, classify, and align data to regulatory policies and privacy laws. Regardless of whether it's structured, unstructured, and semi-structured sources and business applications — whether deployed on-prem or in the cloud — you can easily and automatically build a PI inventory across all regulated data with BigID.
Consent & Preferences
Manage Consent Sources
Since GDPR came on the scene and accelerated privacy trends around the globe, consent has been a major focus of privacy laws. Consumers can now exercise their data rights by "opting in" to consent preferences before any organization can process their personal and sensitive data. BigID's consent capabilities extend to multi-channel consent (minor, employee, and regulatory) across all data stores. In addition, by correlating consent and preference management to individual data subjects, BigID enables consent governance functions — including reporting on consent validation and associating the stated purpose of processing to specific policies and strategies.
Data Rights Fulfillment & Privacy Portal
Automatically Fulfill Data Rights Requests
For most organizations, fulfilling DSARs at scale by discovering, classifying, and connecting personal data to specific individuals can be extremely complex. BigID automates end-to-end data rights management and fulfillment with an intuitive privacy and preferences portal that manages data subject rights requests. In addition, BigID's data rights automation app connects to all types of data sources which are API-based, making it easy to collect the data needed to automate data subject access requests fulfillment.
This automation enables organizations to respond and manage users' data privacy rights regarding access requests, update/correction, deletion, opt-in and opt-out preferences.
Record of Processing Activities
Monitor Data Processing Activities
According to a data privacy report conducted by BigID & Service Now, of all the many regulatory compliance requirements, more than a third (39%) of organizations find "record of processing activities (GDPR – Article 30)" the most difficult to reach full compliance.
Find, inventory, and map all PI, PII, sensitive, and regulated data with BigID, enabling organizations to generate documentation and reporting of data processing activities and third-party data flows for compliance requirements.
Through visual data flow mapping, BigID also shows how data is processed and shared across the enterprise and third parties. With the Data Process and Sharing app, organizations can:
Document RoPA based on actual data
Export and import from existing RoPA surveys and spreadsheets
Identify information shared with third parties
Collect purpose of use using the BigID workflow
Detect new data processes
Privacy Impact Assessments
Reduce Data Access Risk
Managing data risk and privacy is complicated for most businesses because it can be hard to determine if data poses a risk to the public, employees, and the organization. That is why companies need to implement privacy risk assessments to identify data that requires a higher level of protection — while also understanding current and future privacy risks.
BigID's Privacy Impact Assessment (PIA) app helps organizations assess and communicate their privacy risk. The PIA app enables organizations to identify, document, and minimize the risk associated with PII to assess if data processing is considered high-risk.
Organizations can leverage BigID's PIA app to:
Mitigate privacy risk by operationalizing remediation to take necessary actions
Collaborate with data owners across the organization to fill PIA/DPIA
Map business processes and data flows
Report on compliance with standard-templates
Are You Ready for Data Privacy Day?
Data Privacy Day is not just an opportunity to look back at how far privacy regulations and efforts have come since GDPR, changing the way we think of data subjects' rights – along with what responsibilities organizations have toward consumers. It also gives us a chance to take a moment and look toward the future: get ready for an integrated approach to information protection that drives transparency and puts privacy in the spotlight.
Is managing data privacy a challenge at your organization? See how BigID enables companies to automate and operationalize their data privacy programs, achieve compliance, stay ahead of growing global privacy regulations — and attain data privacy enlightenment.