IDC Names BigID a Leader in Data Privacy Management Software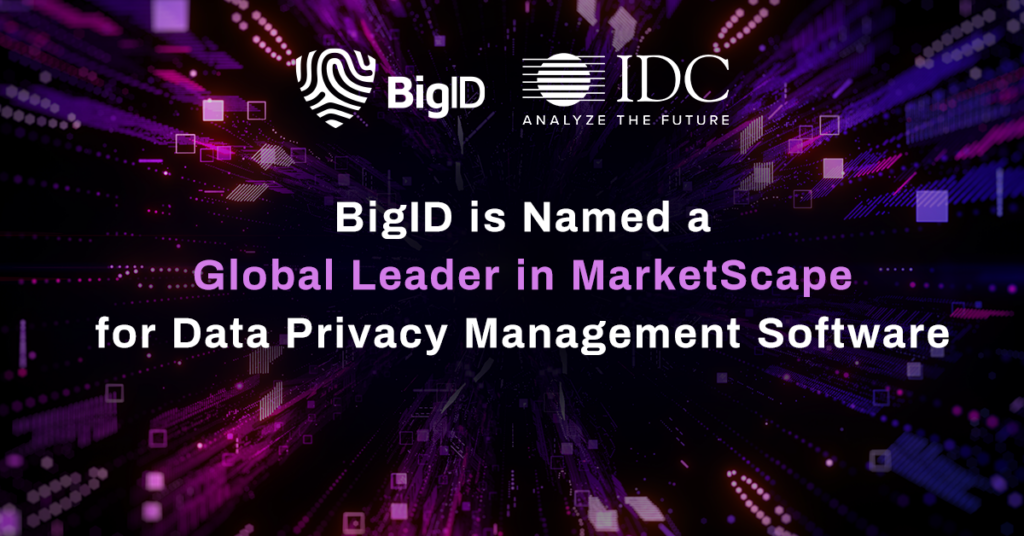 BigID has been recognized as a global leader in the inaugural IDC MarketScape: Worldwide Data Privacy Management Software 2021 Vendor Assessment.
The IDC Marketscape states that "BigID brings to market a variety of privacy applications based upon its data discovery foundation" while highlighting BigID's machine-learning enabled data discovery, data rights automation, and ongoing deletion validation stating that "Automating this process and automating it well are a major benefit for clients."
Recognized for innovation in ML-enabled data discovery & privacy automation, BigID's data intelligence platform enables customers to automate data privacy operations, achieve compliance for current and emerging data privacy and protection regulations, and extend actionable data intelligence to cybersecurity capabilities and data governance capabilities.
IDC evaluated companies based on criteria that emphasizes the ability to automatically identify regulated data, classification, and automation – while leveraging advanced AI and ML capabilities to provide additional value.
The report highlights BigID's position in the leaders category based on ML-enabled data discovery, automated data mapping, DSAR automation,  deletion validation, and deep functionality across privacy, security, and governance.
BigID's data privacy suite addresses broad privacy use cases including:
Get the IDC Marketscape: Worldwide Data Privacy Management Software 2021 Vendor Report – or schedule a 1:1 demo with data privacy experts to see why BigID was recognized as a leader.