Empowering Hybrid Data Management: BigID and HPE Redefine Data Security and Control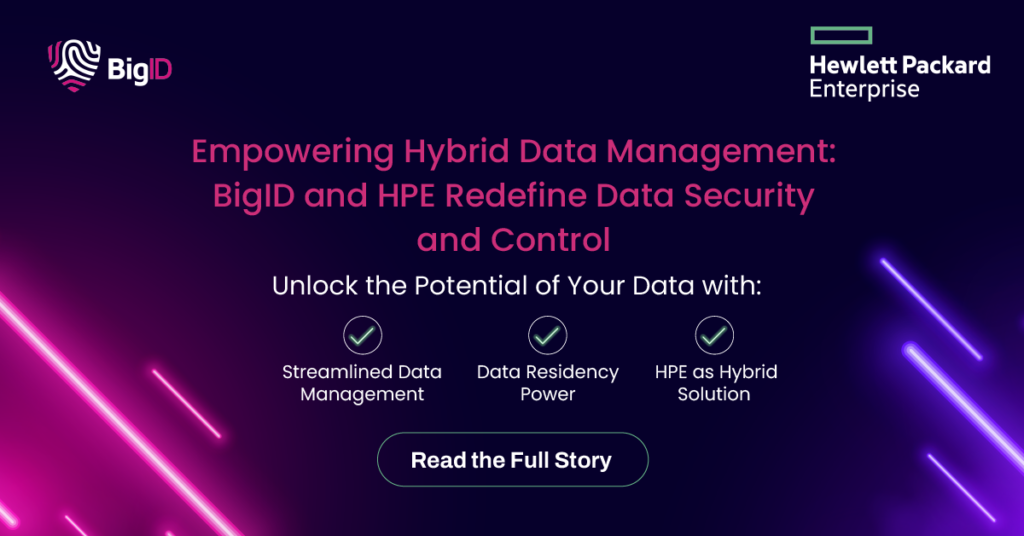 As companies contend with overwhelming amounts of data, the need arises for data solutions that offer global scope and scalability, simplicity, end-to-end security and ease of maintenance. While public cloud environments offer their own benefits for data management, inevitably, companies realize that data must be stored on-prem as well as in the cloud— there is no one-size fits all solution for large global enterprises.
BigID, a leader in data discovery and control, and Hewlett Packard Enterprise (HPE), a leader in hybrid cloud solutions, have joined forces to redefine how businesses harness the potential of their data. BigID is thrilled to announce an expansion of our partnership through a validation with HPE GreenLake for Private Cloud Enterprise.
Validated on HPE GreenLake for Private Cloud Enterprise
BigID has been validated on HPE GreenLake for Private Cloud Enterprise with the container service environment. This validation has allowed BigID to join the HPE GreenLake Marketplace, in addition to the public marketplace.
Scalable Data Discovery and Control
BigID's integration with HPE GreenLake for Private Cloud Enterprise provides customers with a scalable data discovery and control solution across on-prem and public clouds. HPE GreenLake for Private Cloud Enterprise reimagines the private cloud experience with a scalable, pay-per-use, enterprise-grade solution delivered as a managed service across customers' locations—from edge to cloud. Built for both cloud-native and traditional applications, it supports the self-service deployment of bare metal, virtual machine, and container services.
Data Secure Posture Management
BigID's platform empowers organizations to discover, classify, and categorize all their data across the enterprise. By creating a data inventory and capturing related metadata, companies can confirm and validate that data security is correctly applied, meet privacy compliance regulations, and that data governance is implemented correctly. Customers can easily add Data Security Posture Management (DSPM) by deploying BigID in their HPE GreenLake for Private Cloud Enterprise environment. By creating a metadata index of all data, companies can identify potential security vulnerabilities and who has access to their sensitive data. In addition, BigID provides automated workflows to comply with data privacy regulations at scale.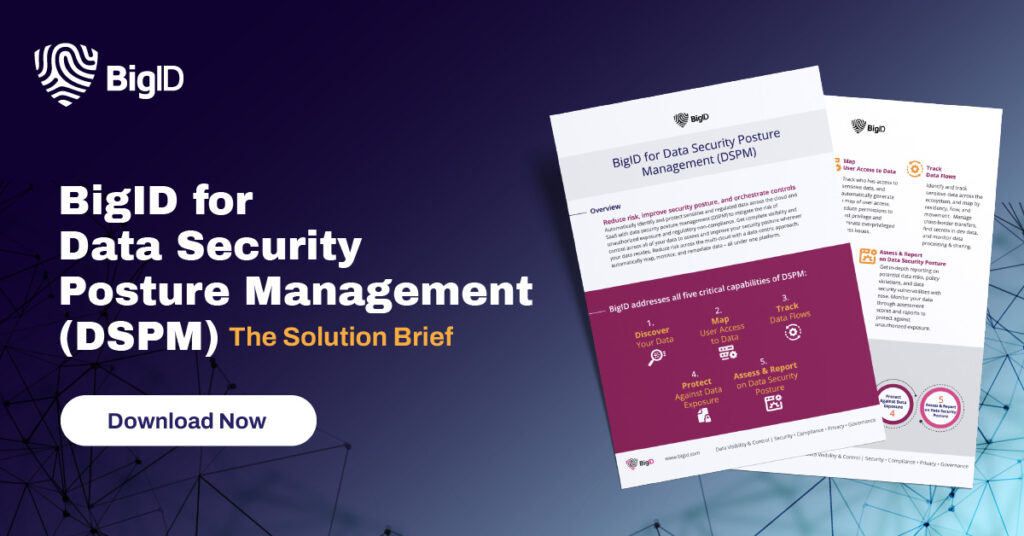 HPE | BigID Joint Solution
Our joint solution provides the following customer benefits:
Streamlined Data Management: BigID and HPE's collaboration simplifies data management by leveraging HPE GreenLake Marketplace for easy access to container services and eliminating concerns about managing the underlying technology stack.
Data Residency Compliance: BigID's versatile platform enables seamless integration across on-premises, edge, and multi-cloud environments, empowering organizations to maintain control and comply with data residency requirements.
HPE as Hybrid Solution: With BigID's advanced scanning capabilities, HPE strengthens its position as a leading hybrid cloud provider, offering businesses unparalleled control and insights into their data security, compliance, privacy, and governance across hybrid infrastructure.
We are excited to announce that BigID is now available on HPE GreenLake for Private Cloud Enterprise, providing customers with data discovery and auto classification of sensitive data across on-premises, edge, and cloud environments. This unique hybrid capability positions HPE as a true leader in enabling organizations to manage and secure their data regardless of its location.
To learn more about our ongoing partnerships and integrations, schedule a free 1:1 demo with our experts today.