Data Risk Scoring
Quantitatively measure and monitor your sensitive or critical data-at-risk.
Learn More
Customize your risk scoring
Calculate and customize risk scores for all of your data, everywhere – understand your risk posture and get actionable risk management for security, privacy, and governance.
Prioritize high risk data that matters to your organization, and integrate risk insight seamlessly across data remediation, data retention, and more.
Proactively monitor your risk score as you continue to make changes in your data environment and get alerted of major fluctuations. Pinpoint the cause of a jump in Risk Score and get recommendations on measures to take from BigID.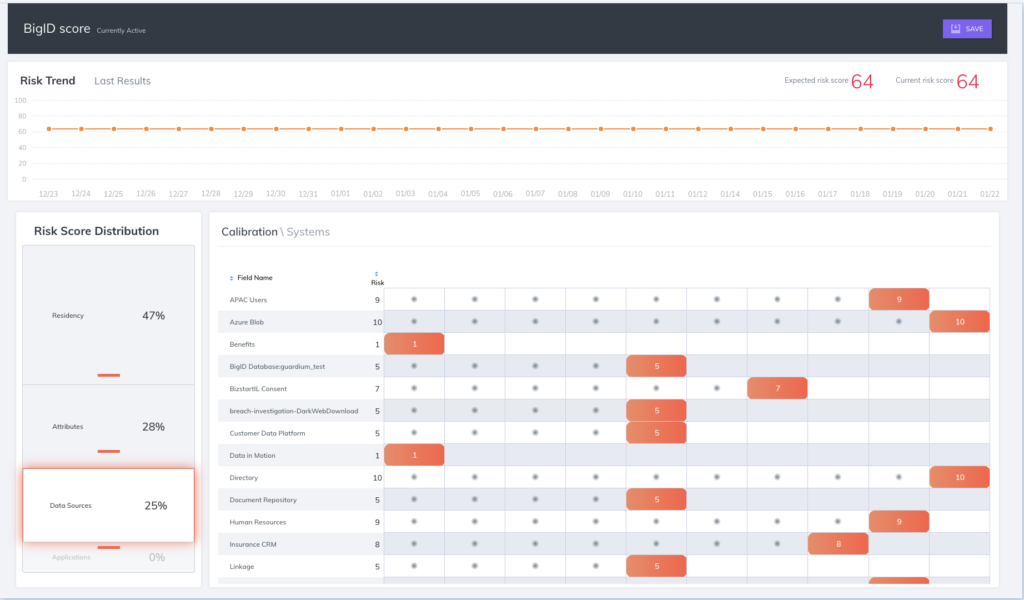 Risk assessment done differently
Manage and assign higher risk scores to more sensitive field, vulnerable systems, or highly regulated residencies.

Customize Your Risk Scoring

Streamline risk scoring across your entire ecosystem: for consistent data management across the cloud and data centers.

Streamline Risk Scoring

Leverage risk scores within custom data policies, across your data inventory, and map risk trends over time.

Integrate Risk Insights

Assign a risk metric to any aspect of your data - across structured and unstructured, cloud and on-prem

Assign Risk Metrics

Assess and track trends over time - and surface high priority vulnerabilities

Track Trends

Set up automatic triggers, notification, and actions based on risk scores and activity on high risk findings

Automate Responses Quantitatively measure and monitor your sensitive or critical data-at-risk with BigID.
Download Datasheet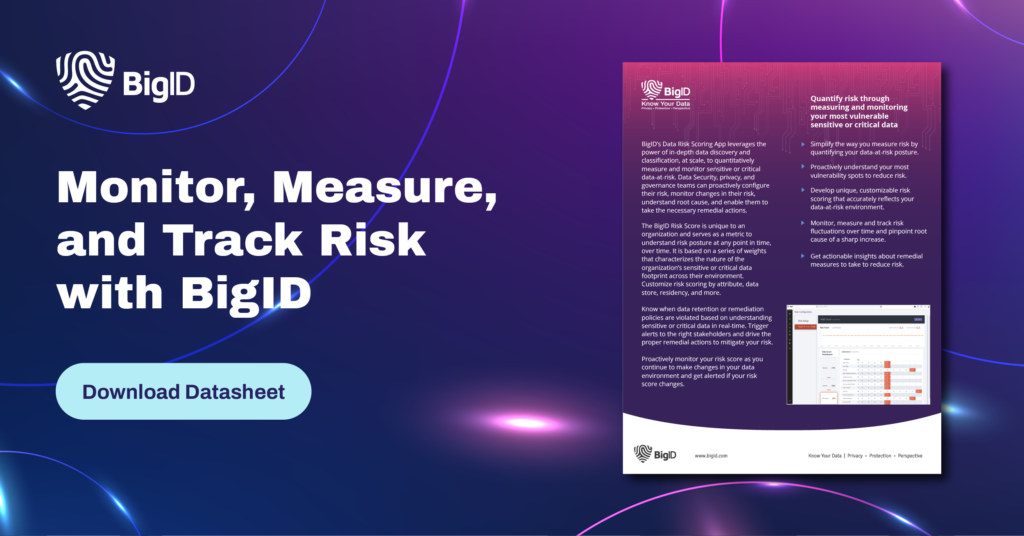 Explore the BigID Data Security Suite