Align with the KSA Data Management and Personal Data Protection Framework
Learn How BigID Addresses the NDMO Framework to Achieve Compliance with PDPL.
See how it works
KSA Data Management and Personal Data Protection Framework: Scope & Challenges
The National Data Management Office (NDMO) is the national regulatory authority in the Kingdom of Saudi Arabia (KSA), which has established requirements for implementing and governing practical data management standards based on the National Data Management and Personal Data Protection Framework. This framework aims to regulate the collection, processing, storage, and transfer of personal data by public and private organizations in KSA. The framework requires organizations to have the ability to discover, protect and maintain clear accountability of data ownership for KSA data. BigID empowers data stewards to validate and curate data; and find duplicate data for automated labeling, governance, and consolidation across all data sources, multi- and hybrid-cloud.
The NDMO requires efficient protection of all sensitive and critical data through categorization to adequately protect data. BigID leverages traditional and advanced classification techniques using NLP and ML to classify and categorize all data types at scale. Automatically find, tag, and catalog data and map sensitive data through automation to highlight your data at risk.
Discover, document, and report on data processing activities to assess data assets, security, risk, locations, third-party sharing, and cross-border data transfers with BigID. As a critical framework element, NDMO requires that organizations establish data structures and flow channels to enable end-to-end data processing.
The NDMO Freedom of Information plan provides Saudi citizens access to information and personal data protection, including entitlement to proper handling and implementing a request process for accessing, correcting, or deleting information. BigID automatically fulfills data rights requests quickly and accurately – from right to access to data deletion – with comprehensive workflows to ensure compliance.
Part of the NDMO framework requires organizations to conduct compliance assessments to measure alignment with National Data Management and Personal Data Protection standards. Companies must complete impact assessments annually and submit a report to NDMO. BigID manages privacy risk assessments to estimate the risk associated with data inventory and comply with NDMO requirements.
Reduce file access risk by managing access to sensitive and critical business data through role-based access with BigID. NDMO requires organizations to incorporate access control to identify who has (and who should have) access to sensitive data.
If data is compromised, the NDMO requires the organization to develop a data breach process and document breach management procedures, including reporting the breach to the regulatory authority. BigID can accurately determine impacted users following a data breach and simplify incident response to meet requirements.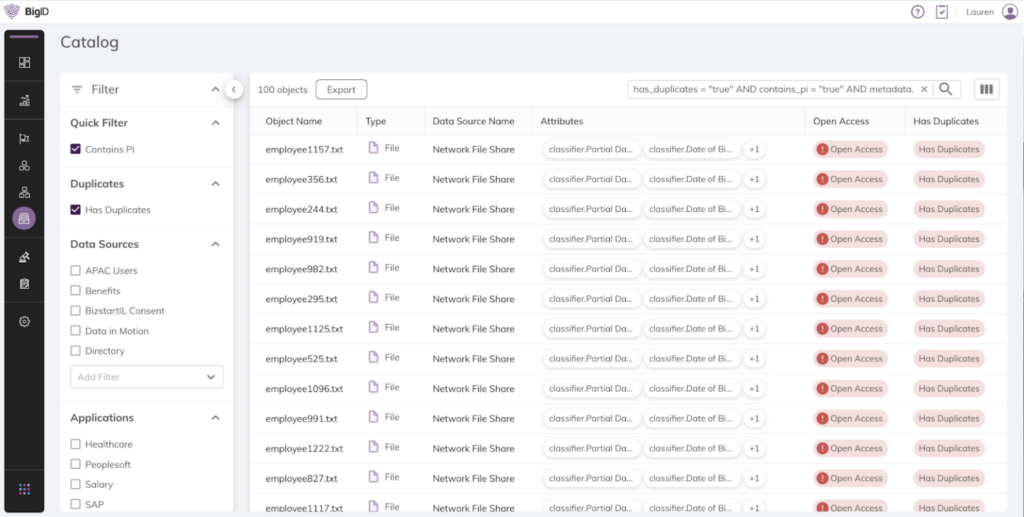 Fulfill NDMO Compliance Requirements
Leverage Deep Data Classification
Define Policies for Retention or Deletion
Minimize Data to Mitigate Risk
Reduce Risk
Improve Data Quality
Conduct Privacy Risk Assessments
Manage Data Rights Request
Report on Data Breaches BigID Solutions for KSA NDMO Compliance