Data privacy is reaching a meteoric rise. More than 70% of countries around the globe either currently have data privacy laws in place or are in the middle of drafting new privacy legislation. The increase in regulations worldwide only highlights that lawmakers understand the importance of data privacy. With new rules come new privacy rights requirements — and the pressing need for organizations to adapt to the constantly evolving privacy landscape.
In this day and age, data is the focal point of most business decision-making. But businesses often make those key decisions based on data that isn't visible or understood — and that can compromise the overall business strategy, which is the key to staying competitive in any data-driven industry. Companies rely on data to reach and engage their customers which has a direct impact on sales, but consumers have grown more concerned about their privacy. That is why taking an innovative approach to data privacy is focused on the consumer privacy experience that builds customer trust, protects customer and employee data and complies with fast-changing regulations.
To overcome this problem, companies must take a proactive role in managing and protecting their data throughout its lifecycle and customer experience that builds trust, accountability, and transparency. But many organizations don't have the data management plan they need to combat data privacy and flourish in the global marketplace.
This guide will review the importance of data privacy, and the regulations shaping the data privacy landscape within several regions and industries. You'll learn actionable takeaways to improve data privacy across the business environment.
What Is Data Privacy?
There are several definitions for "data privacy" or "information privacy." Data privacy is often a function within data security, focused on handling the data associated with data protection regulations.
Data privacy is centered around collecting, storing, managing, and sharing customer and employee data with third parties and compliance with privacy laws such as GDPR, CPRA, POPIA, and LGPD.
Why Is Data Privacy Important?
Data privacy regulations worldwide aim to give individuals control over their data and hold organizations accountable to assure personal data is processed ethically and legally. However, as the data economy has evolved, businesses have found tremendous value in compiling, sharing, and using data. Brands such as Amazon, Google, and Facebook sit at the top of the data economy, with extensive business models focused primarily on using personal data.
But transparency in how businesses govern consent, follow privacy policy guidelines and manage the data that they've collected is essential to building trust and accountability with customers, employees, and partners.
According to Pew Research, 81% of Americans think the potential risk of data collection by companies about them outweighs the benefits. This highlights the disconnect between businesses and customers. Many organizations understand the risks of cyber-attacks and data breaches but still struggle to understand the importance of individual data rights as a civil liberty.
Difference Between Data Privacy vs. Data Security
Data privacy and data security are not interchangeable, even though some organizations may think otherwise. Some may think that keeping sensitive data secure is sufficient for compliance with data privacy regulations but that perspective may be a bit short sighted.
There are even scenarios where data security can exist without data privacy, but never the other way around. For example, an organization can have sophisticated technology and elaborate data security methods to protect personally identifiable information (PII). Still, if the data was captured without consent, that would be a violation of data privacy.
Guiding Principles of Data Privacy
The foundation of data privacy is built on fundamental data protection principles of data protection laws. There are seven fundamental principles that organizations must follow when collecting, processing, and sharing personal data.
Lawfulness: Personal data should always be processed fairly, lawfully, and with transparency.
Purpose: Personal data should only be processed for a lawful and specific purpose.
Storage: Personal data shouldn't be stored for longer than its intended use.
Accuracy: Organizations should ensure personal data is consistent and that workflows are in place to correct and update incorrect data.
Accountability: Appropriate measures and records need to be in place to show proof of compliance.
Minimization: Only personal data that is needed should be processed.
Confidentiality: Implement security controls to ensure data is protected against damage or loss.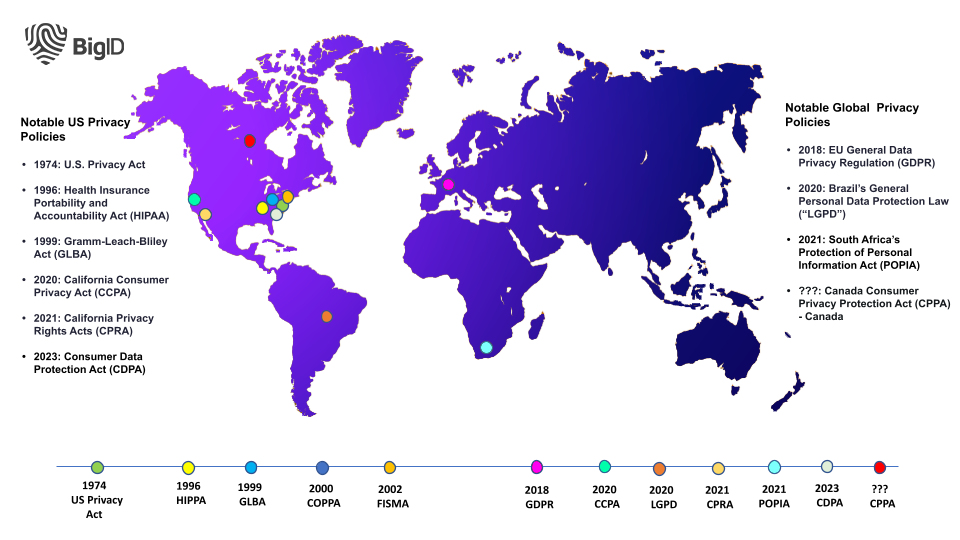 With new requirements such as identifying where data originates (region/country/state), what personal information it may contain, and the data usage, the onus is on companies to determine what privacy laws in specific regions affect their users.
But some laws have made a significant impact on users and companies. Here are three of the most impactful privacy laws to date:
The GDPR: EU Data Privacy Laws
In May 2018, the European Union's General Data Protection Regulation (GDPR) became the first prominent data privacy and protection regulation to have a global impact.
GDPR forced businesses to rethink how they collect, manage, and govern access to personal data — and unlike previous generations of privacy laws, it includes a compelling incentive to comply, with penalties for violation as high as 4% of a company's global revenue.
The GDPR gives consumers more rights over their data while also holding companies accountable for the necessary measures to protect data. However, the most challenging part of staying compliant with GDPR is responding to data subject access requests (DSARs) for most companies.
It's not easy for organizations to find, supply, or delete an individual's data upon request. As a result, many IT and data privacy teams need data rights automation applications to automatically discover and classify personal data for protection and accelerate DSAR requests.
CCPA: California Data Privacy Laws
Similar to GDPR, the California Consumer Privacy Act (CCPA) extends data privacy protections on the personal data of California residents. The CCPA — which requires businesses operating in California to identify and discover personal data, fulfill data subject access requests, and protect personal data — went into effect on January 1, 2020.
California residents can ask organizations what personal data they have stored on them, ask them to delete it and find out what information was given to third parties. These measures apply to data gathered within the state. That means companies need to quickly and accurately find and classify sensitive data that falls under the CCPA — and should have process in place to fulfill DSARs.
Data Privacy in Healthcare
One of the most established US data privacy laws at the federal level is the Health Insurance Portability and Accountability Act (HIPAA) — a regulation designed to protect patients' health and medical-related data.
Congress passed HIPAA in 1996, but with the healthcare industry being a primary target for data breaches, demands for greater data privacy protections increased after its enactment. As a result, the U.S. Department of Health and Human Services (HHS) issued the Privacy Rule in 2000 to carry out HIPAA's mandate to safeguard health information. Regardless, healthcare continued to incur the highest average breach cost at $7.13 million, according to IBM.
Data Privacy in Financial Services
Another significant privacy law is the Gramm-Leach-Bliley Act (GLBA), a U.S federal law that controls how financial institutions manage people's sensitive information.
There are three areas of this law: The Financial Privacy Rule regulates how personal financial data is disclosed and collected; the Safeguards Rule requires financial institutions to protect data by implementing a security program; the Pretexting provisions forbid using false pretenses to access private data.
Under this act, financial institutions are also responsible for giving customers written notice explaining their data-sharing process and practice.
The Risk within Data Privacy
Organizations that don't comply with data privacy regulations and fail to protect personal, customer, and employee data are risking more than just financial penalties. They also risk operational inadequacies, regulatory intervention, and most notably, complete loss of consumer trust.
Here are some examples of how data privacy can truly impact the business:
Regulatory Consequences
Data privacy and protection regulators may enforce mandatory audits, request access to documentation and proof, or even mandate that an organization stop processing personal data.
Reputational Damage
Non-compliance with the law could result in brand damage, loss of consumer trust, employee trust, customer attrition, and revenue reduction. In October 2016, Uber suffered a significant data breach but didn't disclose the details. Instead of being transparent Uber paid hackers to delete the data and kept the incident quiet. The data breach was eventually disclosed in November 2017, this resulted in financial penalties and also had a negative impact on consumer trust.
Financial Fines
There are financial consequences, criminal fines, and prison sentences can be enforced based on the type of violation. It can also include loss of revenue, high litigation, and remediation costs. Recently Amazon was hit with the largest penalty to date of 746 million-euro ($888 million), as the EU privacy watchdog fined Amazon for violating the data protection policy.
Operational Debt
Most data privacy laws give people more rights over their data, such as the right to access, change or delete their data. However, this can be a significant operational burden if it isn't implemented effectively, as organizations need to discover and classify data where any personal data exists.
How BigID Helps with Data Privacy
To achieve data privacy, organizations need a solution that protects enterprise data, prevents data breaches, reduces risk, and helps achieve compliance.
Inventory All Personal Data
The first step in data privacy alignment is to inventory all data across the entire IT infrastructure. BigID supports all discovery methods – from discovery of data assets to discovery of PI and PII through full scans. BigID's data discovery foundation allows organizations to inventory, map, classify, and align data to regulatory policies. BigID can discover structured, unstructured, and semi-structured data sources and business applications, whether deployed on-premise or in the cloud, with hundreds of connectors.
Monitor Data Processing Activities
Since BigID finds, inventories, and maps all PI, PII, sensitive, and regulated data. It enables organizations to generate documentation and reporting of data processing activities, and third-party data flows for GDPR Article 30, CCPA, LGPD compliance requirements. With BigID, organizations can maintain an accurate set of data processing flows, with the ability to trigger workflows for data owners based on up-to-date personal data discovery findings. BigID also, through visual data flow mapping, shows how data is processed and shared across the enterprise and third parties. With BigID Data Process and Sharing app, organizations can:
Document RoPA based on actual data
Manage and monitor cross border transfers/
Export / Import from existing surveys and spreadsheets.
Identify what data is shared with third parties.
Integrate Opt-in and Opt-out consent tracking
Collect Purpose of Use using the BigID workflow
Detect new data
Automatically Fulfill Data Rights Requests
Compliance requirements have several nuances that enforce data privacy goals, such as fulfilling privacy rights regarding personal data. BigID automates end-to-end privacy rights management and fulfillment, starting with an intuitive privacy and preferences portal to manage data subjects rights request intake, enabling organizations to respond to easily and manage their users' data privacy rights (access requests, deletion, update/correction, portability, and opt-out preferences). BigID's data rights automation app connects to all types of data sources which are all API-based, making it easy to collect the data needed to automate the fulfillment of data subject access requests.
Validate Data Deletion
The most challenging aspect of DSAR fulfillment is validating deletion, which is at the heart of most emerging privacy regulations. Organizations that are unable to fulfill and validate deletion requests risk both regulatory penalties and consumer mistrust.
With BigID, companies can validate deletion requests through deletion workflows, ensure that the individual's data will no longer be processed – whether through third-party data transfers, transfers from backups, or access by applications and that no new data is collected after the initial deletion process to establish continuous compliance.
Manage and Govern Consent
Specific privacy laws (GDPR, CCPA, CDPA, LGPD, POPIA) help consumers exercising their data rights by obtaining opt-in consent before an organization can process their personal and sensitive data. BigID's consent capabilities extend to multi-channel consent: including minor, employee, and regulatory consent, across an organization's data stores In addition, BigID can use any consent source (logs of the consent) in the enterprise, map them to different agreements and validate that they don't violate consent provided by the individual data subjects.
By correlating consent and preference management logs to individual data subjects, BigID enables consent governance functions, including consent validation for reports and associating the stated purpose of processing to a specific set of attributes for inspection and reporting.
Reduce Data Access Risk
Managing access to data is one of the easiest ways to reduce risk, as it lessens a company's exposure to data breaches, theft, or misuse. That is why having the right people have access to the right data is so important. The BigID Access Intelligence App can flag and investigate high-risk users, groups, and data across the organization. This allows companies to review file clusters and categories containing sensitive data with open access and produce an audit report of high-risk targets for permissions review and risk reduction.
Are You Ready for Data Privacy?
Are you ready for an integrated approach to information protection that drives transparency and puts privacy on equal footing with data security? Is managing data privacy a challenge at your organization?
See how BigID enables companies to automate and operationalize their data privacy programs, achieve compliance, and stay ahead of growing global privacy regulations.