Modernizing Data Strategies for the Public Sector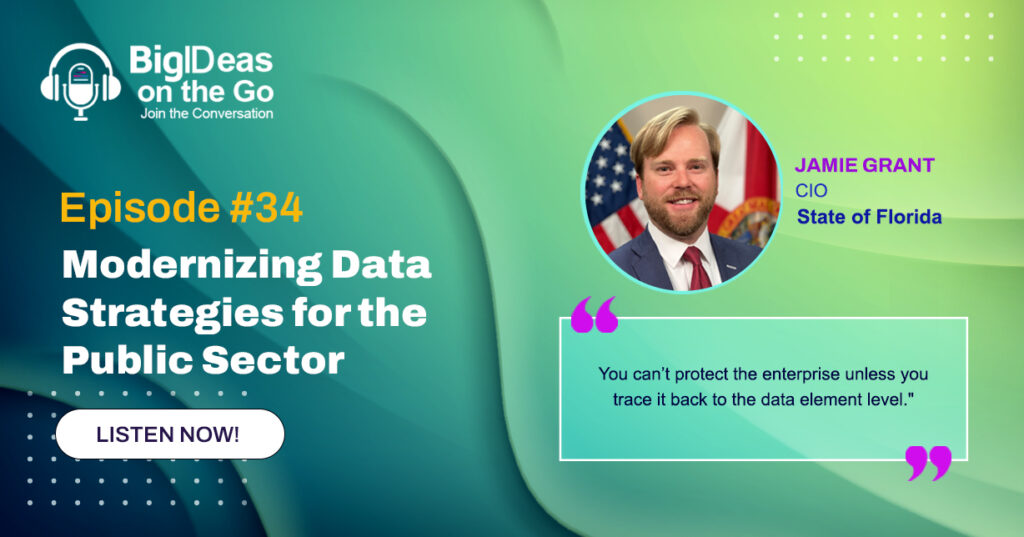 Jamie Grant, the Chief Information Officer of the State of Florida, joins BigIDeas on the Go to talk about data strategies for the public sector, how the CDO and CISO offices work together, how the public and private sectors should work together, and what's next as the State of Florida embraces cloud technologies.
Grant originally began his career as a lawyer working in business representation and civil litigation for a number of tech clients that eventually opened doors into the industry. After 2 years practicing law he was ready to transition out. Now working in the public sector, Grant has a few key guiding principles.
"I'm a big believer in privacy and decentralization. So I think one of the things that government often gets wrong is the proclivity to build a castle and an empire, and just keep stacking. You know, almost like a vertical architecture of just making this thing bigger and bigger and bigger and more dependent on all of the layers underneath it."
In his current role as chief data officer, Grant often finds himself on the offensive side— making the right data calls and finding efficiencies that help drive a better and smarter government operation. One of the challenges he's navigated is updating his department from mainframe systems.
"You can't protect the enterprise if you don't go all the way back to the single data element, trace it back. Who owns it? Who manages it? Where is it hosted? What does it do? Who's dependent on all those kinds of rudimentary questions. If you want to do security, you better have really good insight at the data element level. We also have to get all the way back to the data element."
To hear all of Jamie Grant's insights about the intersection of cloud technologies and the public sector listen to the full episode here.