Driving Change in Federal Data Management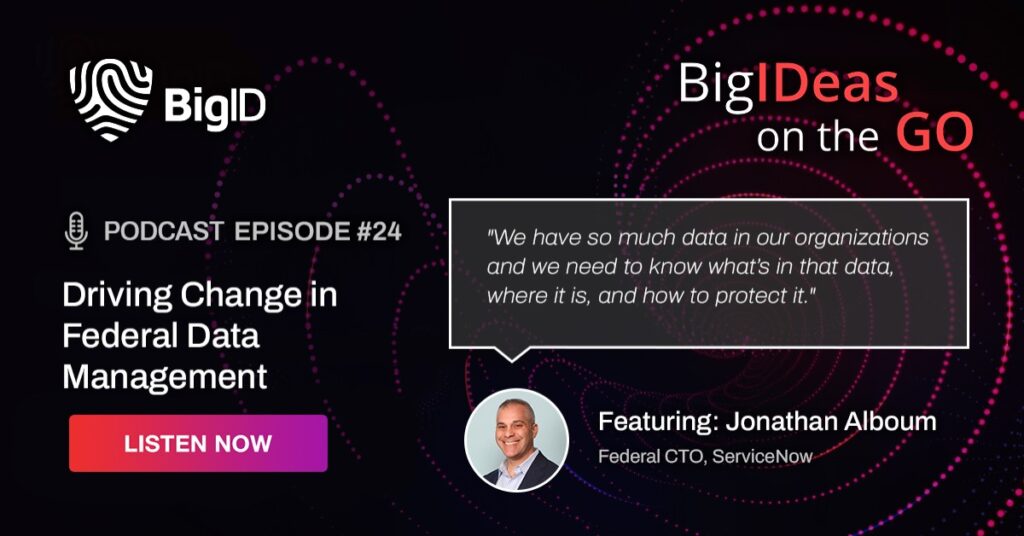 Jonathan Alboum, Federal CTO at ServiceNow, sits down with BigIDeas on the Go to chat about how digital transformation is taking off in the public sector, what lies ahead in the government's "rush to the cloud," and the ever-increasing importance of knowing your data.
"Volumes and Volumes and Volumes" of Data
Before Alboum joined ServiceNow, he worked as a CIO in the federal government — specifically at the USDA (​​United States Department of Agriculture) and GSA (General Services Administration).
"The problems we have from one agency to the other are often very similar," says Alboum. "Those problems, from an IT modernization or digital transformation perspective, are around connecting data and systems, connecting organizations, connecting people."
In Alboum's assessment, a central challenge to knowing and protecting federal data is volume. "We have so much data in our organizations," he emphasizes. "Volumes and volumes and volumes of data — and it's growing exponentially, and we don't always understand what's in all that data. We don't always know where it is, and we don't really prioritize our data sets so we can protect them in the best way possible."
How Well Do You Know Your Data
Federal agencies have a lot of misconceptions about their own data, says Alboum. At the USDA for example, "I would ask [agency officials], 'what is your most important data?' And they often could answer that question, so it's good they had a sense of what the most important data was. So I'd say, 'okay, do you know where that data is?'" Sometimes they had an idea where it was located; sometimes not.
Then you drill deeper, says Alboum, asking, "'how do you protect that data?' … and 'do you know where the data is backed up, and where the copies of that data are?'
"And at that point, you lose everybody," Alboum says. "You realize they don't have a great understanding."
Digital Transformation as an Opportunity
While knowing your data is crucial — whether the data lives in the cloud, legacy data centers, or a hybrid environment — it's still just the beginning. "You really have to understand how the data moves through your organization, and how the work flows through your organization."
It's critical that government agencies "think about digital transformation and digital acceleration as an opportunity to redesign processes so they work," says Alboum.
"COVID was a real clarion call for digital transformation — and we created a lot of processes on the fly that made it possible for us to work in these remote environments. So I always caution CIOs that it's in their best interest to take a strategic pause and look at these things that changed over the past 18 months — and make sure that those new processes and approaches and the way the technologies were configured is how you want to continue into the future.
"And if not," says Alboum, "then let's figure out what we need to do to become more stable and secure."
Check out the full podcast to hear more about Alboum's take on the federal "rush to the cloud" and his forecast for what the next two years will look like — both from an IT standpoint and a data standpoint.