Forrester Recognizes BigID as a Strong Performer in Data Governance Solutions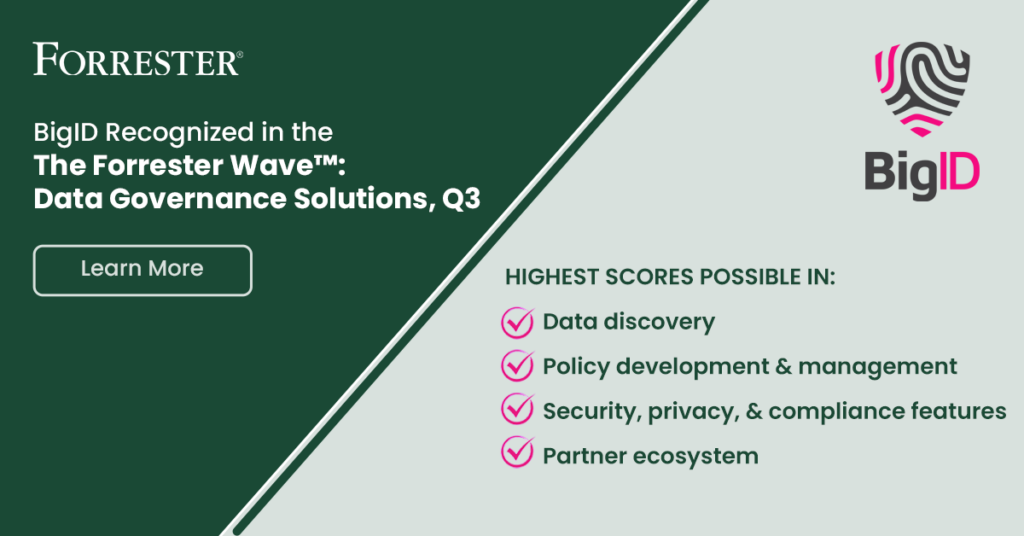 In today's digital age, where data fuels every aspect of business operations, the importance of robust data governance can't be overstated. Safeguarding sensitive information, ensuring compliance with ever-evolving regulations, and harnessing the full potential of data are among the top priorities for organizations.
In the recent report The Forrester Wave™: Data Governance Solutions, Q3 2023, BigID has emerged as a strong performer in the realm of data governance, achieving the highest scores possible in four criteria that we believe underscore its commitment to excellence.
About Forrester's Wave Report
Forrester, a renowned technology research firm, conducts rigorous evaluations of technology vendors across various sectors. Their criteria for evaluation encompass a wide range of aspects, from features and capabilities to market presence and strategy.
In this report, Forrester evaluated data governance solutions based on stringent criteria to determine their effectiveness in addressing the pressing data challenges of today's organizations. BigID emerged as a strong performer, securing the highest score possible in the following criteria:
Deep Dive: How BigID Leads the Way in Data Governance
Discover Your Data
Connect to and scan for sensitive, personal, regulated, and critical data across any data source and type, from unstructured and structured data to mainframes, messaging apps, pipelines, big data, NoSQL, Cloud IaaS, SaaS, PaaS, applications, dev environments, and beyond. Scan unstructured data 95% faster with Hyperscan to save time and drive efficiency. Eliminate blind spots across the multi-cloud with cloud Auto-Discovery applications.
Know Your Data
Combine traditional pattern matching techniques, such as RegEX, with advanced, ML and NLP-based classification to achieve unparalleled accuracy and scalability in data classification. Customize and fine-tune individual classifiers to find specific types of sensitive data across your unique environment. Consistently label, tag, and flag both structured and unstructured data— all while building a comprehensive data catalog and inventory with context for holistic understanding to drive better data governance.
Enforce Governance for Compliance
Leverage pre-built and custom data governance policies that align with compliance and popular frameworks such as NIST, CISA, and PCI, as well as internal standards, to effectively manage, protect, and govern the right types of data. Easily generate audit reports to verify compliance with ease. Track the location and movement of data and establish necessary controls for better governance and to maintain compliance.
Improve Data Security & Risk Posture
Centralize detection, investigation, and remediation of your most critical data risks and vulnerabilities. Assign severity levels and prioritize data risks based on the context of the data across many attributes, including sensitivity, location, accessibility, and more. Continuously monitor for potential exposure, pinpoint insider risks, and dive deeper into the details for investigative analysis. Proactively and automatically kickoff streamlined remediation workflows across the right people and tools to effectively reduce data risk.
Better Together
What makes BigID's partner ecosystem recognition even more compelling for us is its ability to complement and integrate seamlessly with other vendors in the data governance landscape like Snowflake, Databricks, AWS, Salesforce, ServiceNow, and many more. This "better together" approach enhances overall data governance by providing organizations with a comprehensive toolkit to address their unique challenges.
Joint customers get even more value from their data, adapt to the new challenges of today's data environment, and ultimately become more productive and profitable.
BigID for Data Governance and Beyond
The recognition of BigID as a strong performer in data governance by Forrester underscores, in our opinion, the platform's commitment to excellence and innovation. We feel it serves as a testament to the importance of effective data governance in today's digital landscape.
As we look to the future, data governance will continue to play a pivotal role in ensuring data security, privacy, and compliance. BigID is poised to be at the forefront of shaping the data governance landscape, empowering organizations to protect their data assets and unlock their full potential.
To learn more about how BigID can empower your organization's data governance efforts and ensure the security and compliance of your data— book a 1:1 demo with our experts today.