Why Data Security Needs to Put the Customer First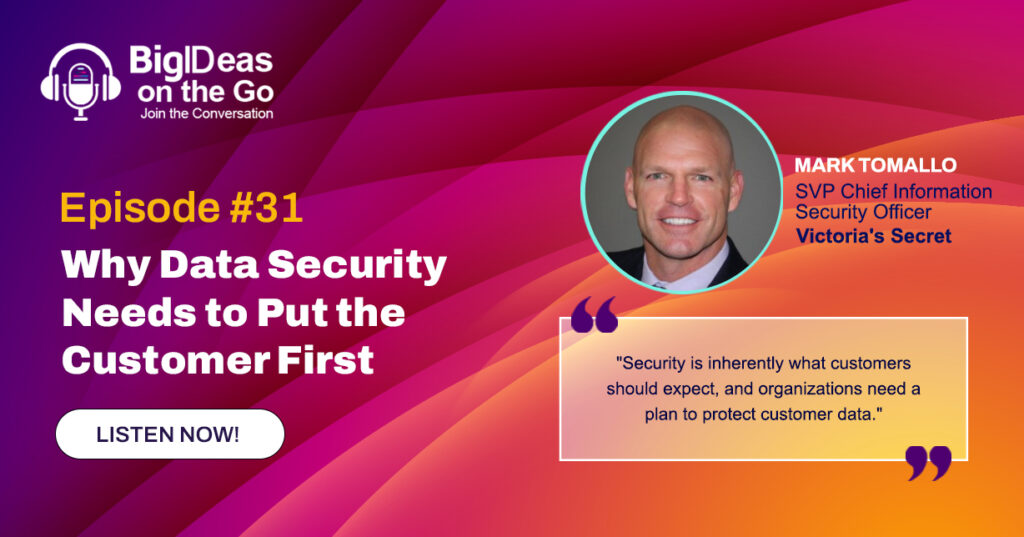 Mark Tomallo, SVP Chief Information Security Officer of Victoria's Secret, joins BigIDeas on the Go to talk about data security in retail, how companies should be prioritizing the security of their customer's data, and trends we should expect to see as organizations mature in their data handling.
Tomallo has worked in cybersecurity for over two decades, serving as a founder, venture capitalist, and entrepreneur. As an esteemed security professional, Tomallo has seen the industry evolve greatly over the years.
"You have to have consent. You have to protect the consumer's right to choose. Data a rest, data in transit, data loss, protection, continuous discovery of where that data may be, or how it got there within an organization and then helping in that data lifecycle management or that customer life cycle management, is really important in— not just in the retail space, but every business has customers of some sort, right? So it's challenging, but it needs to be intentional."
One of the beliefs Tomallo has stressed throughout his tenure is the need for trust and communication between consumers and enterprises. The rapid growth of e-commerce has been a valuable revenue generator, but a string of security concerns can often accompany that.
Reflecting on the risks of collecting and storing consumer data within the retail industry Tomallo states, "Data is an asset, and people want it. Other people want it. Other organizations that want to organize crime want it so obviously for me in this business that is our table stakes."
"I think from a security standpoint organizations will continue to mature in their data handling their data decisioning— more data doesn't always mean better. Especially when data breaches are hitting home to shareholders."
Listen to the full podcast to hear more about Tomallo's prediction on the future of the data security landscape.