Digital Innovation, Privacy, and Security for Data Citizens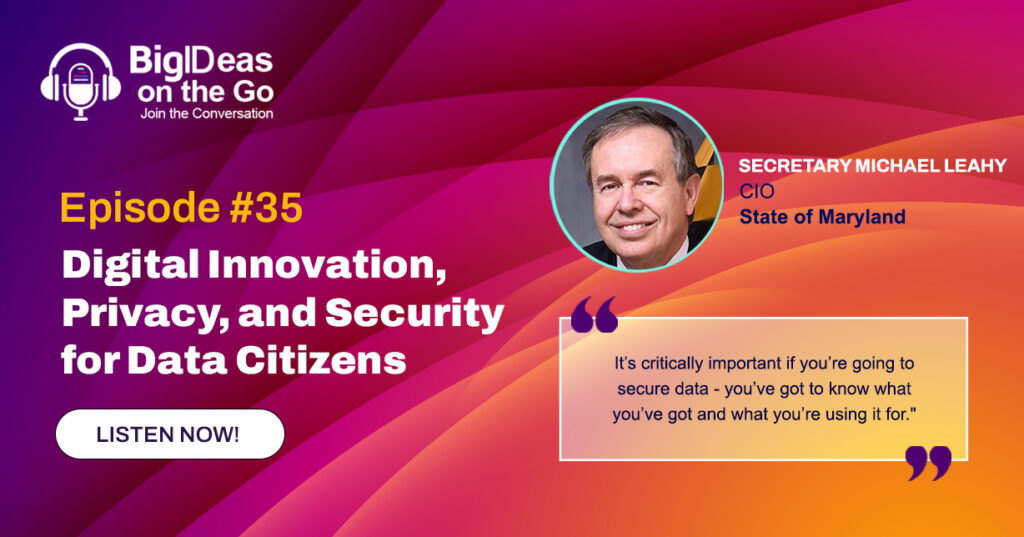 Secretary Michael Leahy, CIO and Secretary of the Department of Information Technology for the State of Maryland, joins BigIDeas on the Go to discuss how governments are adapting to today's data trends, including digital innovation, cloud migration, privacy and security for data citizens, and more.
When he was growing up as a kid, Michael Leahy wanted to be a surgeon–until he got to studying medicine and realized it wasn't his cup of tea. Eventually he landed in law school and spent the early part of his career as a White House Law Fellow serving in the task force for regulatory reform under Vice President Bush and the Federal Trade Commission. While most of his early career was spent in public service, the lion's share of Leahy's experience has been in the private sector.
"I ran the financial side of a division of Coke industries. I was an investment banker, and ran capital markets for Maryland National Bank, which at the time was about the fifth or sixth largest bank in the country. Every decade, I determined I would take two years out to do public service. When I took this on for Governor Hogan, I said I would stay 2 years, and that was 6 years ago—so I broke my model."
Leahy has worked in all three levels of government, federal, state, and local. His motivation for doing so stems from the often negative public opinion of the government and wanting to contribute to a more positive outlook.
"The principle problem in bureaucracies is that folks are afraid of taking calculated risks because they're expected to be perfect. So when I have gone into government service, I've attempted to show people that there is room for innovation, and for them to go with their gut, so to speak, and take measured risks to improve the services or the
methodologies that they develop and provide services to citizens."
Data Challenges Within Government
In his current role serving as CIO for the Department of Information Technology for the State of Maryland, Leahy has come to recognize several key challenges surrounding data privacy and security. The evolution and development of technologies within the public space has impacted the need for the government to adapt alongside it.
"The practices and processes and procedures that they choose have grown up over a period of time, and folks, as I've said, have the mentality that if it works, don't change it. And so there are so many opportunities to not only look at the technology, but the workflows and the processes themselves, and folks haven't in government thought seriously about the impact and importance of data."
One of the challenges Leahy expressed was the data foundations of each agency operating very differently from the next. The lack of standardization creates barriers for simple data management.
When asked about this particular challenge Leahy stated, "They haven't thought about how they're going to classify or catalog their data, and many of them don't even know what data they have. So it's critically important if you're going to secure that data both from the security standpoint and the privacy standpoint you gotta know what you've got and what you're using it for. The laws are more and more pushing now toward minimization of data, sharing and giving the citizenry more control of their data themselves. Governments have to lead the way because people have expectations of them to protect them. That's our principal job."
To hear more of Michael Leahy's insights on data innovation within the public sector— listen to the full podcast here.