BigID Wins Award for Excellence in Data Privacy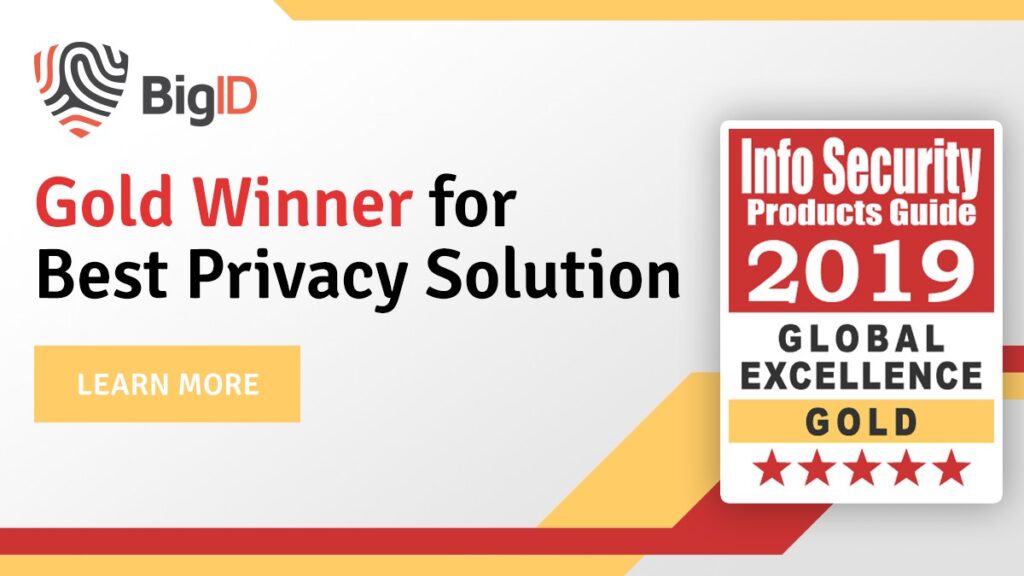 Building upon our strong end to 2018, we are happy to share that BigID has been selected as the Gold winner in the 2019 Info Security Product Guide's Global Excellence Awards for the "Privacy Solutions" category. With the continued global adoption of privacy laws such CCPA, NYDFS, LGPD and others, we remain committed to helping companies comply with regulations at scale through advanced privacy automation.
The Info Security Product Guide Global Excellence Awards recognize cybersecurity and information technology vendors with ground-breaking products, solutions, and services that lead the industry in all areas of security and technology, and we are honored to be named a Gold winner. The mere existence of the privacy solutions category is evidence of how privacy has become a defining 21st-century challenge post GDPR in addition to our continued leadership in the privacy and personal data protection space.
With the one-year anniversary of GDPR is quickly approaching; however, many organizations are still struggling in terms of what they should be doing with personal data and information to ensure they meet the requirements. The volume, complexity, and breadth of structured and unstructured data make it difficult to get a comprehensive understanding of personal information on an ongoing basis. It's an important reminder that privacy is not a one-time event, but something that must be built into the fabric of the enterprise. This is where data intelligence (and BigID) comes into the picture, as without a clear understanding of whose data they have, where it resides, and how it's being used, companies cannot sustainably address compliance on a continuous basis.
Here at BigID, we continue to enhance our capabilities to help customers identify personal information at petabyte scale, mitigate risk to personal data, and effectively govern consent in order to meet the challenges of today's toughest data privacy regulations. Our solutions were designed with the purpose of enabling organizations to automate privacy compliance. We look forward to continuing the tradition of innovation that makes us an award-winner. Stay tuned for new game-changing enhancements in 2019.
To learn more about our platform, please contact us at info@bigid.com to schedule a demo, or visit https://bigid.com/demo/.