Ringing in 2020 with $50M in Funding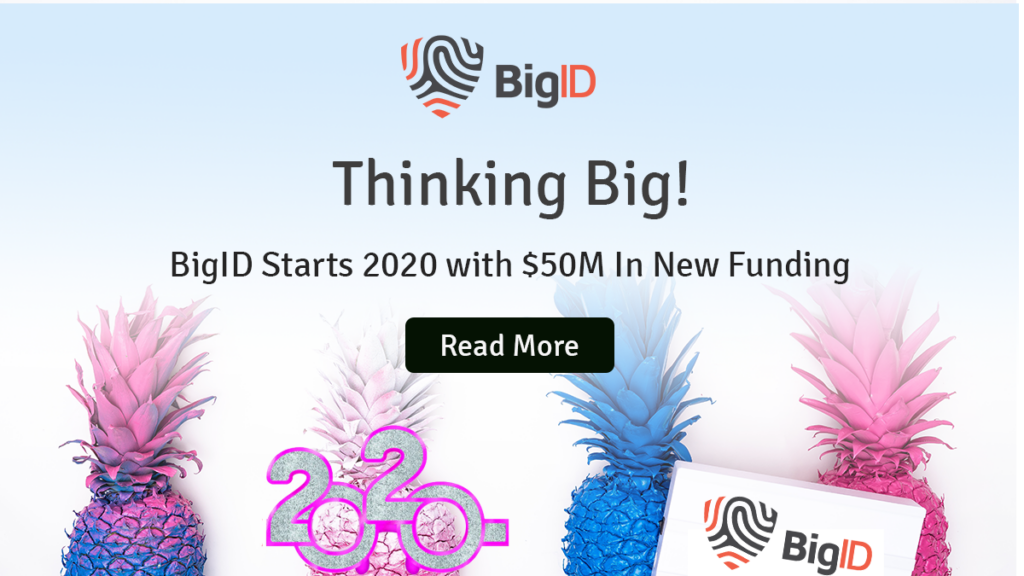 We founded BigID in 2016 on the premise that companies needed a way to provide data accountability to their customers through more intelligent data accounting. With data estates ballooning and new privacy regulations around the corner, we reasoned that the only way companies could truly know their data–regardless of data source of location– was through the application of advanced AI to deliver privacy-centric data discovery and intelligence. To address this, we created the BigID platform: it's now been adopted by some of the largest companies in the world, along with strategic business and technology partnerships with the world's pre-eminent technology providers and consulting firms.
As we enter 2020, we are announcing that we've closed $50M in funding from Tiger Global only 4 months after closing our $50M series C. While we're not even halfway through our series B funding, the additional funding will allow us to scale our product development efforts faster and extend our reach globally.
With $144 million raised in less than two years, BigID has established itself as a leader in privacy-centric data discovery and intelligence to help enterprises automate privacy compliance activities like data access rights, data sharing management, and consent governance. With the California Consumer Privacy Act (CCPA) now law – with new state and global regulations set to follow, BigID is poised to build on this leadership to help enterprises better know and better protect their most important data.
With the new funding in hand, we plan to build on our core discovery in depth foundation to:
– Ensure that customers are able to meet the ongoing challenge of complying with CCPA through a combination of privacy-centric discovery and privacy automation.
– Extend our BigID platform to help customers further automate data related privacy activities AND better protect their data.
– Provide customers enhanced perspective and situational awareness around their "crown jewels," the data that enterprises value the most.
– Expand our go-to-market to increase our reach to serve a wider range of customers worldwide.
– Build on our proven track record of innovation leadership.
If you haven't gotten a recent update on our technology, get a quick refresher to learn about what's new. If you're new to BigID, welcome! Get a demo to learn more – and stay tuned for more to come.